In today's world technology plays a vital part in our everyday lives. Many of us dream to work or earn money at the comfort of our own home without the constraint of the corporate world.  Luckily the Department of Information and Communications Technology (DICT) of the Philippines and OnlineJobsUniversity.com (OJU) will be having the 1st Digital Career Bootcamp  which will guide us on how to establish our business or work online.
When and Where is this going to be held?
                               July 30 from 8 am to 5 pm at Unionbank, 48th floor, Ortigas Center, Pasig City.
What is digital career boothcamp?
The Digital Career Bootcamp is a one-day event aims to equip participants with the awareness and up-to-date information on how to get started finding sustainable work online through inspirational talks and lectures with actionable steps. Aspiring and experienced work from home professionals are invited to join and be part of this learning event.
Who would benefit from this event?
1) Parents who want to spend more time with their children as they grow up but can't because most of their time are spent working and commuting.
2) A Son or Daughter who wants to spend more time taking care of their aging parents but are unable to do so due their current work..
3) Someone looking for a kind of work that gives them the flexibility to work anytime and anywhere they choose as long as there is internet and electricity.
4) If you're tired of your call center job and wants to start on your own business with flexible work hours and work space with the potential to earn more than your current salary.
5) If you're tired of the city life and wants to move back in your home town but cannot due to the location of your current work.
6) Someone who has this burning desire to pursue their dream career or travel to different places but cannot due to schedule restrictions of their current work.
7) If you're planning to switch career or change job but don't know what options and opportunities the internet offers.
Here are  the List of Speakers and their designated topics 
To give the keynote talk is the Deputy Executive Director for eInnovation of the Department of Information and Communications (DICT) of the Philippines Mon Ibrahim will give the participants an overview of the state of digital careers in the Philippines and government initiatives.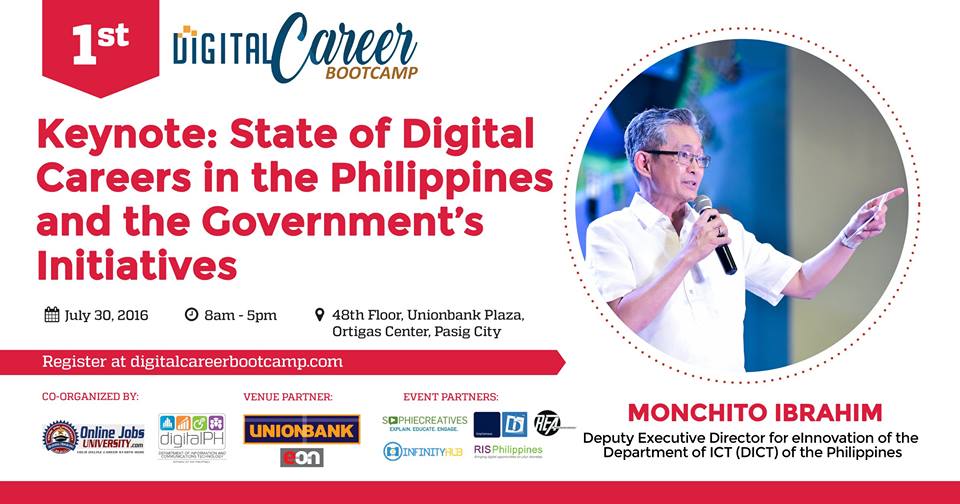 This bootcamp showcases experienced online professionals such as
Digital Career coach and founder of Online Jobs University (OJU) Genesis Reonico,
OJU Training and Development lead and founder of REA Solutions Rea Yadao,
OJU Media and Creatives lead and CEO of SophiesCreatives.com Charlie Aquino.
Listen and learn from various experts in the field:
199jobs.com Co-Founder, Registered Financial Planner (RFP) and Blogger Fitz Villafuerte,
Founder and CEO Gilmar Padua of Infinity Hub,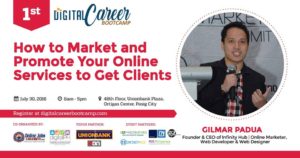 E-Commerce Specialist and Virtual Assistant Sherlane Fortunado,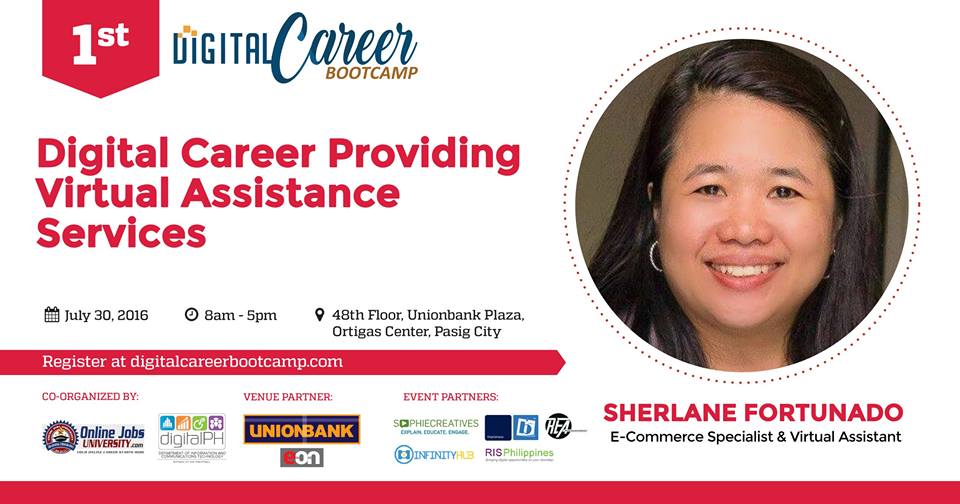 Social Media Manager Valerie Joy Deveza of Bidsketch
Service Provider CJ Maturino of 'Online Filipino Freelancer' Community,
Article/Content Writing Service provider and founder of "Do It Write Solutions" Nizza Gueco will also be featured in the event.
Virtual Workforce Professionals' CEO Leif Brian Margallo and
Front Line Virtual Services' COO Maritess Pasag will share their respective success stories in creating their own Business Process Outsourcing (BPO) agencies.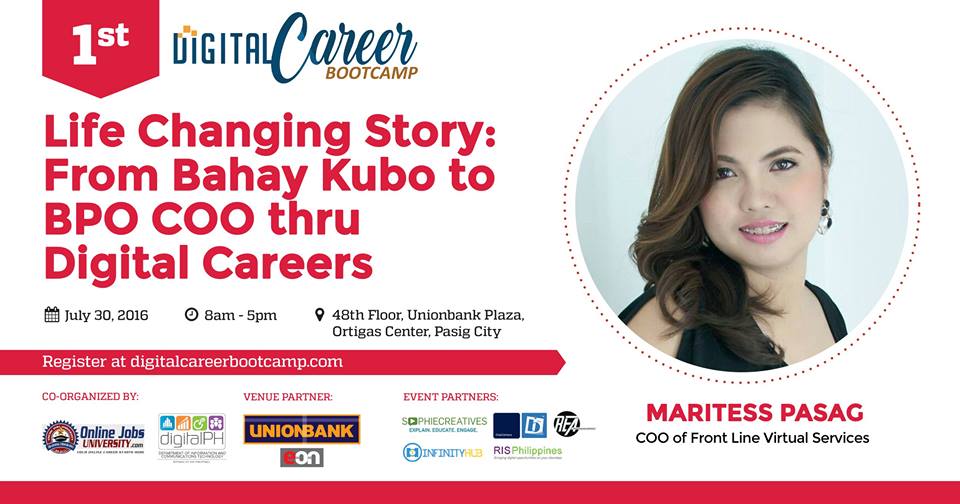 Attendees will also be given an opportunity to ask questions diretly to them during the open forum in the afternoon.
Learn more, access big discounts and buy your tickets for the Digital Career Bootcamp at
Rates
Learning investment starts at P1,477 (early bird rate until July 7), inclusive of event pass, lunch and snacks, access to exclusive online mastermind group and event recording, and discount to the upcoming 'Digital Career Online Training Bootcamp'.
The Digital Career Bootcamp is done in collaboration with Unionbank (venue partner), Unionbank EON, Infinity Hub, RIS Philippines, SophieCreatives.com, REA Solutions, Bbulletin, and OsipCampus.
CONTACT AND LIKE THEIR PAGE :
events@onlinejobsuniversity.com or the "Digital Career Philippines" Facebook page.