Bakers Maison, Gardenia's artisanal specialty bakery café, introduces more exciting and delectable ways to enjoy its wide array of artisan breads.
In the recently held bloggers gathering at the Bakers Maison Glorietta 4 Branch, members of the Bloggers Association of the Philippines have witnessed various recipes using Bakers Maison Whole Wheat Baguette, Ciabatta Classico, Sourdough de Maison, Classic Bagel, Chocolate Chip Bagel, and Raisin Cinnamon Bagel. All recipes were personally demonstrated by Chef Edwin Tan, a Malaysian pastry chef with around three decades of baking expertise. 'Artisan Discoveries'
Through the technology and bread making expertise of Gardenia Bakeries Philippines and its collaboration with various industry experts, Bakers Maison Philippines delivers exceptional consumer value through its delectable breads and pastries inspired not just by traditional and authentic French recipes, but a fusion of flavors from all over the world.
During the bloggers event, Chef Edwin shares appetizing creations you can do with your favorite artisan breads. Whole Wheat Baguette (originated in France) is a hearty, whole wheat version of our Baguette
Whole Wheat Baguette (originated in France) is a hearty, whole wheat version of our Baguette
Parisienne, a French bread with a crisp crust and a chewy interior that comes in a light flavor that is uniquely Bakers Maison.
Ciabatta Classico (originated in Italy) is Bakers Maison's rendition of the popular Italian bread with a crusty crumb and distinctive chew.
Sourdough de Maison (originated in Egypt) is a rugged and rustic bread with an upfront taste of rye.
Classic Bagel (originated in Poland) is a classic, soft, chewy bagel with a slightly crisp crust.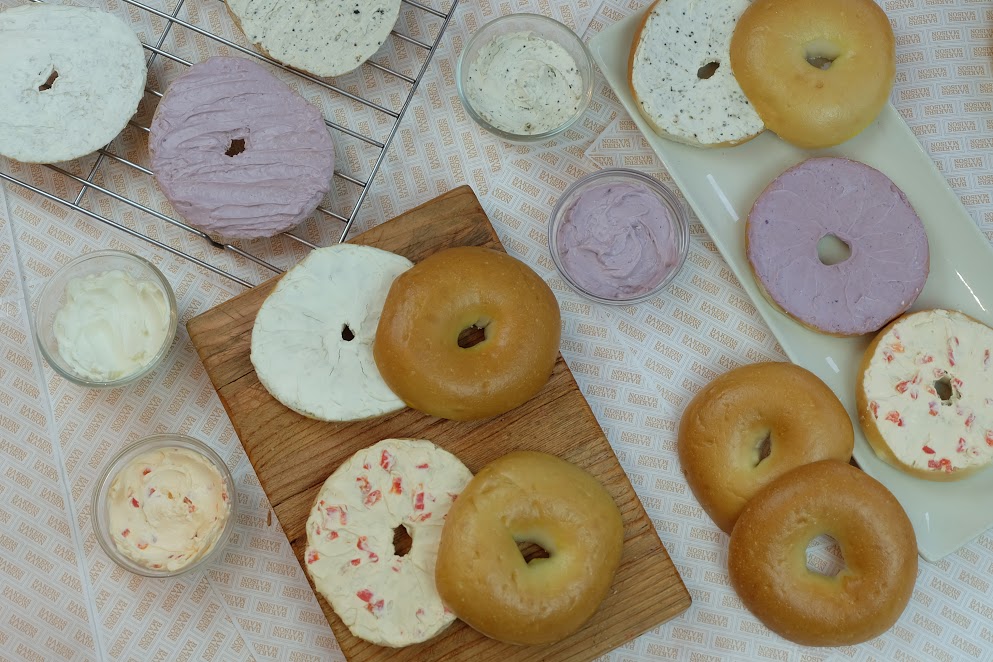 Chocolate Chip Bagel (originated in Poland) is our version of freshly baked bagel made with milk-flavoured chocolate chips to flavor the dough.
Raisin Cinnamon Bagel (originated in Poland) is another freshly baked bagel made with raisins and cinnamon to flavor the dough.
Quality and Freshness Guarantee
Bakers Maison is committed to quality and consistency and uses only the finest ingredients and original recipes to create the authentic French taste. All breads are partially baked in a clean and controlled environment and delivered frozen to the store, where final oven baking is done.
This process, otherwise known as the "par-baked" method, guarantees consistent quality and freshness, made possible through central commissary production.
Store expansion
Bakers Maison rolls out business expansion through rapid store expansion to cater to more artisan bread lovers out there. Currently, Bakers Maison has stores located in LIIP Mamplasan Binan, Laguna, SM North EDSA, Landmark Trinoma, Waltermart Makati, Glorietta 4 and South Park District Alabang.
Gardenia's artisanal bakery café formally open its franchise business this year and is currently looking for franchisees to further expand reach and open more stores.
Like Bakers Maison on Facebook at www.facebook.com/BakersMaisonPH for more information.