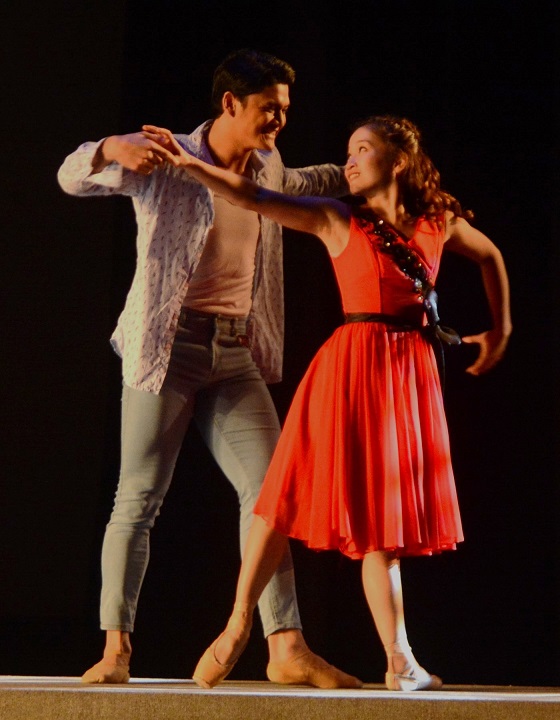 Ballet Manila principal dancers Joshua Enciso and Pearl Dames return to their roles in
the re-staging of Romeo + Juliet at Ateneo De Manila University's Hyundai Hall, ARETÉ


Due to insistent demand from ballet enthusiasts and fans from Quezon City and nearby areas, Ballet Manila's Romeo and Juliet is set to be restaged at the Hyundai Hall, ARETÉ—the hub of creativity and innovation—inside the ADMU campus on September 16, 2023, at 3:00 p.m. and 8:00 p.m. and September 17, 2023, at 3:00 p.m.

The show is part of Ballet Manila and ARETÉ's recently launched partnership, which aims to make classical ballet more accessible for audiences in northern and eastern Manila.

"We are the first ballet company with performances of this kind and caliber in Hyundai Hall of ARETÉ. It's finally happening with Martin Lawrance's version of "Romeo + Juliet," shared Lisa Macuja-Elizalde, Ballet Manila's artistic director and chief executive officer.

Likewise, for Ricardo Abad, ARETÉ's artistic director, the partnership is an opportunity to merge their networks to build a bigger community that shares that same passion and vision for the performing arts. "The idea is to invite Ballet Manila to be part of our community by sharing with them our contacts and vice-versa. This way we can work together to have more performances and even workshops and sessions," he noted.

With more shows in the pipeline to be staged at ARETÉ, audiences near Ateneo de Manila University can expect world-class performances and the powerful visuals that Ballet Manila has always been known for.

Romeo and Juliet, a play by the renowned English playwright William Shakespeare, was first published in 1597. It is the story of the forbidden love between two young Italians from rival families in Verona, Italy. The story tragically ends with the deaths of the two star-crossed lovers.

However, Lawrance will present Romeo + Juliet in a way that combines notable elements from musicals like West Side Story and Prokofiev's "Romeo and Juliet" while adding his own spin. The performance is set in a quaint Philippine town, with dancers dressed in cool, hip costumes while performing to a mash-up of the original scores from Prokofiev and West Side Story, along with popular OPM tunes.

"I've mixed Prokofiev's Romeo + Juliet, West Side Story, and OPM to make the texture rich while still keeping it in the now. I also had the chance to revisit and rework this re-staging, so it's like my R&J 2.0," explained Lawrance.

The restaging will also feature spectacular performances from Joshua Enciso and Pearl Dames, who will be dancing the titular role of the tragic lovers, as principal dancers of the company.

Ballet Manila's modern iteration of Romeo + Juliet at ARETÉ, hopes to attract more people to watch ballet and make it more appealing to everyone, "We are hoping to build a new audience that will appreciate ballet, and at the same time remove that stigma that ballet is just for the elites or enthusiasts." said executive director of Areté Estrelle Ladrido

Tickets to Romeo and Juliet are available exclusively via www.ticketworld.com.ph or by calling 8891 9999.