My skin was not at its best when I was in High school thus, I experimented with a lot of homemade products: from trying out Honey masks combining with my all time favorite Apple cider toner which lessens the break out to switching to Dickinson's Witch Hazel toner. Egg White masks have been a staple in my routine.
Unknown to many, there are numerous benefits of using Egg Whites on the skin. Egg White masks  removes facial hair, helps shrink pores by tightening the skin, prevents acne, reduces oily skin, lifts the skin, helps get rid of black heads, reduces under eye puffiness, plus since it lifts and tightens the skin, it is also useful in delaying premature aging brought about by fine lines & wrinkles.
I love the tightening sensation it provides. My skin type is oily so it can be sometimes a hassle especially if I am travelling. Good thing, I won a beauty set of Bellissima Egg White soap last December 21st, 2017 at the Bloggers Philippines Christmas party.
Bellissima Egg White comes in a neat Sky Blue package which is pleasing to the eyes, the box contains all the important details about the soap including Directions, Caution, and Ingredients. To make it even better, the soap itself is White and shaped like an egg! The scent was light. Also, the Egg white soap lathers easily with water.
After two weeks of use on my body, my skin felt softer due to the rich creamy lather of the soap and I have not had any breakouts. My skin is sensitive and I used to have rashes using some soaps but I did not have that kind of reaction with it. The list of ingredients contains Kojic acid dipalmitate which is supposed to lighten the skin. My skin become a bit lighter and became clearer probably due to the removed dead skin cells.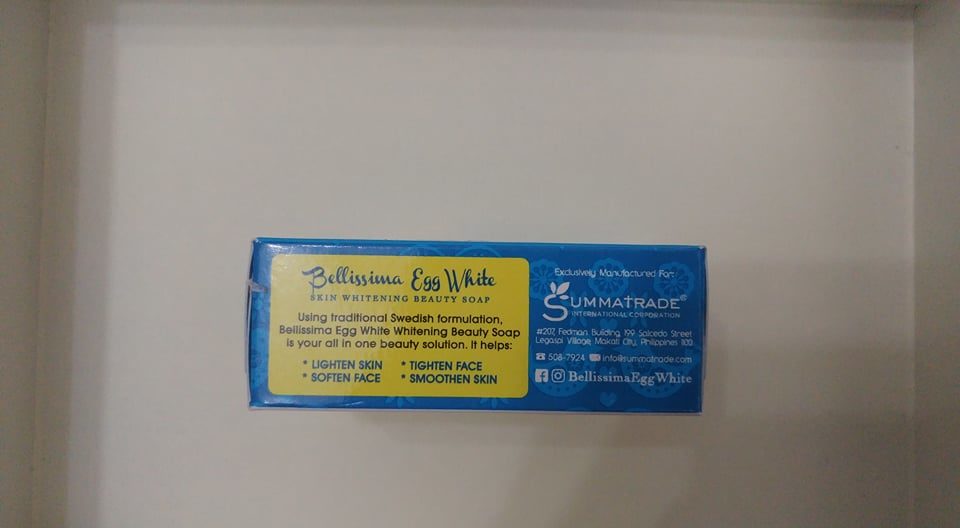 Overall, the product lives up to its promise of softer, whiter, and tighter skin. It felt like having lotion since my skin is moisturized. The result of whitening would probably be gradual, however, the glow on my skin is noticeable.
You may purchase it at Puregold branches nationwide for Php55 a piece. At Php85 for two pieces, you can save Php25. That's bang for the buck! Follow their social media sites at 
Facebook: @bellissimaeggwhite
Instagram: @bellissimaeggwhite