I fell in love with Bo's coffee ever since I first tasted their mixed berry tea at their Mall of Asia Branch. What  I also love about Bos coffee is their advocacy and continuing support for our locally produced coffee beans. Thus when you buy a cup of coffee it gives ample support to our local coffee farmers.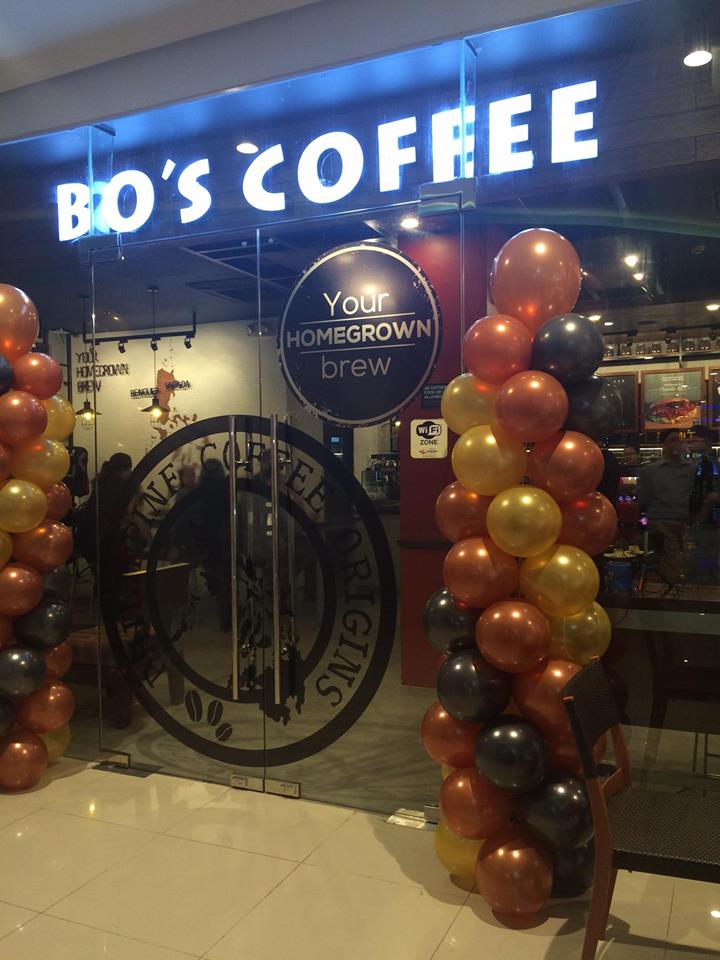 Upon entering bos coffee I was quickly greeted with a warm and pleasant smile from the staff. Filipino hospitality was exhibited in the way they deliver their services.  The aroma of the coffee is inviting and the taste is simply exemplary.
Credits to purpleplumfairy.com
Another branch of Bo's Coffee has opened in UP Town Center to meet the demands of its growing number of customers. UP Town center is the first and only university town center in the Philippines.Bo's coffee is a 100% Filipino-owned coffee shop which just opened its 93rd outlet.
"There has been a growing demand to open more cafes so we selected UP Town Center, which is strategically located in a bustling community that's full of individuals from all walks of life, to address those needs," Coochy Mamaclay, Bo's Coffee VP for Brand & Marketing, said.
"We want everyone to feel the Bo's Coffee experience as they look for a nook and haven where students, friends, and families can study, bond, and share stories in a cozy and feel-at-home atmosphere over their favorite local brew," Mamaclay noted.
A unique way of providing rewards to its loyal partners is given by the prestigious coffee shop. Bo's coffee is generous enough to reward the first 100 customers with every store inaugurated. The first in line at the opening will get one cup of coffee every day for a year. That is 365 cups in total! The 2nd in line will be rewarded with 6 months worth of coffee and the 3rd in line will receive 3 months worth of coffee. The 4th in line up to the 100th will be getting a month's supply of the best coffee in the land. The grand opening date for the UP Town Center branch is set on March 10, 2017.
                                                                     Video credits to www.wazzup.ph

"Bo's Coffee partners – our service staff, have taken an oath – a 'panata'- to give their best to our customers. Once their orders are made, our partners don't call their attention but approach and serve them with a smile," she explained. "This is how we Filipinos take care of our guests."
Each store of Bo's coffee features local artistry and craft. The chandeliers are designed by world-famous designer Kenneth Cobonpue while the chairs are colorfully upholstered by ANTHILL Fabric Gallery.
"In our vow to share the great Philippine coffee experience, every cup you sip also nurtures and cultivates social enterprises and builds communities, a commitment and advocacy we take seriously" she explained.
As "Your Homegrown Brew", Bo's Coffee's point of pride is that all of its coffee beans are sourced locally from highland farmers in Sagada and Benguet in the Mountain Province, Mount Kitanglad in Bukidnon, Mount Apo in Davao, and Mount Matutum in Tupi, South Cotabato.
"We serve coffee-to-cup freshness using only quality coffee beans from these local and sustainable sources," the Bo's Coffee official said.
The expansion plan set by Bo's Coffee is off to a good start and is not stopping anytime soon. A Bo's coffee official disclosed that there are plans to roll out more branches and that Bo's Coffee is targeting to have its 100th store in the 1st quarter of 2017 and that the brand's first international outlet will open its doors within the year. For UP Town Center, the grand opening date is set on March 18,2017 so don't forget to mark your calendars.
Branches of Bo's coffee and their menu can be found on its website at www.boscoffee.com
About Bo's Coffee
Origins is a story of our culture. We make it our business to support local coffee farmers. We make it our mission to create positive social impact by empowering social enterprises. It is in our pursuit to deliver unparalleled hospitality and a complete homegrown experience to our patrons.
We are Bo's Coffee, Your Homegrown Brew.