Our smartphones have been a vital tool for us in powering through our daily activities. Through smartphones, we are able to communicate with the world, accomplish our work, and even enjoy our hobbies and passions.


A reliable and high-performing smartphone is needed to conquer our daily tasks, whether for work or play. Here are some reasons why the OnePlus 11 5G is the right gadget for the job.


Seamless and smooth performance

Your phone needs to keep up with your list of tasks and hectic schedule. Not to worry because the OnePlus 11 5G is equipped with a powerful processor that lets you go about your daily mobile phone activities without any lags and interruptions. It is powered by the Snapdragon 8 Gen2 processor and comes with an 8GB or 16GB variant that can extend up to additional 8GB RAM expansion, allowing you to multitask and can even have 44 apps running in the background all at once without overheating.


The OnePlus 11 5G also has a 48-month Fluency Protection rating which guarantees smooth performance from day one up to four years of usage. Your phone will remain in tip-top shape with minimal lags and degradation, truly making it a worthy investment.


Professional-Level Photography with Hasselblad

Whether you take photos for leisure or for a living, you would definitely appreciate the camera features of OnePlus 11 5G.


The camera of the OnePlus 11 5G is co-created by Hasselblad, and uses a system-based triple camera module paired with Hasselblad-branded color turning which allows you to capture images in its natural colors. This is ideal for taking pictures when you travel to scenic destinations, snapping fitness and work milestones, and capturing precious moments with your loved-ones.


The main sensor on the other hand, houses a 50MP Sony IMX890 camera that allows you to take low-light photos and videos even at backlit areas and thanks to its IMX581 48MP Ultra-Wide Sensor and IMX709 32MP telephoto lens, you are able to produce DSLR-level quality shots all the time.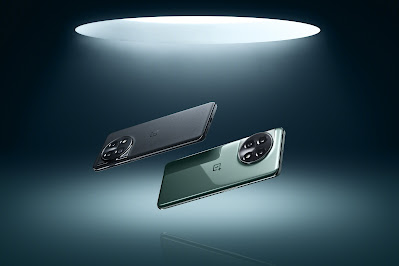 Massive Battery with a Super Fast Charging Feature

If you're always on the go, the OnePlus 11 5G is ideal for you. Because of its massive 5000 mAh battery, it can last you the entire day and can handle any activity including lengthy video conferences, binge-watching your favorite shows , browsing through social media, or playing mobile games.

It also has a 100W SUPERVOOC fast-charging feature that allows you to fully charge the battery in less than 30 minutes. The OnePlus 11 5G also has an innovative Battery Health Engine designed to make charging safer and more efficient. The lifespan of the device's battery is extended to around 1,600 charge or discharge cycles, which is twice better than the current industry standard of 800 cycles.

The OnePlus 11 5G is priced at PHP 45,990 for the 8+128GB variant and PHP 49,990 for the 16+256GB variant. It comes in 2 colorways – Titan Black and Eternal Green.


Experience the Shape of Power and get the OnePlus 11 5G today in all official OnePlus kiosks and select OPPO brand stores nationwide. You may also purchase via Lazada and Shopee.

For more information on the OnePlus 11 5G, its features, and its availability, check out https://www.oneplus.com/ph or OnePlus Philippines' official Facebook page.