Marikina is a haven for food lovers as the presence of food parks around the city  increased.   So if you live around Marikina, you can't miss this #Foodtrip as it has a huge tree in the middle and a colorful sign. 
Ambiance
I get a romantic and chill vibe on this food park with its maze like cobbled stone pathway  to the instagrammable wall art.  Perfect for barkada hangouts or a quick romantic dinner as the park itself isn't that crowded.  The rain drizzled when we sat down near the first stall. Good thing this food park has large umbrellas set up on every  table .
The original name seemed to lack appeal, thus, they made it simpler. Sonyarita is from Sonya, which is name of the owner's wife merged with senyorita. It's the couple's first try in the food business and so far, so good. Just like every budding entrepreneur, they strive to give their best for their first try. They do not compromise on their ingredients and food quality.

Flavorful and juicy! Their home-made gravy complemented the taste of the beef. 
Slicing was easy as it was tender. Served with a cute-sized container of garlic rice which doesn't look like it's going to be enough for your appetite once you start digging in.
This type of bacon is much leaner compared to the American counterpart and is rounded rather than the usual strips. I never knew the difference until I tried it. It tasted a bit like ham and is great for any time of the day.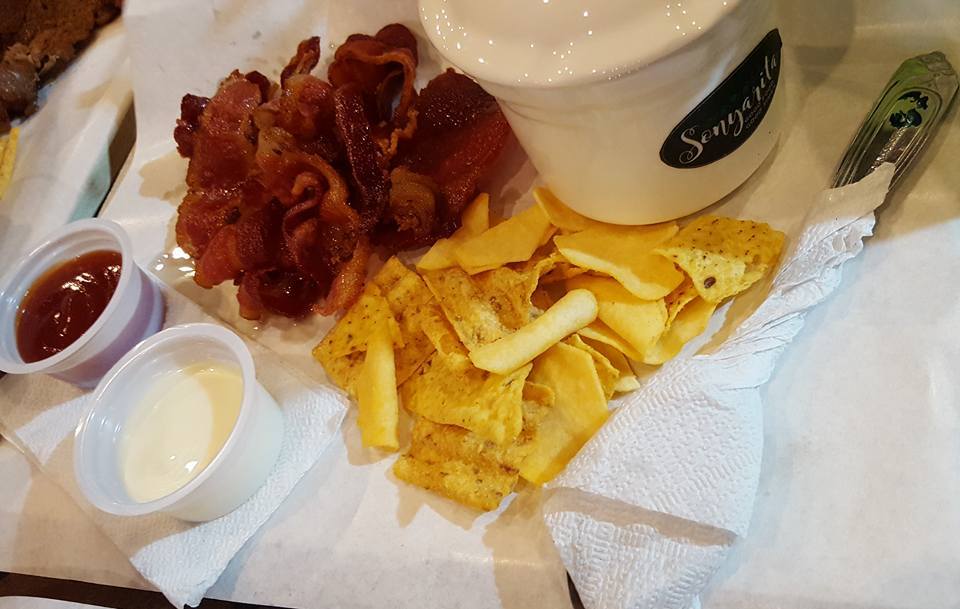 There's a reason spam is a cultural icon. It's so popular in Hawaii, even Mcdonald's in Hawaii features Spam menu items. You can eat it right out of the can and in this case, the Spam Fries are actually served in a Spam can. The taste was light, enough saltiness to make you consume another serving or increase your appetite for a burger.
A great selection of appetizers: Mozarella pops, Spam sticks, and Cheddar cheese fries. Cheddar is the most popular kind of cheese in the UK and why should it not? It makes everything better that's why we put it on baked potatoes, bread, pasta, and pizza. Adding it to fries is the best invention yet. Mozarella pops, on the other hand were mouth melting, cheesy with hints of herbs and paprika. 
Sour drinks quenches your thirst better.  Sonyarita has the Cucumber lemonade which is not only nutritious but also refreshing. The other drink was the Gummy bear which name sounds adorable and the sweetness was not too much so we asked for another glass.
Ms Elvira named the place after herself and took some time to make sure she is satisfied with the design of her stall which is meticulously designed with a rodeo theme in mind. It's like you're in a movie set with a cowboy entering a Western saloon through the batwing doors in the old West, challenging you to a gun duel.
Quespada stick of pork
Pork was served in an unusual way which is using metal skewer that looks like a sword, hence the name Quespada, at least I think.  The meat was well done, juicy and tasted great with the sauce provided but still is yummy on its own. 
I wish I could just stare at the desserts we've been served and not drink it coz they're just too good to look at.
 Who would not turn into a cookie monster with all the Oreos  in this concoction. Three Oreos on top of the milkshake and some more crushed Oreos sprinkled all over. The taste is well balanced. Milk provides extra gorgeousness to the mixture.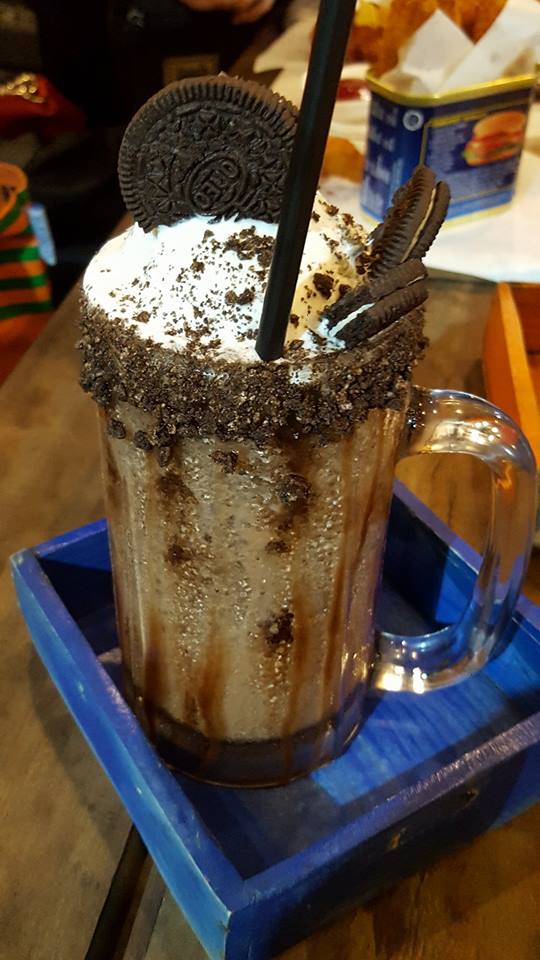 If chocolate is a woman's best friend then this drink is a woman's BFF. It has a Kitkat bar, Pocky sticks, marshmallows, and chocolate sprinkles on top of milk chocolate. Chocolate never fails to take my stress away and this one did a great job. Can't get enough of the right blend of ingredients incorporated in it.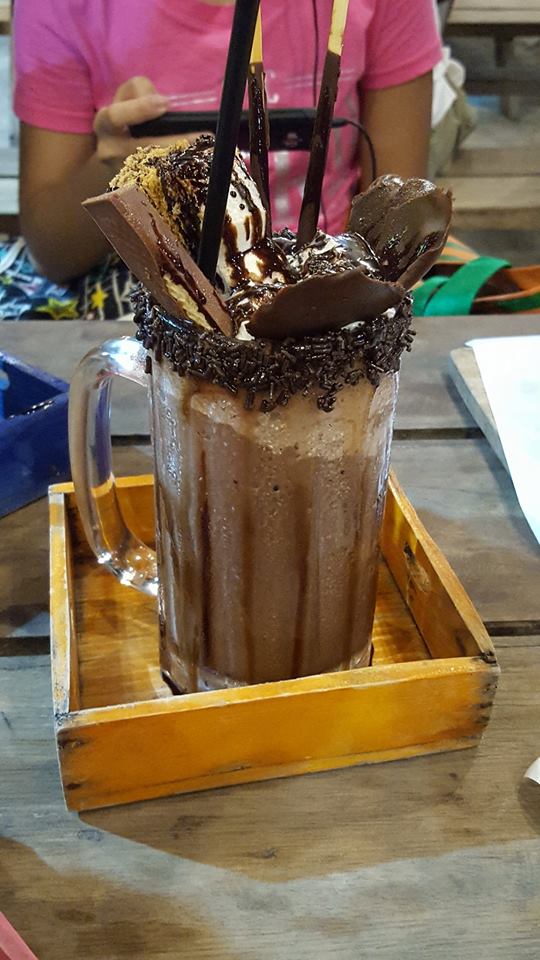 Vanilla ice cream with actual strawberries, a strawberry pretzel on top and strawberry Pocky sticks served in a tall glass. Not too sweet as well, cool and creamy , and a great way to end our dinner.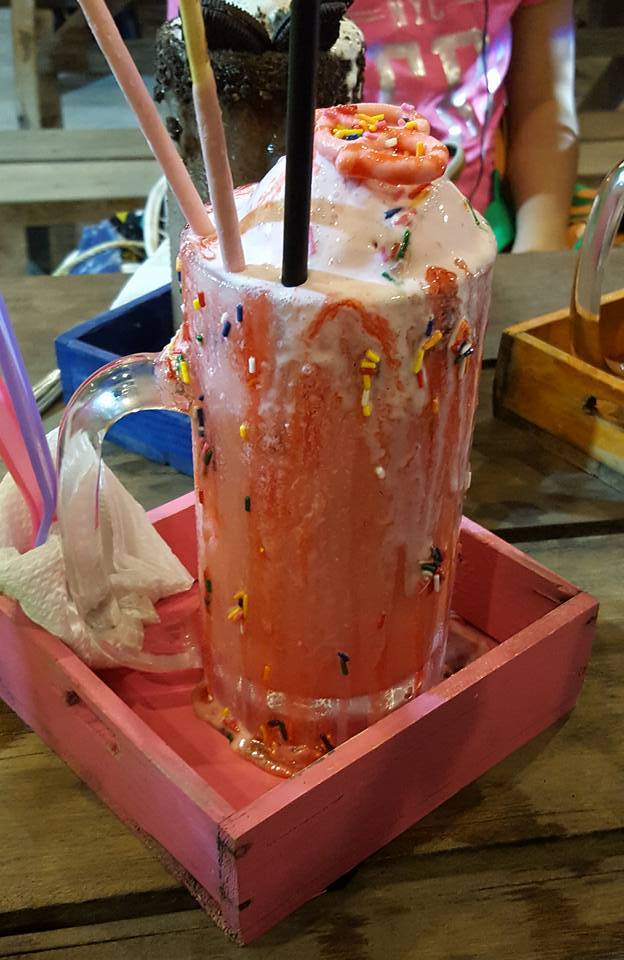 Usually I would go to crowded places because it would almost guarantee that a foodpark has good food and might be a cool place to hang out due to the large number of goers but for intimate gatherings and a breather, #Foodtrip in Marikina is a getaway.  Most  people would appreciate the dining area layout. Relaxing, awesome food choices and accessibility can spell the difference. A weekly schedule of acoustic performances is something to look forward to as well. 
To get updates on #Foodtrip Marikina, follow them on Facebook and Instagram
#Foodtrip is open daily from 4pm to 2am. Their complete address is #9 Guerilla Street corner Gil Fernando Ave., 1800 Marikina City.