Macpower Marketing Corporation launches another brand that would dress up your gadgets UNIQ, a Singaporean brand, designs series of functionally stylish gadget accessories and travel essentials to ensure you stay in style at home or away. Its products are driven by the shared belief that good design should be BEAUTIFUL, FUNCTIONAL, and SUBTLE. They craft experiences with their products to make our lives better; every single day.
UNIQ is perfect gadget accessories and essentials for young professionals and professionals, it can be their companion in office works, business travels or at home. Stay in style anywhere you go. "Each UNIQ design went through stages of prudent planning and development, with scrupulous sourcing and careful selection of quality materials, textiles, and craftsmanship to produce the kind of premium goods we are proud to call ours." DAVID, Head of Design and Development UNIQ just recently held their brand launching at F1 Hotel last June 13, 2019. UNIQ aspires ● To build brand awareness after the media launch.
● To create positive interest with the brand and its products which are Beautiful, Functional and Subtle.
● To establish social media presence of the brand. Check out the products UNIQ has to offer:
● CHARGING
Solid elegance meets full practicality in the form of Aereo, our 3-in-1 Fast Wireless Charging Pad bundled with QC 3.0 fast charger. Enjoy streamlined charging by powering up iPhone, Airpods and Apple Watch simultaneously on one single platform. A stylish space-saving solution, Aereo is designed to be so beautifully simple that it blends right in.
Enjoy effortless on-the-go charging with Vertex, a wireless charger from the LITHOS Collective that defies the rules of functional design. Designed for ultimate convenience, its simple folding mechanism and 3-coil design allow for easy flat-lay and upright charging at any angle – all without compromising on style. Crafted with a unique texturized finishing that is granular to touch, this portable wireless charger makes for a clever elegant piece on any workspace you place it on.
With compatibility in over 150 countries, including America, Australia, Europe, UK, and Asia, Voyage helps you stay charged and connected, no matter which part of the world you're at. Equipped with USB-C fast charging technology, and is able to charge up to five devices simultaneously. Comes with a travel pouch to store product.
Channel the right energy with Versa Slim Kit, our power adaptor bundle with fast charging USB-C to C tough cable. Built with 18W Power Delivery and slim enough for those hard to reach wall sockets, Versa lends your charging experience a contemporary edge in both speed and style.
A desktop classic upgraded in form and power, Surge is a charging station equipped with 2 USB-C PD Ports at 90W Max Power and 2 Quick Charge 3.0 USB ports for simultaneous charging of all devices at full speed. Designed in flatlay orientation to ensure clean cable lines for complete charging ease.
Designed for those who work on their smartphone and gadgets all day, Fuele is equipped with USB-C power delivery to charge and recharge them 30% faster and up to 3 devices simultaneously. Encased in premium leatherette with an ultra-slim profile to turn ordinary everyday charging into a refined and delightful experience
● CABLES
Simple, understated design methodology backs the overall aesthetics for Halo. Intentionally created to look clean, sleek, and uncluttered, its slender and featherweight size makes it perfect for on-the-go usage. Comes in Lightning and USB-C cable.
Flex USB-C to Lightning cable supports 18W Power Delivery to charge your iPhone at the fastest speed available – up to 60% in 30 minutes. Made ultra-durable with Military Grade material and Xtreme360™ Strain Relief design for incredible flexibility, and completed with a slim charging tip that fits most cases.
● CASES
Add the contemporary robustness and touch of genuine leather to your Airpod case with Terra, a protective casing crafted with full-grain quality leather. Designed to shield your Airpod case with a premium pop of color and comes with a bottom cut out for charging ease.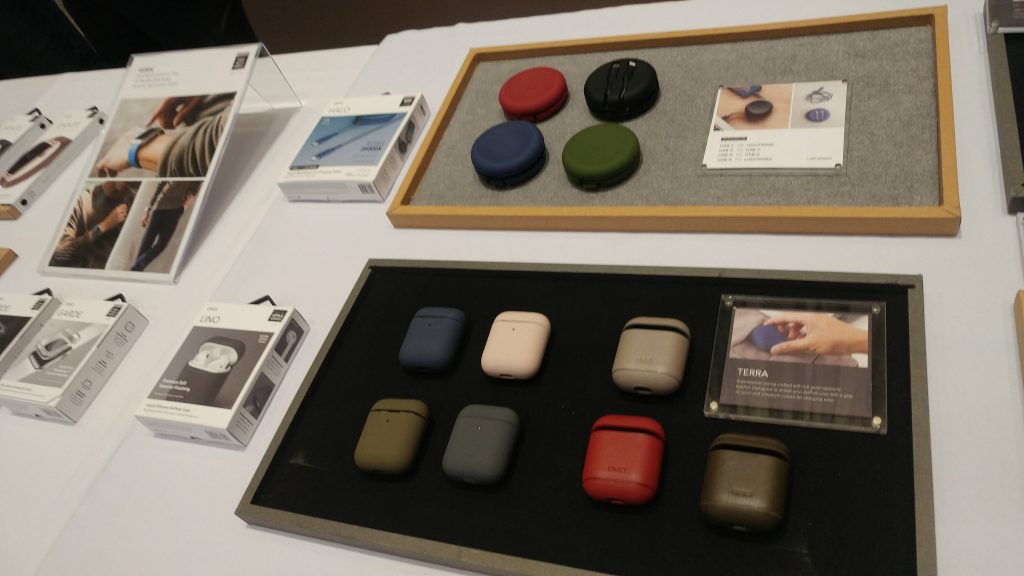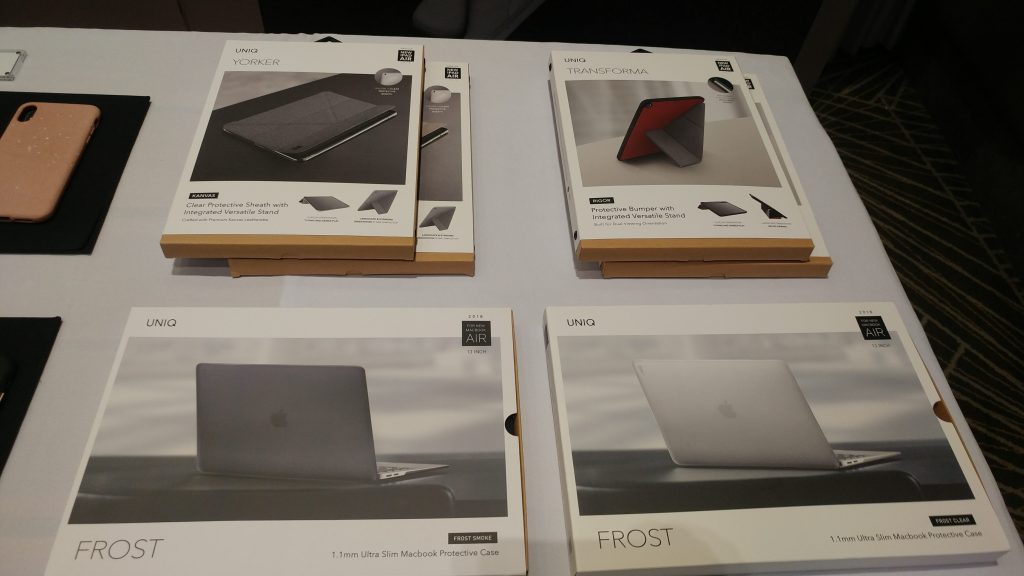 The Ultimate Handsfree Experience. Get full functionality out of your smart device with an integrated stand. Whether you're texting, video-calling, or watching your favorite movies, you can now enjoy protection that comes with hands-free connectivity. Inspired by the idea of finding safety and security from nature, Element series is a splendid showcase of exquisitely crafted case designs made contemporary with refined natural materials. Like the naturally occurring phenomenon found in nature, no two Element cases are the same.
Engineered with Edge-to-edge Co-Mould Technology with PC coverage on the sides for maximum shock-and-drop protection. Flaunt your device in a case where style and protection amalgamates. With flexible luxe material and absolute protection, you'll be ready to take on the day's challenges on the chin.
Enough of the same humdrum of carrying dull gadget accessories, allow us to bring you to the world of UNIQ as it opens its very First Kiosk in the Philippines on June 22, 2019. Located at 4F Cyberzone, The Annex Building, SM City North EDSA. Altogether, let's step into Uniq by using #uniqbetterbydesignph and tagging @uniqbetterbydesignph on Instagr