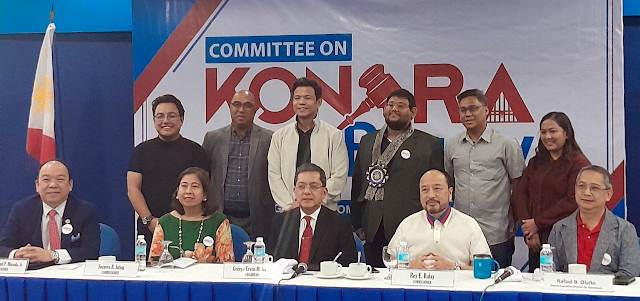 Seated from left: Committee on Kontra bigay commissioner-in-charge Ernesto Ferdinand Maceda Jr., Comelec commissioner Socorro Inting, chairman George Erwin Garcia, commissioner Rey Bulay and deputy executive director for operations Rafael Olano, together with the GCash legal team (standing)

GCash expressed its full support for the Commission on Elections' (COMELEC) Resolution No. 10946, also known as "Kontra-Bigay", ahead of the upcoming Barangay and Sangguniang Kabataan elections.

Officials from the fintech company attended the campaign's launch at the Palacio del Gobernador in Intramuros, Manila, earlier in September. The launch was also attended by distinguished representatives from lead agencies such as the Department of Justice (DOJ), Philippine National Police (PNP), Armed Forces of the Philippines (AFP), Integrated Bar of the Philippines (IBP), Office of the Solicitor General (OSG), Public Attorney's Office (PAO), Anti-Money Laundering Council (AMLC), Department of Education (DepEd), as well as prominent election-focused NGOs like National Citizens' Movement for Free Elections (NAMFREL), Parish Pastoral Council for Responsible Voting (PPCRV), and Legal Network For Truthful Elections (LENTE).

COMELEC Resolution No. 10946 aims to combat online vote buying and selling by establishing a Kontra-Bigay Committee and expanding the existing vote-buying regulations under the Omnibus Election Code and its Implementing Rules and Regulations, as well as the other rules and regulations issued by COMELEC.

One of the most significant highlights of the newly passed resolution is its recognition of online banking transactions and the use of e-wallets as potential channels for vote buying under Section 30. During the launch, COMELEC emphasized its authority to scrutinize the financial details of account holders suspected of involvement in such illicit activities.

"GCash reiterates its unwavering commitment to cooperate fully with the COMELEC in the fight against online vote buying. The company recognizes the critical role fintech companies play in safeguarding the integrity of elections by preventing the misuse of digital financial tools for unlawful purposes," said Martha Sazon, president and chief executive officer of GCash.

GCash believes that fostering transparency, accountability, and trust in financial transactions is paramount to ensuring fair, honest, and inclusive elections that reflect the people's will.

"We remain committed to upholding the highest standards of transparency and security in financial transactions and will actively support the COMELEC in their efforts to maintain a level playing field for all candidates and voters," added Sazon.

As the country's no. 1 finance super app, GCash embraces its responsibility in ensuring that not only finance but also democracy, is for all.