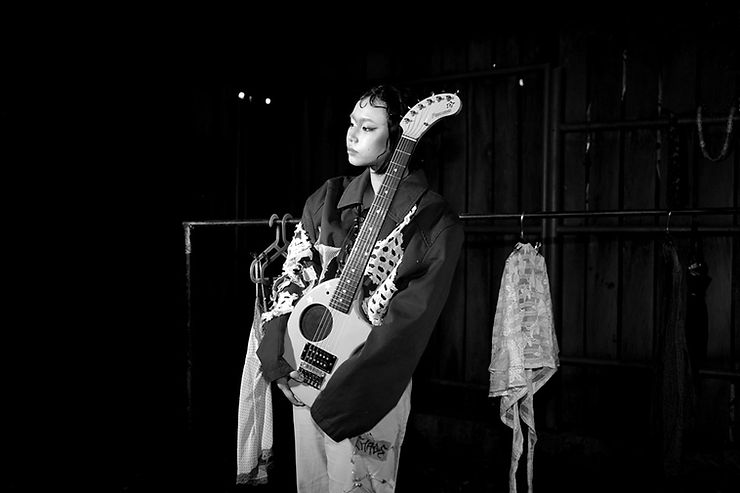 Coming from a lineage of musicians with a known history of creative integrity and a strong sense of DIY spirit, SHANNi proves that there's more to her surname than meets the eye.
The young singer-songwriter officially makes her entrance as a recording artist with a refreshing new single that showcases vulnerability beyond her years. Aptly titled "sa panaginip," the song stands out with its lilting, throwback sound and jazz-pop edge.
SHANNi reveals that the storytelling behind "sa panaginip" was inspired by The Eternal Sunshine of the Spotless Mind, a movie about love's inevitable imperfections and the difficulty of purging the memories that once defined it. SHANNi wrote the track when she was in grade 10 after watching the film for the very first time.
"I called it sa panaginip, because it shows that memories and emotions aren't easy to forget," the promising newcomer explains. "It's all the more difficult to erase when the experience contributes significantly to your journey as a person. You won't be able to escape the truth, even in your dreams."
"sa panaginip" is solely written by SHANNi, who served as one of its producers. One Click Straight's Sam Marquez mixed and mastered the song, with Blaster Silonga contributing background vocals. The result is an intimate release that helps listeners make sense of their own world, one step at a time—a recording that emits a strong musical identity even in its rawness and youthful innocence.
SHANNi is a singer-songwriter based in Metro Manila whose music is often described as a mixture of classic city pop and jazz-influenced synth-pop and funk. Looking for ways to push herself creatively and expand her gift to the best of her abilities, the budding alternative artist is inspired to make music that isn't just confined to a specific niche or box. As reflected in her personal mantra, "I think about all of the amazing things that can be done with music, and wonder what I'd be willing to do to get there."
The Filipino music prodigy is the younger sister of eclectic art-pop artist Blaster Silonga (IV of Spades and Blaster and the Celestial Klowns) and the daughter of Daddy A (K247 and Daddy's Home) and niece of Shar (Smokey Mountain). Her siblings Dave and Leyna Silonga, are also part of SHANNI's band, as bassist and guitarist, respectively.
SHANNi is currently signed under Sony Music Entertainment.
"sa panaginip" is out now on all digital music platforms worldwide.