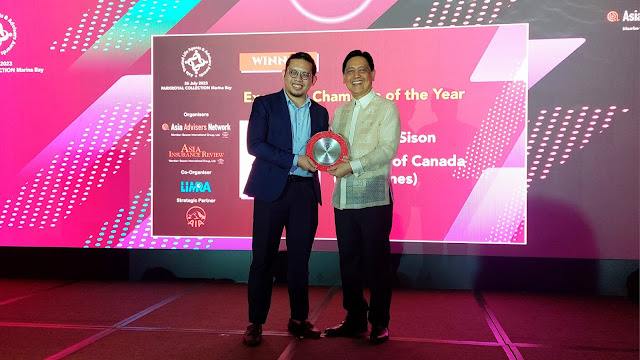 Sun Life Philippines cemented its position as one of the region's best life insurance brands, after it achieved a double win in two industry recognition programs held recently in Singapore.



In the Asia Trusted Life Agents and Advisers Awards (ATLAA) held last July 26 at PARKROYAL Collection Marina Bay, Sun Life Philippines CEO & Country Head Benedict Sison was honored with the Executive Champion of the Year Award for his exemplary leadership and contributions to the industry.



"I am humbled to be recognized by my peers, who are not only experts in the field but are also passionate advocates of our industry's purpose," Sison said, as he accepted the award. "I share this honor with our clients, advisors, and employees. It will always be my privilege to champion our company, our industry, and, most especially, our purpose."



Also recognized as finalists in ATLAA were Sun Life of Canada (Philippines), Inc. in the Life Insurance Company of the Year category and Phoenix Palm Branch Manager Jayvee Badile in the Insurance Agency Leader of the Year category.



Meanwhile, Sun Life Grepa Financial, Inc. (SLGFI), Sun Life's bancassurance arm, was recognized in the Insurance Asia Awards held last July 27 at the Marina Bay Sands. For the second year in a row, the company was bestowed the MSME Insurance Initiative of the Year Award for Sun Life Grepa Healthcare, its holistic group insurance ecosystem which covers wellness, protection, and recovery.



The award was accepted by SLGFI Vice President for Group Business Peter Miranda and SLGFI Head of Group Sales and Strategies Justine Daguman.



"SLGFI considers itself not just a provider but a partner to Filipino entrepreneurs, as they pursue their goals for their businesses and their people. Sun Life Grepa Healthcare is a testament to this vision," Miranda said. "We are grateful to be recognized in the Insurance Asia Awards once again. We look forward to continuously enhancing this program so we can help more micro, small, and medium enterprises."



These recognitions emphasize Sun Life's commitment to helping Filipinos achieve lifetime financial security and live healthier lives. "In every business that we have and every initiative we launch, we strive to bring our clients the best that we can offer," Sison said. "We couldn't have won these prestigious awards without the inspiration and support they give. And as a way of thanking them, we can only promise that we will always be here to help them build a brighter future."