With people and culture at the heart of its operations, GoTyme Bank offers thoughtful leave benefits for moms returning to work, pet owners, and LGBTQ adoptive parents making it the ideal workplace post pandemic. 
GoTyme Bank is a young startup, but it is positioned to establish a name for itself in the Philippine fintech industry.. A partnership between the Gokongwei Group and Singapore-based digital banking group Tyme, it recognizes the crucial role culture plays in driving its success as it navigates a fast-paced startup environment.
With more jobseekers looking at not just dynamic work environments, but useful leave benefits and flexible work arrangements as well, GoTyme Bank is heeding the call with unique and thoughtful offerings for its employees. On the hunt for a new job? Read on to learn what makes GoTyme Bank an ideal workplace.
Matching hearts
Crissy Rollan, Chief People and Culture Officer at GoTyme Bank, has been at the helm of the bank's recruitment activities since it started its operations in 2021. Under her leadership, GoTyme Bank has crafted its culture and values rooted in empowerment, transparency, imagination, grit, and empathy.
Crissy Rollan, Chief People and Culture Officer at GoTyme Bank
More than filling job openings purely based on qualifications, GoTyme Bank is also committed to growing with its employees.
"It is very easy to categorize people based on the skillset they bring or the match according to the job description," Crissy says. "At GoTyme Bank, it is never enough that you are a technical rockstar—your passion and your heart matters. We look for people who have the right heart and are willing to invest in their future—to grow into the role and in the company."
Longer maternity and paternity leaves
As a mom herself, one of the things Crissy is most passionate about is making GoTyme Bank a platform for opportunities, especially for mothers returning to work. 
"It's every mother's dilemma: a safe delivery, keeping the baby healthy, breastfeeding, and looking after the baby once the maternity leave is over," Crissy points out. "For some, they decide to take a year or two off."
At GoTyme Bank, moms and dads of newborns can enjoy extended leaves to attend to their child's needs.
"We recognize that as a mom, sometimes the hardest part is to think about the span of time," Crissy shares. "This is why at GoTyme Bank, we have an extension of two weeks' maternal leave, and for dads, an extension of seven days' paternity leave."
Leave benefits for LGBTQ adoptive parents and pet owners

Taking pride in being a highly inclusive company, GoTyme Bank's definition of parents encompasses adoptive parents—including those belonging to the LGBTQ community and domestic partnership—with an adoption leave of 60 days. Meanwhile, great news as well to fur moms and fur dads, as they get to enjoy this benefit too, via the company's "furternity" leave.
Therese Adoremos, a project manager at GoTyme Bank one of the company's early joiners, shares what she loves about the unique benefit.
"I want to have a dog one day, so it's the cutest thing ever to know that Go Tyme Bank has a furternity leave I could use when that time comes," she says.


Omaima Mahmoud, Head of Sales and Transactions at GoTyme Bank, finds the furternity leave very convenient as she considers her pets as her family members. Availing the benefit is straightforward, as well.
"GoTyme Bank includes it in our employee portal and it's accessible just like any other leave credits," she explains. "Seeing that GoTyme values our fur children just as much as we do really tells me that GoTyme cares about our wellbeing not just at work, but also in our personal lives. Our fur babies recently had fur babies of their own and it meant a lot to be there for them and know that my company does not consider this a silly thing at all."
Medical and other benefits

Apart from the standard HMO from Day 1 for employees and their dependents, GoTyme Bank employees also enjoy insurance coverage including work from home benefits. 
"We are committed to give our GoTymers the best care—on top of the standard health benefits, we have regular career and life coaching sessions, social groups to connect people with common interests, and soon, we'll also be launching a mental health program to give access to professional assistance." 
Kevin Cupat, a member of Go Tyme Bank's IT team who recently got engaged, enjoys the flexibility of having a hybrid work setup, which gives him a better sense of work-life integration. He also looks forward to availing of benefits such as his birthday leave, Zumba and yoga via the wellness program, and another exciting perk: owning a laptop after a three-year residency within the company.
Sense of community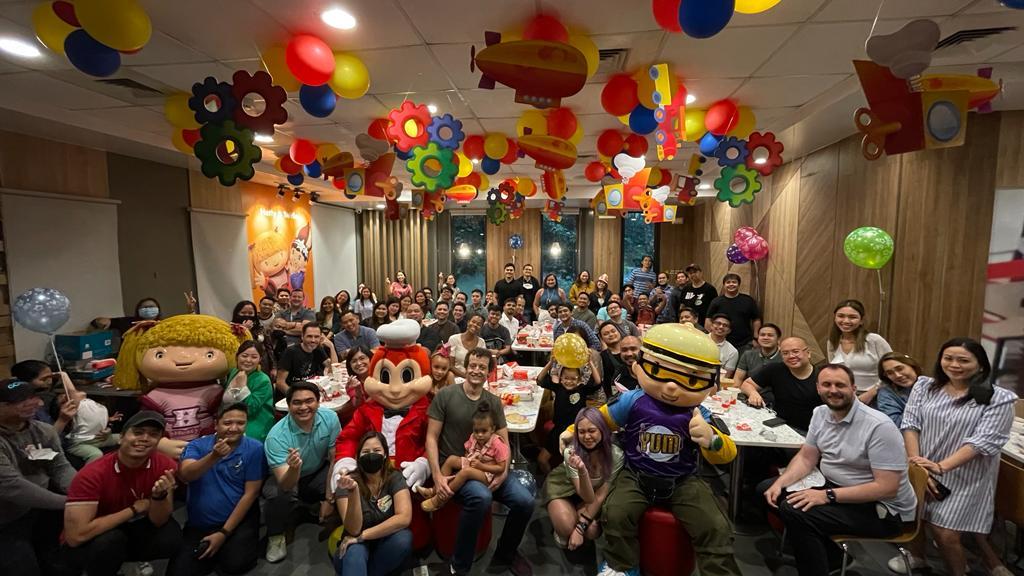 At GoTyme Bank, employees are treated as part of a single community. "A huge part of our talent strategy is to ensure an amazing employee journey; transparency starts at a recruitment stage," Crissy remarks. "As a bank, we give a lot of importance to customer experience and this also translates to our internal customers: our GoTymers! You are always home in GoTyme!"
"I appreciate that you can legitimately see everyone embody the values upheld in GoTyme Bank and that everyone benefits from it," shares project manager Therese. "I've personally found my work more rewarding and fulfilling because I actually care about the success of the company brought about by every single member of the GoTyme Bank team."
Kevin adds, "I really appreciate the trust and transparency amongst my superiors and peers. There is good collaboration. This is very important because it facilitates clear and effective communication. These are good motivators and can result to increased productivity."
Fun interactions through a metaverse office
With hybrid work setups becoming the norm, GoTyme Bank finds ways to continuously drive a highly engaged organization, with the recent launch of its metaverse office, a virtual space which allows workers to interact with one another remotely anytime, anywhere.
In the simulated workspace—complete with a board room and personal spaces—employees can hold meetings, ride around on a bike, run on a track field, or even dance around the office with confetti. It's inspired by GoTyme Bank's actual office, which is set to be turned over this August.
"One of the great lessons the pandemic taught us is to always be evolving," Crissy notes. "With the metaverse, it is not just about staying connected, but providing a unique platform for everyone to be more expressive and creative. It also allows the more introverted people to express themselves. It's about versatility to address a diverse organization."  
Happy employees


On top of fostering employee wellness, GoTyme Bank's success shows in how satisfied its employees are. In its first six months, it's already achieved a Net Promoter Score (NPS) of 67. NPS is a business metric used to gauge how likely an individual is willing to recommend a brand to a friend or colleague. A 67 percent NPS means the company is performing well and has a lot of happy employees or customers.
With its commitment to taking care of its employees and customers, GoTyme Bank is gearing up to revolutionize banking in the Philippines as it goes live in Q3 2022. Soon, you can open an account in under five minutes through digital kiosks and avail banking products and services such as better bank transfers, shopping rewards, interest savings, trading, investing and customer service.
To get exclusive updates on the upcoming bank launch, subscribe to GoTyme Bank's newsletter.  To learn more about GoTyme Bank's exciting features and products, follow their official social media pages, GoTymeBank on Facebook and Instagram.