There's no doubt about it – the esports industry in the Philippines has grown rapidly in the past several years. What was once seen as just a hobby people would engage with during their downtime is now considered a professional sport. Thanks to its huge local and international presence, the Philippines is not new to winning global tournaments, making the local esports fans high with pride.

For fans and aspiring gaming content creators and pro players, many wonder how and where to start their journey to become like one of their gaming idols. Thankfully, with the rise of esports in the country, we now have several pioneers in the industry to look up to, like streamers Ashley Gosiengfiao and Gloco Gaming, Tier One Entertainment's Blacklist International, and Mineski's Eric Tai aka Eruption and Shai Onyx. It's time to learn straight from these pros about their personal tips and tricks to jumpstart your way into the esports arena:

Find the game for you
With the boom in the esports industry, you can expect there to be a multitude of games to choose from. Team or solo, FPS or MOBA – take the time to not just to test out the games for yourself, but also to develop skills in each of these to see which one's the right fit for your interests and skills. "I see a lot of opportunity in this area, as most people now play on their phones," says Shai Onyx. "First, they need to choose what game or games they really like!"
Look for the right support
Especially for team games, you need to find the right mix of skills and players to unlock a winning strategy. But more than anything, practicing and watching to learn from other professionals are key. One company looking to grow esports talents in the country is Tier One, offering programs to aspiring players to kickstart their careers. "Our programs, including AMPLFY, AMPLFY Academy, ASCEND and more provide support and education for streamers,
content creators, and amateur players so they can pursue their gaming and esports dreams," says Rada Ocampo, the General Manager and fearless leader of Tier One's Blacklist International. "Now more than ever, there are more and more ways to turn your gaming passion into a career, but you have to want it. You have to put in the hours and train, without neglecting your studies or other obligations in life."
Don't overthink but be prepared
As someone who has been gaming since the early 2000s, even with PC games like DOTA, Eric Tai, aka Eruption, takes his content up a notch by mixing in candid humor and drama inhis epic game plays. His advice for aspiring gaming content creators is to roll with the punches.
"Sometimes the content that you spend days creating doesn't have much of an impact, than the one you did in just five minutes. Some fly, some don't – it all depends! Just don't get beat up about it and just keep creating."
One of the first streamers in the industry, Ashley Gosiengfiao recommends investing in yourself too. "As more and more people are getting into gaming content creation, it's important to find your own voice and personality. You'll have to figure out what makes you stand out from this fast-growing crowd," she says.
Invest in the right equipment and hardware
Putting yourself out in the public eye requires equipping yourself with the right tools to make a good impression. "In today's world, first impressions last, so it really helps to prepare yourself with the right equipment even before starting," says streamer Gloco Gaming. "All these will be investments towards your goals." From basics like a decent webcam and clear microphone, to more advanced tools like rigs, these are just some of the things to add to your arsenal.
Arm yourself with a powerful smartphone
For mobile gamers especially, one device that's an absolute must is a handy smartphone that can keep up with all your gaming and content creation needs. Ashley, Gloco, Eruption, Shai, and the Blacklist team all agree that the top features a capable mobile gaming device should have are long battery life and a powerful processor to ensure games don't lag. "Smooth performance is key to pro level play," says Rada.

A smartphone that checks off these boxes and more is the new OPPO Reno6 series. Powered by a smart AI gaming system, the OPPO Reno6 delivers top notch performance so you can keep your winning streak going. "I've been playing Mobile Legends on it for a while, and it hasn't lagged or dropped FPS yet," says Eruption. Adding to that, Ashley says, "I don't even need to plug it into the charger even while I'm streaming for hours because the battery lasts so long."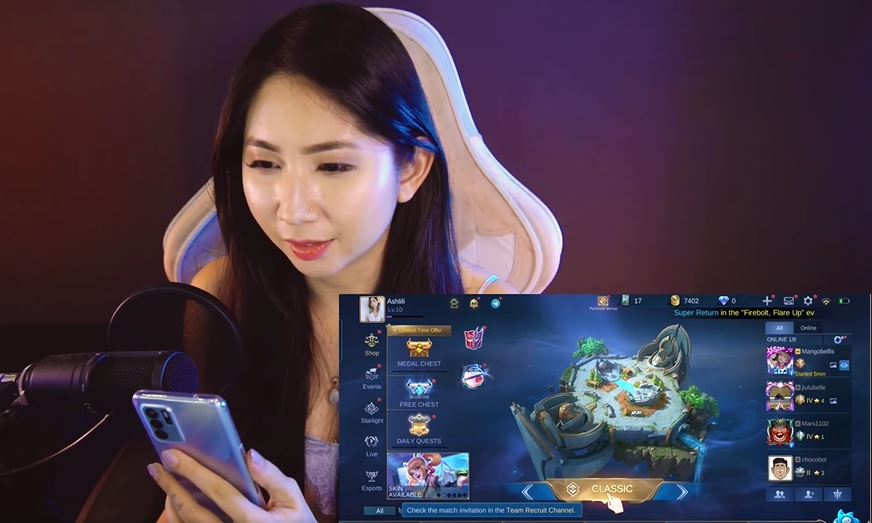 Apart from gamer-focused features, the Reno6's lightweight design makes it handy for gamers who need to be playing for hours. "It doesn't tire my hands out even after hours of playing," says Ashley. And finally, its triple camera setup fits professional photography features, like AI Color Portrait and Bokeh Flare Portrait, in the palm of your hand, so you can capture your gaming emotions in portrait – from frustration to excitement, panic to relief.
With the OPPO Reno6, you'll have all you need to get started on your new professional esports career!
OPPO Reno6 Z 5G is now officially available in the Philippines via OPPO Brand and online stores nationwide, partner dealers, Shopee, and Lazada for only P19,999 while the OPPO Reno6 5G is available for only P26,999. In celebration of the 'Ber months, OPPO offers exciting freebies, bundles, and discounts when you buy your Reno6 Series from September 17 onwards.
To know more about the latest OPPO promotions and participating stores, visit its official website at www.oppo.com/ph or via Facebook at OPPO Philippines.