In celebration of the coming Chinese New Year, Château Royale Hotel Resort and Spa guests on February 9 will have a once-in-a-lifetime experience they will never forget.
As a special treat to its "Year of the Pig" checked-in guests, Château Royale Hotel Resort and Spa will have a Bazi reading expert who will be ready to accept Bazi reading and consultation.
"Bazi Reading" or "birth profiling" is a statistical tool used to analyze a person's birth date and time in order to read and understand that person's assets and liabilities. Among these include health, marriage, career path and other life's important activities and foresee high-probability events. This reading will help provide individuals a good understanding of who they really are, their potentials for success.
All readings are done scientifically with no amount of superstition whatsoever. The readings' results are provided in order to help enable people make wiser decisions or do realistic
adjustments in their lives that will help shape or affect their future.
To avail of the Bazi consultation, checked-in guests should only register with the Concierge and will be asked to prepare at least 3 specific questions that the Bazi master will answer. For a
deeper reading, guests will be asked of their birth date and hour of birth. If no hour of birth is provided, only limited advise on business, children and love life will be provided.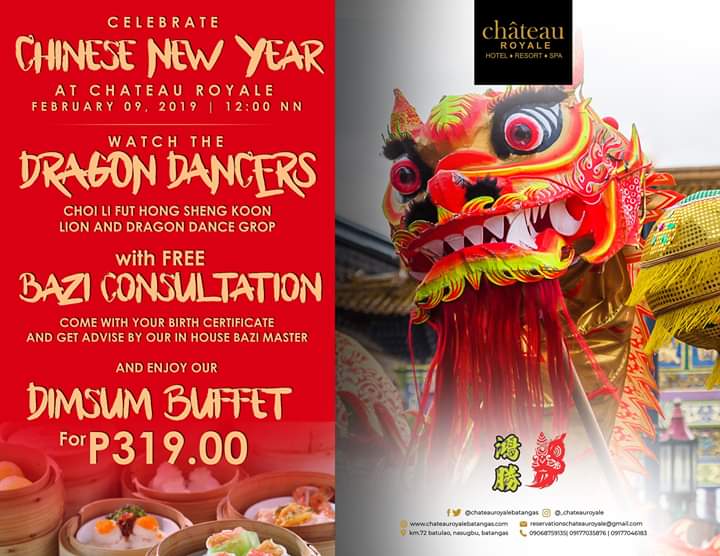 The Bazi Reading at Château Royale Hotel Resort and Spa for the Chinese New Year will be offered for only P5,688 to checked-in guests instead of the usual P8,888. This comes with a Bazi chart to be given onsite and sent as well to guests' email.
In the email, a personality reading will also be included so that clients are guided and they can have a better understanding of themselves. For those with families, it is suggested that they provide the Bazi expert the hour of birth of the spouses and their children so that their questions may be answered better.
"Every Chinese New Year, it is common that you find people seek guidance from the stars, and now with Bazi reading, they can get guidance about life's future happenings through numbers and done in the most scientific way possible. At Château Royale Hotel Resort and Spa, everyone is family, and what better way to make family bonding better during Chinese New Year than to
provide them with a family experience they will truly cherish, just like every time they stay here," explains Marie Abolencia, Château Royale Hotel Resort and Spa's Director of Sales and Marketing.
So head on out to Château Royale Hotel Resort and Spa for that unique Chinese New Year experience you will never forget. Château Royale Hotel Resort and Spa is located at Km. 72, Batulao, Nasugbu, Batangas. For more about Château Royale Hotel Resort and Spa and its wonderful Christmas offerings, call (02) 742-8016, (+63)917-5015478, (+63)917-7035876, or (+63)917-7046183, or email reservationschateauroyale@gmail.com. You can also visit www.chateauroyalebatangas.com.