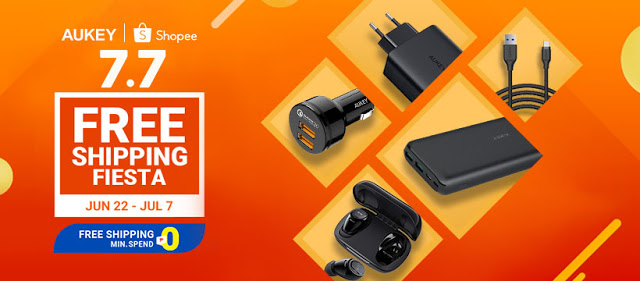 In a rather quite busy lifestyle we live, our gadgets serve as allies so we can be on top of things. Needless to say, staying powered up all the time could make a big difference. One can't simply emphasize on the importance of getting our personal gadgets charged on the go. We need reliable accessories that can survive wear and tear, repeated usage, and stand the test of time. Below is my review of Aukey PB-N42 Powerbank, CB-AM1 Micro USB Cable, and Dual Port Car Charger which I got from Shopee.
Aukey PB-N42 10000mAh Dual Port Mini Power Bank Portable Charger

Leaving my house without a power bank is big no-no. And I have tried a bunch of 'em. I've used big and heavy, as well as freebie portable chargers with low capacity which left me disappointed. Hence, the two factors I consider in choosing power banks: power and portability.
A size that's perfect for me would be one that fits my jeans pocket as I usually don them most of the time. The Aukey PB-N42 10000mAh Dual Port Mini Power Bank Portable Charger is thin, comes in black with a smooth matte finish that gives a sophisticated look. The color easily matches whatever I wear since I consider my accessories as part of my fashion. Plus, it's not too small nor too big.. it wouldn't be able to contain enough energy if it would be too small. Size matters in portable chargers, because the larger ones can hold more power and it should also be able to charge my smartphone not just once. With 10,000mah it would charge my phone three times since my battery capacity is around 3,000mah. Plus with a wide and slim profile, I always forget that the AUKEY Pocket 10000mAh Power Bank is in my pocket.  The USB connectivity is designed to work with all USB powered devices.
The combined 3.1A output from the dual USB ports of this AUKEY powerbank assures simultaneous recharging of two devices at maximum speed. Thanks to its AiPower Charging Technology, my USB powered devices gets the safest maximum recharge rate.
Knowing that Aukey's AiPower Adaptive Charging Technology protects my devices from excessive current, overheating, and over charging while making sure it charges fast gives me a sigh of relief.
Purchase it using the link below for a discounted price of ₱1,154 from P1,649 which is 30% OFF
https://shopee.ph/Aukey-PB-N42-Pocket-Series-(10000mAh)-Powerbank-Black-i.106669723.1675892958
Aukey CB-AM1 High Performance Nylon Micro USB Cable

 The Micro USB cable is still a popular charging device for most smartphones today and for that reason, it's a good investment to have one in your arsenal. They're bent, strained and only a few cables can endure such horrors for so long.
Using eco-friendly materials, the Aukey CB-AM1 High Performance Nylon Micro USB Cable outlasts most cables on the market for its long-term, rugged durability due to its special tangle-free design, and the woven nylon braid sleeve jacket provides enhanced tensile strength and the ultimate protection. This cable handles everything as it passed rigorous stress testing processes for thousands of bends.
Charging is guaranteed super-fast and it transfers files, photos,and videos at speeds up to 480Mbps.
This single cable solution is perfect for the home, office, hotel or car use. All in all, it is attractive as well as functional; highly flexible yet extremely durable, and the design ensures maximum resistance to both breaking and tangling.
Purchase it using the link below for ₱244 from ₱349 which is 30% OFF
https://shopee.ph/Aukey-CB-AM1-Braided-Nylon-Micro-USB-Cable-i.106669723.2188134563
Aukey Dual Port Car Charger W/ Aipower
It saves me a huge trouble when I can charge my phone and even my power bank while I'm in the car.  I rarely go out these days except for occasional errands to the supermarket, pharmacy or vehicle checkup. There are times when I leave the engine running and the AC on while waiting for my folks at the parking lot and I kill time by playing on my phone. This tiny Aukey Dual Port Car Charger W/ Aipower is just enough to simultaneously recharge my two phones.
It efficiently powers up my devices at the same time and my batteries seem to be working at full capacity. The car charger nor the phones haven't overheated so far. I love the fact that it stops charging my phone when it's already full. Safety is number one priority in car accessories, after all, a fire can easily start in automobiles which may result from a number of causes that includes electronic accessories. Thus, it's important to mention Aukey Dual Port Car Charger 's Aipower technology which is responsible for its sophisticated circuit design with over-heat, over-current, over-charging protection. It supports 12V / 24V DC.
 All this tech comes in a tiny package of 2.5 cm x 2.5 cm x 4 cm dimensions weighing just 13g.
Purchase it using the link below for ₱510 from ₱729 which is 30% OFF
https://shopee.ph/Aukey-Dual-Port-Fast-Charge-Car-Charger-Black-(CC-S3)-i.106669723.1678549119?fbclid=IwAR0RBlohral9-k8rvLs6h8peBrb_Zl4kPdKKZqxS58fApMJoZ18qpFiyYt0
Wanna hear the good news? These products are still available at Shopee and you can buy them for discounted prices. For more of Aukey products, visit their shopee official store here https://shopee.ph/aukey_philippines
Download the Shopee app for free via the App Store or Google Play and participate in the 7.7 Sale.