Let's face it, when it comes to skin and hair routine, women spend extra time and care for it which is fantastic! But, when it comes to taking care of our intimate area, do you devote the same amount of attention? Since it's a sensitive part of the body, we need to be careful with the products we use to prevent discomfort and infection. How do you decide which product is best for you when there are so many options?
Let's continue to empower women to prioritize their feminine health by celebrating Women's Month with CAREFREE®! On March 9, Shopee's Brand Spotlight will feature amazing bargains such as new exclusive launches, up to 50% off, and deals as little as P21!
Here are some products worth checking out:
With so much on our plates, many of us, strong independent women, may lose track of our periods from time to time. Bloating, headaches, and soreness in the breast are not the only discomforts we experience before our periods. In addition, we must cope with an increase in vaginal discharge combined with moderate spotting in our undies. Not only that but just before our period ends, we still have to deal with minimal leaks. 
Good thing that Carefree Super Dry Panty Liners saves us from stressful times like this.  It has moisture-proof backing to prevent leakage, body contoured shape for a close & comfortable fit and cottony soft cover for freshness and comfort. This pantyliner keeps our intimate area fresh and dry while dealing with moderate discharge, spotting, or as a tampon backup.

Wetness and exercise are practically inseparable. For starters, there's sweat all over the place, including down there. Plus with all of that jostling around will result in discharge coming out. That sticky feeling down there can be induced by a variety of factors, not only exercise. Thank to the ease of the lockdown restriction we are back to  commuting to work daily. Of course we want to arrive at our workplace looking nice and fresh. But how can we do this if we are going to deal with the long transportation queues and being stuck in traffic jams, not to mention the struggle of travelling under the blistering heat.
It's quite handy to have a stock of CAREFREE®Breathable liners in our kikay kits as we can wear it on all days between our periods to maintain that fresh panty feel. It is 3X more breathable*; allows air to circulate so your skin can breathe and it's cotton soft so it is gentle on the skin. This panty liner can also protect your favorite panties from sweat and light discharge.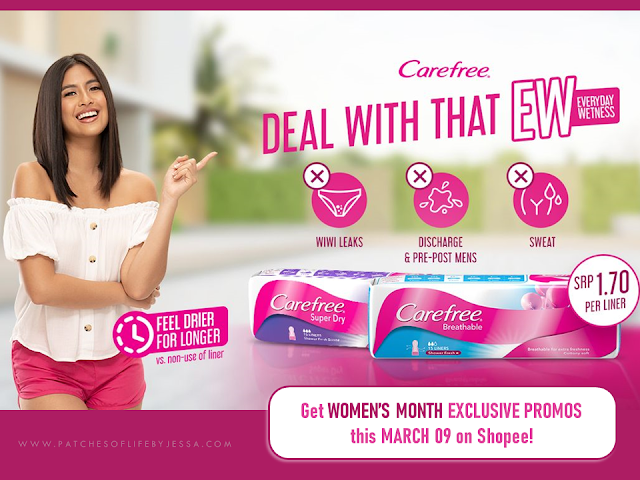 We shouldn't let our experience of wetness and odor down there hassle us daily. That's why CAREFREE® is here to help you #DealWithThatEW (as in Everyday Wetness) and feel drier for longer!
Feel clean, fresh, and confident when you wear CAREFREE® Breathable Pantyliners daily to protect yourself from stains and leaks.