L-R: John Brian Tarnate – AVP for Operations SM Supermalls, Kagawad Girlie Cruz – BRGY STA LUCIA, Santa, Vice Mayor – Robert Vincent Jude B. Jaworski Jr.Maureen Fernandez – Mall Manager SM City East Ortigas
Come along for a spectacular Christmas adventure at SM City East Ortigas as you explore a magical Christmas Dreamland and discover an enchanted forest of woodland creatures!
With SM City East Ortigas unveiling a wonderful journey full of captivating Christmas Centerpieces, the charming spirit of the holiday season has awakened. The magic began to unfold on October 27.
A magnificent and bright centerpiece is the focal point of SM City East Ortigas. Enter the enchanted forest, which is decked with tall Christmas trees which include one that is 24ft, and sparkling starry decorations. Pose with the cute red reindeer or cuddle up with the most adorable characters wearing blankets and scarves as you roast marshmallows over a mesmerizing bonfire. Enjoy the moon photo spots, star archway, and interactive lighted steps. Take pictures in these idyllic locations to capture the festive mood and make you feel cheery and joyful!
The long-standing custom that greets Christmas in the cities where SM owns malls has included SM's holiday centerpieces. Until January 7, 2024, SM Supermalls will have their holiday centerpieces on display. You are welcome to enjoy the spirit of the season and make memories with your loved ones while shopping.
National University coral serenaded the shoppers with Christmas carols
Experience your #HappiestChristmasAtSM, where SM Supermalls aims to offer a joyful world of the longest, brightest, and happiest holiday celebration for everyone.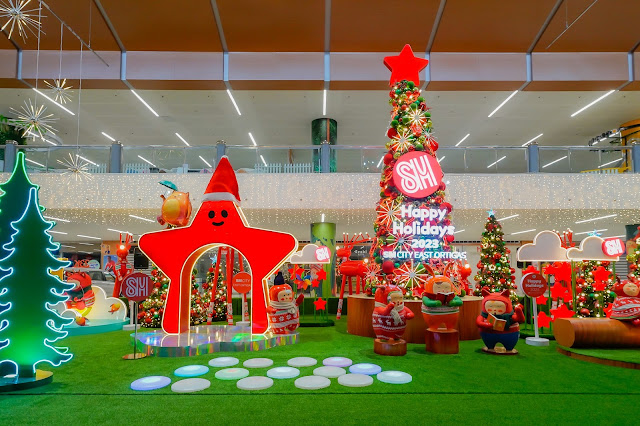 The coming days will be merrier as SM malls celebrate Christmas in full swing with festivities, Christmas markets, and entertainment the malls have in store all throughout the holiday season.


For updates, visit https://www.smsupermalls.com or follow SM Supermalls on Facebook, Twitter, and Instagram at @smsupermalls