Ever thought of exploring other cultures but never had the chance to? Now, Shopee makes it easier for you to get the best of what other countries have to offer, right from the comfort of your home. Starting August 8, discover what Southeast Asia can offer and get up to 90% off at the ASEAN Online Sale.


Shopee partners with the Department of Trade and Industry for the third straight year to once again bring you the best treats and local delights from neighboring countries such as Singapore, Indonesia, Thailand, Vietnam and more.

From August 8-10, you can visit the ASEAN Online Sale on Shopee and get up to 90% off on fashion staples, delicious drinks, must-try food, and essentials popular in Southeast Asian countries such as:

Singapore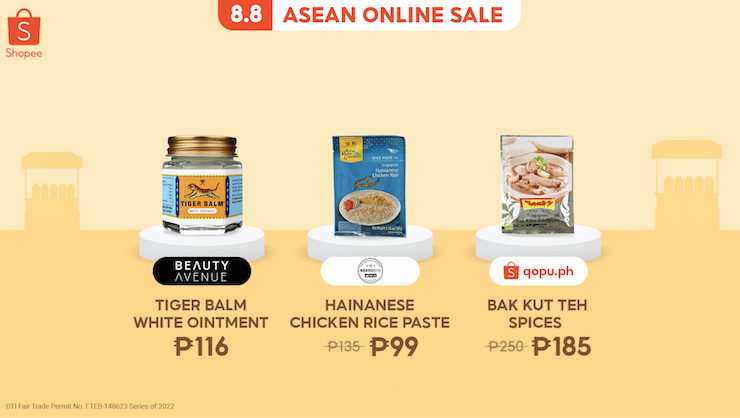 Singapore may be a small country, but they are home to world-class tourist spots, people and products. One famous product from Singapore is the 
Tiger Balm White Ointment
, a soothing cream that has been used to treat headaches and muscle pains for generations. The city-state is also known for being a foodie's haven with multicultural influences in their cuisine. Enjoy their national dish at home with this 
Hainanese Chicken Rice Paste
, a convenient way to replicate your hawker center experience. For a heartier meal to enjoy during the rainy season, consider whipping up a bowl of 
Bak Kut Teh
. With the simple addition of this sachet to a pot of pork ribs, garlic, and water, you'll get a deeply flavorful dish that brings you warmth and comfort.
Indonesia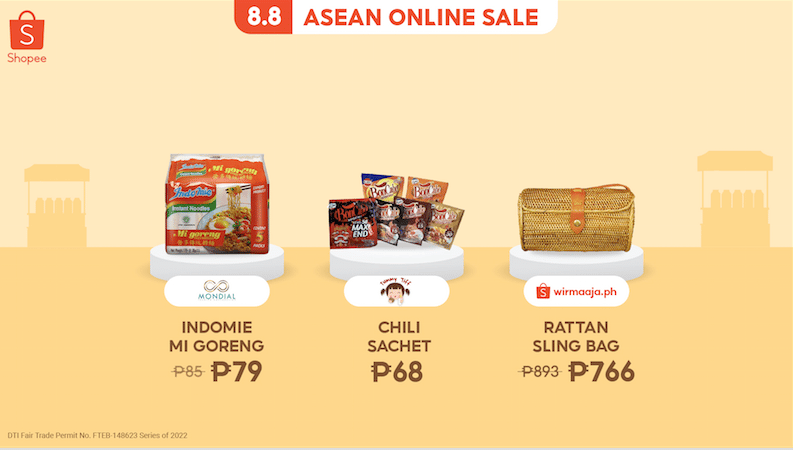 Indonesia is a country known for its good food and exquisite handicrafts made by the people. An example is the 
Indomie Mi Goreng
, an instant noodle brand that has taken the world by storm with its sweet and savory taste. Another is the 
Boncabe Chili Sachet
, a dry sambal mix that adds a flavorful kick to any dish and comes in a variety of heat levels to cater every type of palate. Finally, Indonesians are also known for their craftsmanship. In the island of Bali, you'll find an abundance of beautiful home and fashion pieces like this 
Rattan Sling Bag
, which will definitely add flair to your weekend style.
Thailand
Thailand is home to products that have made waves across different countries and now you can get them all at Shopee! For your beauty needs, look no further than A Bonne, a fan-favorite local beauty brand known for its milk-based skincare products like this 
Collagen Whitening Lotion
 For the warm days, quench your thirst with a creamy, sweet glass of this 
Thai Wintermelon Milk Tea
, a popular drink among Thai locals and tourists alike. Finally, grab quality Thai-made products at a bargain like this pair of 
Nanyang Slippers
. These slippers are made from 100% rubber, making them durable and comfy.
Vietnam
Vietnam is a hotspot for hip cafes, street food and affordable fashion markets. Now, you can feel like you're in Saigon or Hanoi when you score deals on these products. Sip a fresh brew of strong Vietnamese coffee at home with this 
Ground Coffee Blend
 to make your mornings better. Re-create recipes with a bottle of authentic Vietnamese 
Fish Sauce
, a staple for almost every dish in their cuisine. Like Indonesia, the Vietnamese are also known for their craft and artistry, especially when it comes to fashion. Luckily, Shopee houses a wide assortment of affordable fashion finds from Vietnam, like these cute and comfy 
Sandals
 that would make a perfect addition to your wardrobe.
Philippines
Filipinos have been honing their talents in creating quality, timeless products. Rock a pair of these sleek 
CLN Floris Slides
, a proudly Pinoy brand dedicated to providing fashionable items for women from all walks of life. Complete your IG-worthy attire when you wear this local 
Button Down
 which gives an extra oomph to your style. The emergence of FIlipino beauty brands in recent years have helped elevate the local industry, while giving shoppers affordable yet high-quality options. Look and feel fabulous in a shade that complements morena skin tones with the 
Colourette Colourtint in Maddie
, a long-lasting multi-use tint that's easy to reapply when you're on the go.
With the ASEAN Online Sale, discover and buy Southeast Asia's must-have finds now at great deals. Visit 
here
 to learn more.