Life expectancy is getting shorter and being fit is not only a fad. More people are now aware that today's lifestyle can be rather debilitating. In my journey to a healthier body, I can't help but binge on buffet every time I get an invite to try a new resto or food park. Guilt gets to me immediately and I hit the gym to burn the calories ASAP.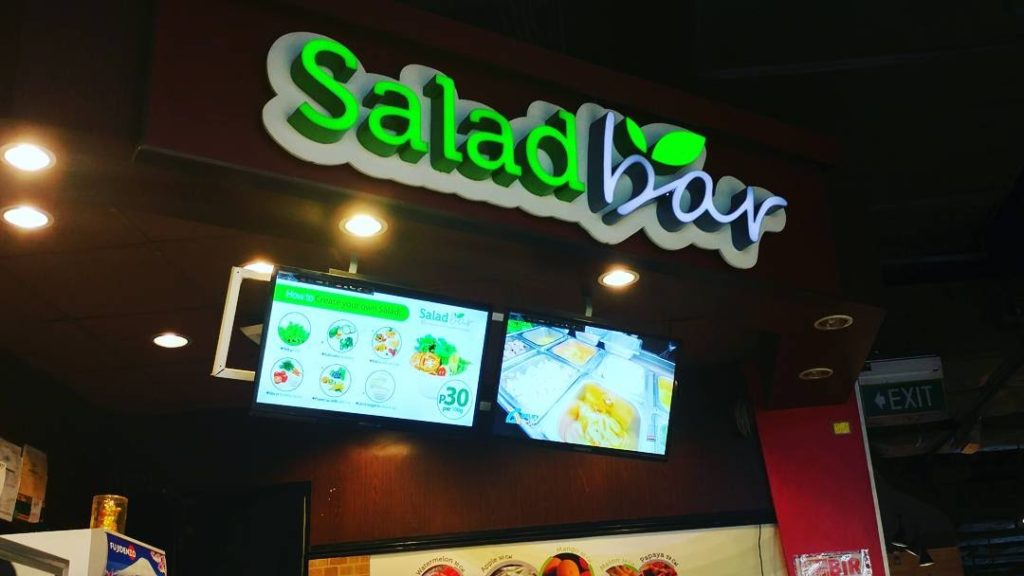 Sure, losing those extra pounds after a cardio workout is a fast solution. but a more practical one is thru a better eating lifestyle. Thus, I made a resolution to switch to more veggies and fruits this year. As I scouted the metro for alternatives to my usual resto, I learned about Salad bar which was recommended to me. Below are some reasons why I would go back to salad bar ph.
Affordability
This is the game changer right here. It is the usual notion that eating healthy means having to spend more. It's true they say that health is wealth but not if you're going way over your budget. After all, part of my spending related to health also goes to my monthly gym membership which is not that cheap. For a minimum price of Php30, you can have your salad. That's P30 per 100 grams but I doubt that you won't exceed the minimum weight with all the tempting fruits and vegetables your eyes will feast on. My favorites are lettuce, mango, peach, grapes, and I even added nuts and macaroni all stuffed in a reusable container.
They deliver right to your doorstep
Who loves traffic, right? It's not only money you save by not going outside but also precious time and energy. This is especially helpful when you have your hands full. Preparing your salad means going to the grocery by riding your car or booking a taxi, Uber, or Grab, eating out when you get hungry and deal with the road congestion. Did I even mention the air pollution? Good thing salad bar  has a hassle free option to have it delivered at your workplace or your home.
Ordering online is a breeze, visit www.whereto-philippines.com, create an account, choose SaladBar PH, choose the branch, select your order from the menu, and finally pay using credit card or Paypal. It's that easy!
Jobs and business opportunities
Almost everybody's joining the bandwagon nowadays and setting up a Salad bar franchise in your neighborhood means accessibility for more people and breaks the excuse of lacking better food choices. It will encourage more Filipinos to eat right. More importantly, Salad bar is expanding to reach out to more people through their distribution channels, retail stores, and corporate programs. Several branches across food courts in Makati now caters to office workers. With more branches sprouting, more Filipinos can get employed and can setup their own business.
Modes of Payment
Acceptance of Credit card payment is not that uncommon, however, Paypal is another story. People who get paid thru Paypal know too well the convenience of using up every single peso from their account. Home based online workers can maximize this feature.
Fresh is best
Fruits and veggies are refrigerated, served clean, and pre-cut. Everything's certified to be crisp well-prepared for consumption to prevent from food borne illness often called food poisoning.
Wide variety of salad dressings and toppings plus friendly staff
I visited Salad Bar's  PBCOM branch and I was greeted with a smile by Ate Miriam who also guided me in choosing the best combination for both my vegetable and fruit salad. She also walked me through their 9 dressings which is Caesar, thousand island , classic vinaigrette, sesame and a whole lot more plus they have condensed milk for the fruits. I was tempted to pick almost all the toppings  starting from the baby potatoes, lettuce, mushroom,tuna, hard boiled egg, carrots, macaroni and tomatoes.
As a health care practitioner I always find myself munching on crackers and grabbing a quick bite of my sandwich if the staffing ratio is not balance. Salad Bar provides people like me who is always on the go a healthy alternative without breaking the bank. Proper nutrition starts with us and this is a great step towards achieving our fit and fab self.
Currently, Salad bar has six branches mostly located in Ayala Avenue in Makati and one in Taguig:
Here are the list of branches
12F GT Tower, Ayala Avenue, Makati City
7F PBCom Tower, Ayala Avenue, Makati City
7F Robinson's Summit, Ayala Avenue, Makati City
2F Zuellig Bldg, Makati Avenue cor Paseo De Roxas, Makati City
3F Food Choices Glorietta 4, Ayala Center, Ayala Avenue, Makati City
Net Quad Bldg, Taguig City
Every small step we take to improve our health goes a long way. Visit the nearest branch to experience Salad bar. Before you know it, you'll be craving for more veggies, fruits, and macaroni!