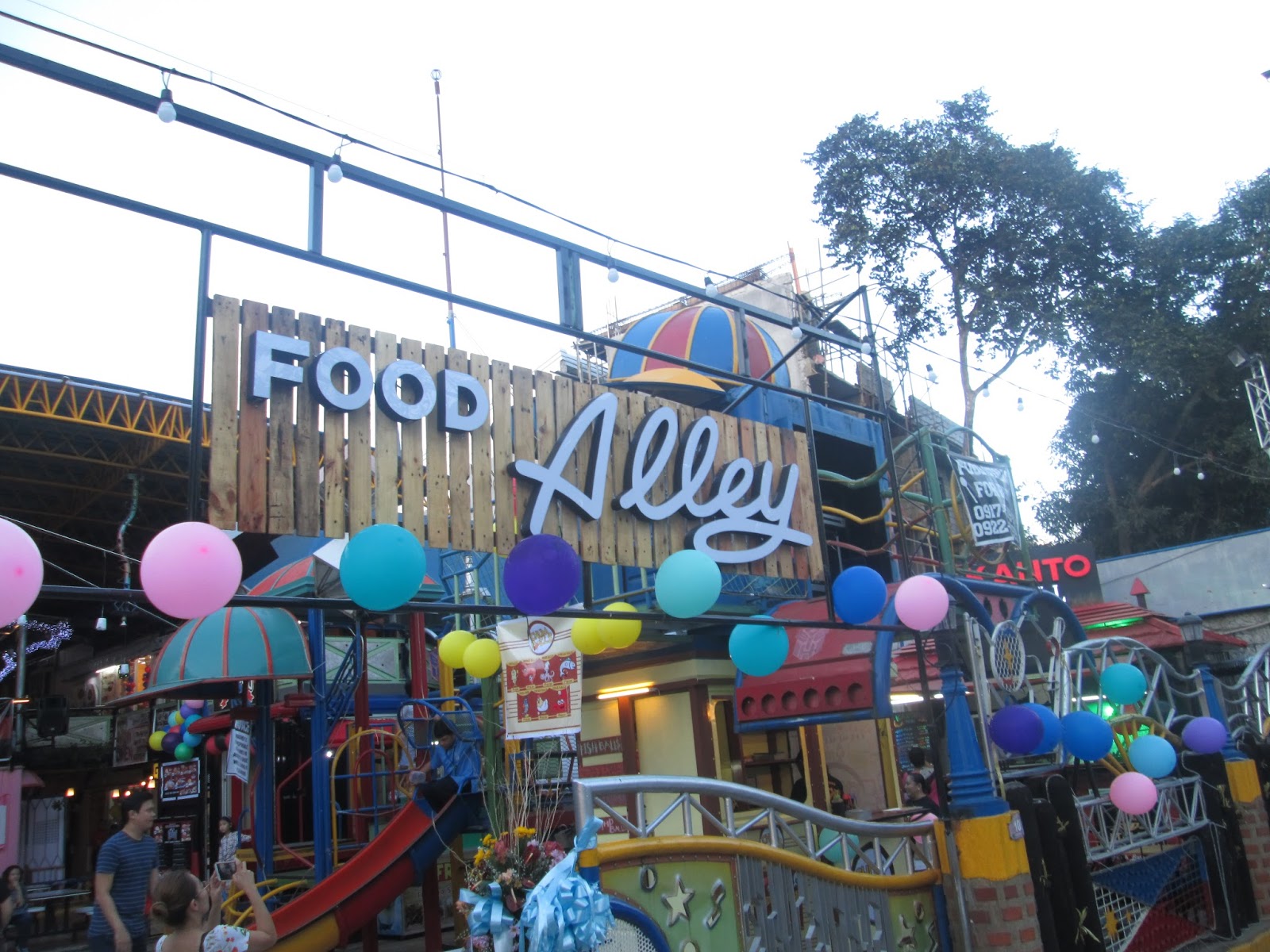 We are a nation of food lovers. Nowadays, trying out something new means visiting the nearby foodpark. It might also entail taking a trip far from our vicinity to satisfy our palates. Just like explorers of the olden days, we would roam anywhere to look for new dishes & food ideas. Foodtrucks are spreading like wildfire and each establishment apparently has to have a theme to catch customers' attention. What about fun as it's theme? Not a bad idea! Food Alley in Marikina is where kids will have fun in the playground and adults will have a good time picking out from the great selection of food.

Ambiance
You can't miss this place because of its colorful gate and built-in playground for the kids. This food park also has two stages for live band performance every weekend. Christmas lights adorned and has been scattered creatively around the upper deck giving it a romantic vibe.
 Food
Genghis Mongolian
This stall let's you take charge on how to create your own version of Mongolian noodles. For this food tasting event we were served the sweet and spicy selection. Both bowl has a generous amount of crunchy vegetables, chunks of chicken, chewy noodles. The only difference of the two bowls is the other one has a kick of spiciness blended well with the sweet peanut sauce.
Pizza Station
For a pizza lover like me, Pizza Station satisfied my craving with their freshly baked, flavorful and non greasy pizza. I personally liked the Overload as the cheese was not overpowering the other toppings. The Pepperoni was cooked perfectly and also has ample amount of toppings.
Dampa Simply Lang Illongo's Grill:
Baked mussels are delectable as the melted cheese seeped deeper into the meat giving its cheesy texture with a hint of garlic . The buttered shrimp is juicy, sweet, fresh and flavorful. Their sisig is loaded with onions ,well seasoned pork and blended well with the tanginess of the lime. The consistency of the pork is chewy and crunchy with just the right level of spiciness. These dishes above can be overwhelming on the palate so to balance it out a serving of manggang hilaw and bagoong is a must.
Nippon Ichi Takoyaki
This stall's Takoyaki is perfectly crisp brown on the outside with crunchy slices of cabbage but I do hope they increase the amount of octopus meat to make it more flavorful. Drizzled with sweet or spicy sauce. They have an ongoing promo along with Juice Colored , when you buy 3 orders of Takoyaki, you get 1 glass of juice for free.
Tap Out
Their burgers are made up of caramelized onions. crunchy lettuce, fresh tomatoes and succulent beef patties that are well cooked. The patty to cheese ratio is well balanced. I must admit that I have tried their burger before the event itself and I love how each of the burgers is oozing with melted cheese that makes you want to devour every last morsel. You can choose your side dish between Quesadilla or Potato chips.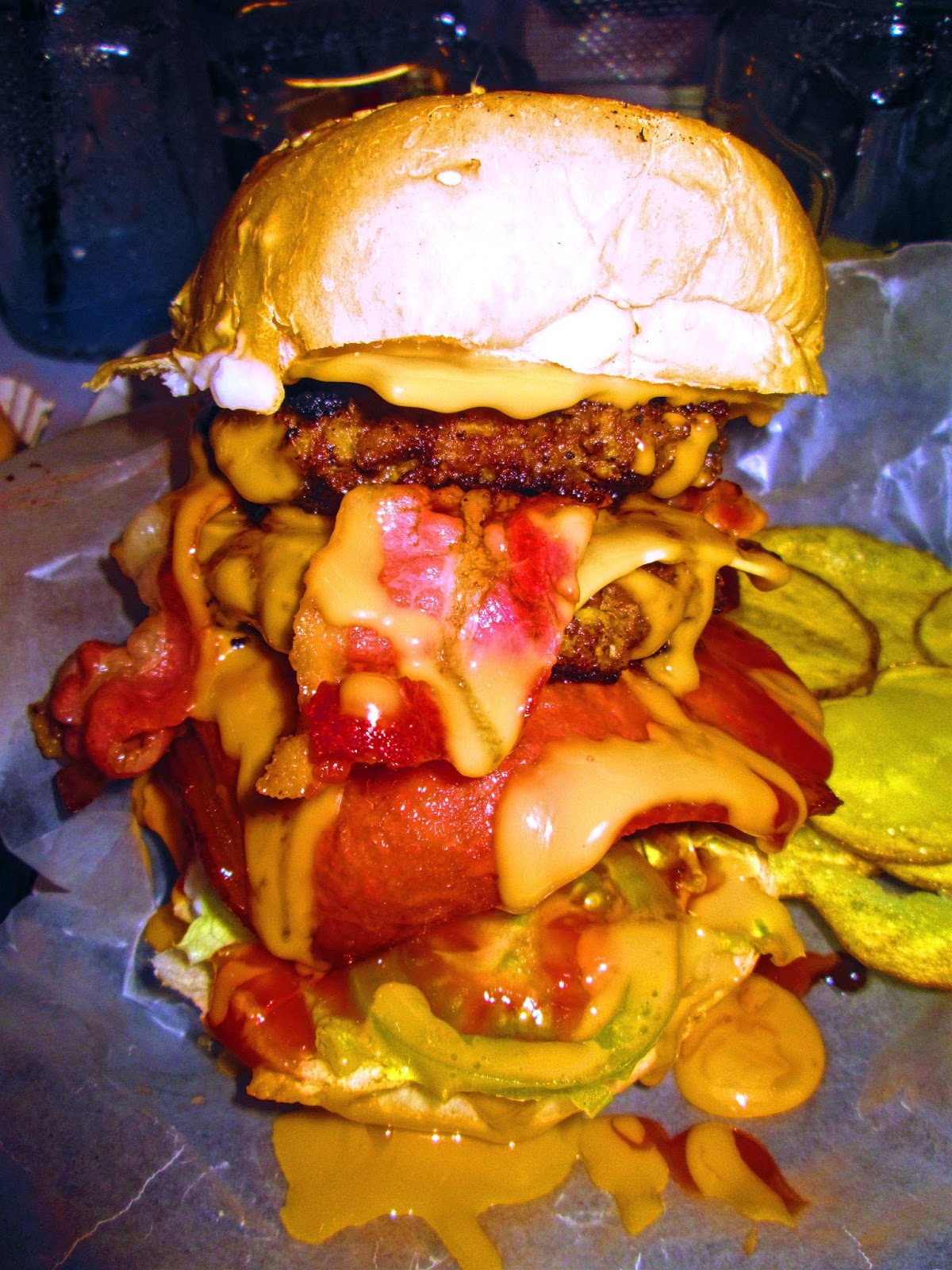 Core Freeze
The Nitrogen ice cream is one treat that will surely amuse and intrigue the customers. It has a smoky and chocolatey flavor. Scrumptious selection of ice cream and toppings are also served in this stall.
Juice Colored
Water is such a boring way to cool down. Quench your thirst with these colorful and oddly satisfying mixtures from Juice Colored. As the name suggests, they come in different hues with unique tastes to boot. The red iced tea has a hint of strawberry and is a bit too sweet. Blue lemonade has a mixture of sweetness and sourness but the latter is more powerful.
\di'zert\
The shop itself is aesthetically pleasing with its free board games and a cute table set up inside the shop for the kids. Scramble came along way to being a sidewalk treat. This concoction is creamy and has just the right amount of sweetness.
The Mango and Blueberry ice cream shake comes with an edible chocolate spoon. Both shakes do not overpower the taste of the actual fruit. The crepe is soft and creamy and the taste of banana stood out. Unicorn waffle taste of a mix of strawberries and a perfectly made waffle.
Get updates and information
https://www.facebook.com/foodalleymarikina
http://www.foodalleymarikina.com/