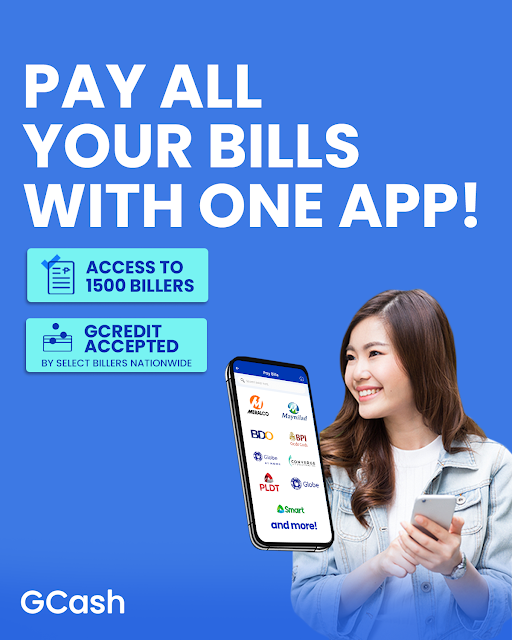 GCash, the country's leading e-wallet app, now allows users to settle all of their bills at once by making payment available to over 1,600 partner billers nationwide with just a few taps on their smartphone.
With its expansive network of partner billers, GCash makes it possible for users to pay for multiple bills without leaving the app. Through the Pay Bills feature on the GCash app, users no longer have to deal with long lines because they can now settle all their payments whenever they can, and wherever they are in the country.
Billers for Everything 
Got lots of bills? With its range of partner billers spanning different categories, GCash makes paying for several bills in one sitting possible. Basic utilities, such as electricity, water, cable TV, internet and telecom services, can all be paid through the app as GCash has partnered with Meralco, Meralco Kuryente Load, Maynilad, Manila Water, Globe Postpaid and other local billers across the country. Users can also settle condominium bills and housing mortgages through GCash as it has partnered with real estate agencies and properties.
Aside from utilities and dues, GCash app offers a convenient way to pay for national and local government services. Filipinos can now settle payments for their birth or marriage certificates from NSO, NBI clearance, and even MMDA traffic tickets through GCash Pay Bills. Settling taxes with BIR, as well as paying for real property and business taxes with select local government units, is also made possible with GCash. Aside from one-time payments, monthly contributions for SSS and Pag-IBIG Fund can also be done through Pay Bills feature.
Users may settle credit card dues, loans, insurance premiums, medical bills and school fees for select universities and colleges through the Pay Bills service. With all major banks available as GCash billers, paying for multiple credit card dues is made seamless as you no longer have to switch between banking apps. Even loans from different partners can be paid on the app, including Home Credit, Cashalo and Tala.
For hassle-free travel, GCash also enables users to top up their Autosweep and Easy RFID or settle their tickets with major airlines and shipping lines. See the complete list of billers here: https://www.gcash.com/partners/billers
Hassle-free and convenient way to settle bills  

With minimal additional fees for every transaction, GCash offers a convenient way to pay bills without the hassle of having to leave home and the additional expense of having to visit bayad centers or multiple offices.
The Pay Bills service on GCash is made even more convenient as it allows users to save their billing details so they no longer have to input their account number and contact information each time they need to settle their bills. Avoiding penalties and higher interest rates due to missed payments is also made possible, thanks to the Pay Bills feature that sets reminders for the next payment date.
Safe and secure transaction 
Because GCash is regulated by Bangko Sentral ng Pilipinas and all billers in the Pay Bills service are verified to be legitimate, each payment transaction is safe and secure. With stringent security measures in place, paying bills through GCash means users don't have to worry about losing their hard-earned money to unverified payment agents.
To pay for bills via GCash, users may access the Pay Bills icon through the dashboard, or find it under 'Other Services.' They may input the biller name on the search bar or choose from different categories under Pay Bills. Users should then input their billing details and verify the transaction.
Eligible users may still pay bills on time even with limited cash on hand as they can also use GCredit, the mobile credit line of GCash, to pay for select billers. GCredit is only available for fully-verified users who have enough GScore.
For a safe, convenient and rewarding payment experience, download the GCash app, register and get verified!