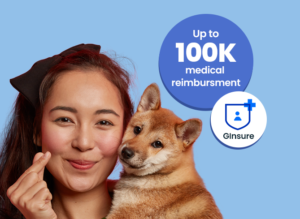 Dogs are one of the best blessings humans can ever ask for. Being greeted with an excited, tail- wagging, tongue-sticking-out pupper is the ultimate mood booster and stress reliever on a busy day. As the saying goes, we don't deserve dogs for always being there for us. Where we see them as an additional companion, to them we are their world.
However, with a great love for fur babies, comes great responsibility. Whether you are a long-time or new fur parent, you would know it takes a large amount of upkeep to care for your four-legged friends. Raising dogs can be challenging as they require a lot of love, attention, and physical care.
Being a good fur parent is more than just giving baths; it also entails taking them to proper groomers. It is more than providing basic care of food and water, but also ensuring they get the proper nutrients. It is more than deworming and anti-rabies vaccines, but also giving extra supplements and check-ups with the vet when necessary.
As the world opens up and gets back on its feet, people and dogs alike are getting more exposure to the outdoors, which increases health and safety risks. Fortunately, GCash, everyone's go-to app for payments and financial services, is making moves to support pet owners in showing their love for their dogs by offering affordable, convenient, and comprehensive pet insurance.
"We want to emphasize pet insurance as part of essential pet care to give dog parents a sense of security in cases of unfortunate events. GCash (through GInsure) makes pet insurance more accessible, convenient and affordable, so pet owners can give their fur babies the best protection and care," said Winsley Royce Bangit, GCash Chief Customer Officer.
With Pet Insure, you can protect both your dogs and yourself as a pet owner, to provide the best care in the face of unexpected circumstances without having to break the bank for every visit to the vet. For only Php267 per month, you can receive full year coverage with 3-in-1 insurance products, and a maximum coverage of Php400,000 for you and your dog. Packages include several items to secure your peace of mind such as:
● Medical Reimbursement: In cases that your dog will need to undergo check-ups, tests/scans, surgery, GInsure will cover the expenses based on the covered amount of your insurance plan
● Cruciate Ligament Injuries: These are extremely painful knee joint injuries/ruptures that your dog may possibly get due to repeated trauma or arthritic disease. In these cases, your chosen Pet Insure plan can also cover it so long as it is not an intentionally inflicted injury.
● Burial Assistance: In the unfortunate circumstance your dog will be needed to be put down due to sickness and/or old age, GInsure's Pet Insure can help alleviate the added stress of costly burial services
● Owner's Liability: It cannot always be avoided that your fur baby can cause some accidents. Your insurance can help cover any legal liabilities to 3rd parties due to your dog's actions
As with all GCash services, getting your pet insurance is convenient and hassle-free. In order to qualify, you will need to have a fully verified GCash account, proof of Philippine citizenship or legal residence for foreigners, and a house dog between the ages of 6 months to 8 years.
Pet Insure can be found under the GInsure Marketplace, which is a one-stop shop for all GCash users' insurance needs including a wide portfolio of plans and partners/providers. Head onto the GCash dashboard and click the GInsure icon. Proceed to the "Lifestyle" category and click on Pet Insure (Dog) to select and avail the best insurance plan.
Get yourself and your fur baby insured today because prevention is always better than cure for both your wallet and your best furry friend.
To know more about the service and address frequently asked questions, visit http://www.gcash.com/