Our usual Sunday food destination would be around Newport City or at Resorts World Manila whenever we visit my dad. Since I also live near this place I get to explore a lot of the restaurants which offer a different type of cuisine expertise such as Chinese, Japanese or even Tex- Mex ( originated from Texas Tejano culture). Not a lot of restaurants in the Metro offers solely Texan-Mexican food, so when I discovered Fiery Style which offers authentic Tex-Mex dishes, I did not hesitate to try it out. The distinguishing characteristic of a Tex-Mex dish is that it incorporates a lot of cheese, chili powder, beef and uses a lot of spice.
Not only does Fiery Style serve drinks but entire meals, after all it's not just a bar. Filipinos are known for sharing food and the resto provides servings enough not just for one person. Since the place was famous for their Fiery Nachos, we made sure to put it on the list along with some delicious choices such as Flaming Taco salad, Steak Ala Familia, Crispy starter tower, Burritos, Tacos, Galleon grill, and Chili Choco fudge for desert.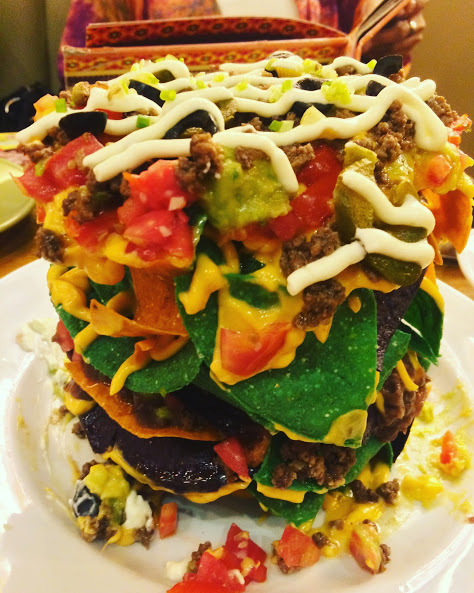 Fiery Nachos took my breath away when it was served. It's a leaning tower of Pisa ready to break down anytime. The mixture is all about the crunchy nachos dressed in Nacho cheese, jalapenos, tomato salsa and sour cream. Options for toppings are grilled jalapeño lime chicken,  BBQ pulled pork, Barbecued Beef brisket, or Mexican chili beef.
The Crispy Starter Tower isn't for the faint of heart. If only looks could kill then Chicken skin and Crispy Pata definitely would. Sauce isn't necessary for the taste is out of this world!
Burritos, Tacos and Quesadillas are Mexican staples. They surely figured out the authentic taste. Their tacos are in wheat and corn tortilla.
We opted for the Flaming Taco Good Salad:  Greens, red onion, pepper and cucumber that are adorned with corn, tomato salad, and avocado. The dressing is the icing on the cake. Ideally, their salad is best for weight watchers. 
Chicken is a best seller for Filipinos and they weren't wrong about putting it in their menu. Twenty four pieces in all, each row of chicken wings are flavored with Texan Style Barbeque, Hot Hot Hot Sauce & Jalapeños, Nacho Cheese Sauce and Bacon.
My personal choice would be the Steak Ala Familia which is sizzling Rump steak. A cheat day consuming it alone would be like heaven or a piece of paradise on a plate, geez I can't stop mincing words to describe it. I strongly suggest trying it when you stop by. The serving is unbelievable, imagine one kilo for a steak! The smoky and savory flavor will please the most sophisticated palates.. I love it to bits whether consumed with gravy or without it. Their gravy is like a good human partner, it brings out the best in the steak.
Another show stopper is the Galleon Grills. The boat contains chicken, pork, beef and seafood enough to feed a hungry group of five. With all the variety it has to offer, everybody gets to go home satisfied. Save the trouble of deciding and leave more time for meaningful conversations.
Dessert is my favorite part of the meal. The adventurous side of me convinced my family to try something new. Chili Chocolate Fudge did not disappoint and put a beautiful ending to our meal. 
Each item on their menu is worth every penny considering that they're all relatively cheap and the servings are unbelievably generous. I am not surprised at all to know that they have expanded. Watch out for branches in Bonifacio Global City, Evia Lifestyle Centre, Taguig, Muntinlupa, and Okada Manila!