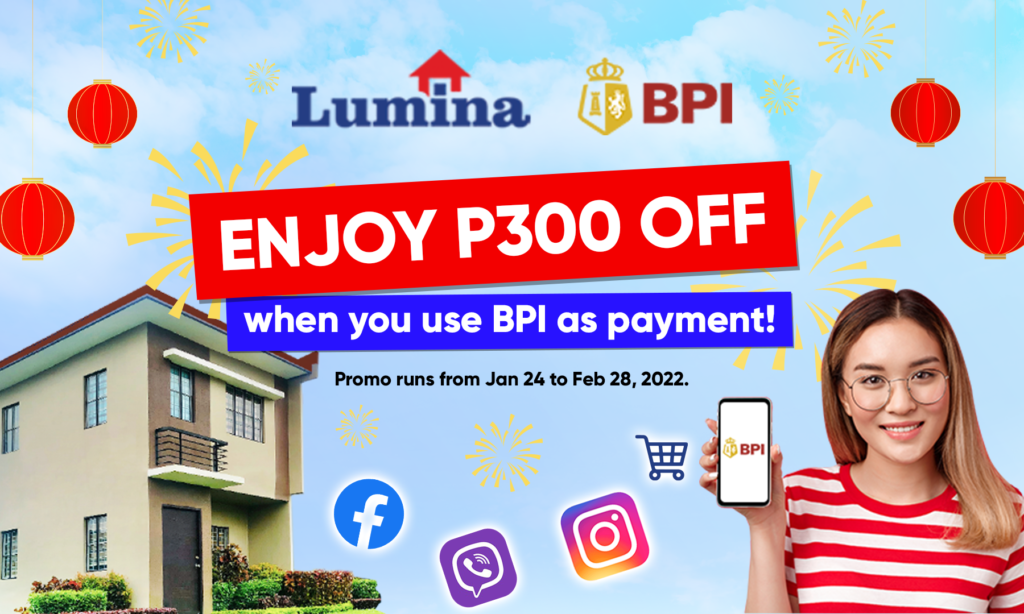 The fortune cookie says a brand-new Lumina Homes will set a positive tone for your life this new year! And if you're decided to start owning your dream home, you're in luck with a P300 reservation discount from BPI from January 24 to February 28, 2022.
Simply reserve a Lumina unit using BPI as payment method when completing a reservation via Lumina Homes' shopping carts inside Viber, Facebook Messenger, and IG Messenger.
Here's the step-by-step process when reserving a Lumina Homes house and lot package or condo unit through Viber where a Lumina Homes Live Agent will be waiting to assist you:
Follow Lumina Homes Official on Viber.
To see a list of available digital vouchers, go to Menu.
Add the Prima Tanza condo unit or your choice of Lumina home model to your online shopping cart.
Proceed with the payment of the digital voucher you've chosen through BPI.
To finish the reservation procedure, a Lumina representative will contact you and a Marketing and Administration briefing for the property you've chosen.
Shop within the messaging apps of Facebook and Instagram
Click "Send Message" on the official Lumina Homes Facebook or Instagram page. The interactive catalog of comprehensive home options will appear when you click the SHOP NOW button. Select the affordable house and lot for sale or a condo unit you prefer and proceed to the payment using BPI. 
A Lumina Homes Expert will be reaching out to you to complete the reservation transaction, such as briefing about the real estate property you availed of and submitting initial requirements for proper identification.
So easy and convenient, right? Lumina Homes continues to encourage Filipinos to learn about real estate investment using innovative and safe digital ways, from virtual tours of their future homes, to reserving the unit at their fingertips—with amazing discounts like BPI's token for Chinese New Year.
Aside from this, all Lumina homebuyers that purchased its two-storey home models through bank financing are also entitled for these bundle of freebies: free move-in fees, free water application, and free electricity application.
In 2021, Best Startup Asia recognized Lumina Homes as Top Real Estate Company in the Philippines for its innovations and being at the forefront of digital real estate transactions.
For more information and announcements, follow @luminahomesofficial on Facebook or visit Lumina Homes' official website at www.lumina.com.ph.