Team work is a dream work, I always hear this when I was still working in a bank. A great team work can help build relationships, foster leadership and bonding among team members and promote trust and respect. I always wanted to attend a team building staycation activity with my workmates but we were too busy to plan one. So when I attended Anne Purification and Maiko Dungo's Ready Set Blog 2.0, together with my co-bloggers we were given a chance to have an overnight stay at Selah Garden Hotel.
Ambiance
The hotel looks simple from the outside hiding its beauty and amenities. The lobby was clean and well-decorated with wood carvings and you can see the dining area with its wooden table and chairs that is enough to hold a banquet.
The workshop event was held on the second floor function room. The room itself is big enough for thirty bloggers and is well-ventilated. Our dinner was served on their garden beside the pool and that is when this hotel unraveled it's secret.
A giant swing was set up near the pool side plus a designated area for wall climbing. On top of the pool is a bridge for free fall and zipline.
Rooms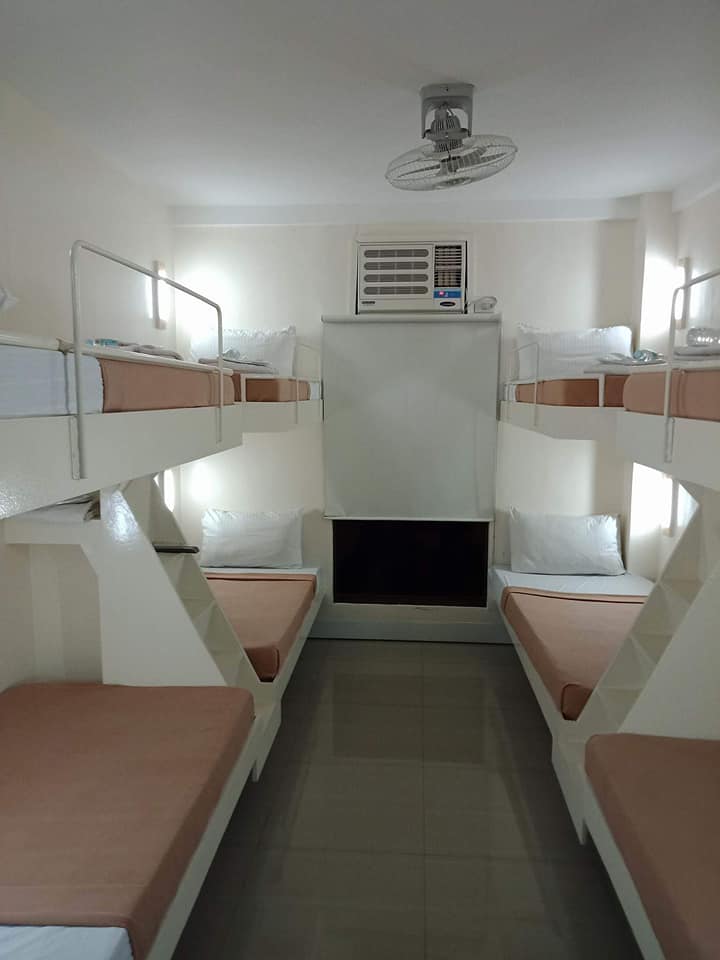 I never experienced renting a dorm room because my school was twenty minutes away from my house. So when I first entered our room which I share with my co bloggers,I was quite amazed at the setup. It was a dorm type of room with five double beds mounted on the wall. A TV was mounted on the center just atop the door. All rooms has air-conditioned rooms and complimentary Wi-fi access. We have a shared shower and bathroom outside the room. Every corner of this hotel is well-designed and they have a gazebo for those who wants to meditate. If you look closely at the interior design you will see the solar-paneled roof. The hotel is 4-storey high and currently has 83 rooms
Food
Dinner
The lighting at the garden was so romantic, it was dimmed and we had a candle-lit dinner. The menu consisted of sweet & sour pork, tempura, fish, and black Gulaman as dessert.
Breakfast
We had a buffet and  the menu selection was mostly Filipino dishes and my favorite was the Dilis and Salted egg.
Services
The staff greeted us with warm hospitality . The staff was also attentive and polite even if I asked for an additional pair of slippers cause the one I have broke. They even gave me a plastic bag for my wet clothes , talk about great customer service. They also kept us entertained through the series of activities and even danced after our morning dip at the pool.
Activities
Scuba diving
The hotel offers scuba diving lessons done on its infinity pool
High Rope activities
Tree-top activities such as wall climbing, Free fall, Descent, Multi Vines, Jacob's Ladder and Broken Bridge.
Zumba
The first activity was Zumba and then we were grouped into four to come up with our own dance moves and face off with the other teams. It was a fun experience as we get to be competitive and burn calories at the same time.  Unfortunately I had to go home early because of a package that I have to receive, but the next activity was Charades and some prizes were given out.
Cost
Clique room- P800/pax
with breakfast for ten (10) persons
Air-conditioned room
Complimentary WIFI access
Welcome drinks
Safe deposit box
24-hr room service
TV with cable channel
Daily Complimentary bottled water/pax
Hot and cold shower with toiletries set
24-hr elevator service
Refrigerator
Laundry service upon request
How to get there
It's a 15-minute walk from MRT Taft station. Adjacent to Park Square Pasay building
Overall experience
I highly recommend this hotel for team building or family outing. You don't have to spend a lot to enjoy a staycation or go far to experience the resort amenities.