Hey there! So, life can throw us some curveballs, right? Maybe you've had a rough patch with money, made some not-so-great decisions, or just got caught up in some financial mess. But guess what? It's time to hit the reset button and start your financial journey all over again. Don't worry, you're not alone, and it's never too late to turn things around. So, let's dive in and discover how you can restart your financial journey and get on the path to financial success!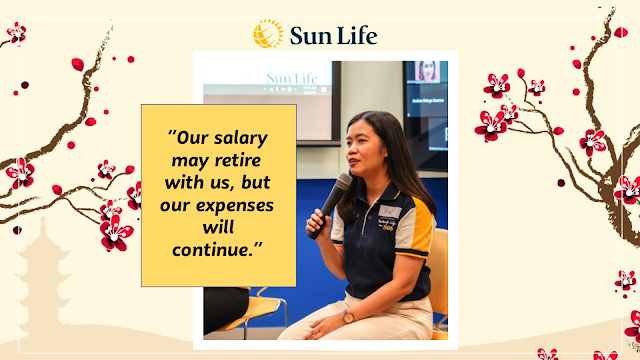 Ms. Valerie Lagarde-Amora, Cluster Head, Sun Life Philippines

Step 1: Taking Stock of Where You're At:
Alright, it's time to face the music. Start by looking at your money situation. How much are you making? Your salary matters but earning a minimum wage shouldn't be a hindrance. As ms. Valerie Lagarde-Amora, Cluster Head, Sun Life Philippines, says " We should not limit our potential by putting ourselves down.


How much are you spending? And oh yeah, those pesky debts – how much do you owe? Take a deep breath and write it all down. This will give you a clear picture of where you stand financially.

Step 2: Time to Budget, Baby!
Now that you know where you're at, it's time to create a budget. Don't worry, it's not as scary as it sounds. List out all your income sources and then write down your expenses. Be honest with yourself, even if it means admitting you spend a little too much on takeout or those impulse buys. Once you have everything listed, figure out where you can cut back and save some dough. Remember, every little bit counts!

"There is always a plan for everybody," as Ms. Andrea de Guzman, Financial Advisor, Sun Life Philippines says. A qualified financial advisor should be able to assist you in reallocating or prioritizing funds so that something important such as insurance is included. Get in touch with the motivated Sunlife experts that are willing to help you achieve your financial objectives. They're here to share their knowledge and support you on your path to success, whether it's insuring your future with the ideal insurance plan or developing a unique investing strategy.

Step 3: Bye-Bye Debts, Hello Freedom!
Debts can be a real drag, but it's time to show them who's boss. Start by tackling the debts with the highest interest rates first, like credit cards or personal loans. Make a plan to pay them off, whether it's by making extra payments or negotiating with the creditors. Once you've conquered those high-interest debts, move on to the next ones. Slowly but surely, you'll kick those debts to the curb!



Step 4: Emergency Fund: Your Financial Safety Net
Life loves surprises, and not always the good kind. That's why you need an emergency fund. Start by setting aside a small portion of your income each month. Aim to save enough to cover three to six months' worth of living expenses. Having that safety net will give you peace of mind and keep you from going into panic mode when unexpected expenses pop up.



Step 5: Invest in Your Future, Like a Boss!
Okay, now that you've got your debts under control and an emergency fund in place, it's time to think about your future. Talk to a financial advisor if you can, and start thinking about long-term goals like retirement or buying a house. Learn about different investment options and find one that suits your goals and risk tolerance. Remember, investing is like planting seeds for your money to grow!


Step 6: Soak up some knowledge!
Listen up, my friend: financial knowledge is power. Take some time to educate yourself about money matters. There are tons of resources out there – books, online courses, YouTube videos – you name it! The more you know, the better equipped you'll be to make smart financial decisions. Trust me, it's worth the effort.


Step 7: Stay Positive and Keep Going!
Restarting your financial journey won't happen overnight, so don't get discouraged. Celebrate even the small wins along the way. And hey, setbacks happen to the best of us, but don't let them knock you down. Be flexible, adapt your strategies if needed, and keep pushing forward. You've got this!



Conclusion: Alright, my friend, it's time to take charge of your financial journey. Remember, you're not alone, and it's never too late to start fresh. Take stock of where you're at, create a budget, pay off those debts, build an emergency fund, invest wisely, and keep learning. Stay positive, stay motivated, and keep moving forward. You've got the power to turn your financial situation around and achieve your goals. So, let's get started!