More than a year of working from home and practicing social distancing made us go through some lifestyle reinvention and that includes a more minimal approach when doing our beauty routines.
Less is more is the new mantra this year when it comes to makeup. Gone are the days where we spend a lot of time and money just to complete that more "plakado" look.  
We want to invest in beauty products that are multi-functional.  These types of products can save us time, money and even save space in our kikay kits. 
This is why I turn to local brands like Colourette Cosmetics who specialize in bringing us multi-functional makeup that may be used on the eyes,  cheeks, and lips since it was established in 2015. 
Here are some cult favorite products from Colourette that you can add to  your Shopee cart :
Look more professional in a meeting with this Colourtint  that comes in a dusty nude rose shade.  This Colourtint is a multi-use tint for the eyes, cheeks, and lips! Easy to blend and ultra-pigmented with a matte finish.
It comes in two variants: Fresh and Matte.  Fresh variants are simply more sheer and natural-looking, while Matte variants are more pigmented and opaque.
One swipe to complete your look for the whole day. This lipstick comes in a warm rose shade . It has a rich and creamy formula with a soft matte finish. Comes in  eight universally-flattering shades with a highly  pigmented color payoff, weightless texture that ensures easy application for your daily use. 
Find yourself suffering from dry lips? This Colourbalm comes in handy as  it is a nourishing everyday tinted lip balm that gives natural-looking colour and a perfect glossy shine!
Keeping your lips luscious and moisturized is guaranteed as the formula of the balm contains Vitamin E to lock in intense hydration.
It is  lightweight,  has a non-sticky texture, plus it has a delicious watermelon scent. 
Achieve that plump and well-hydrated looking lips with this watermelon pink shade lip balm. Available  in four universally flattering shades.
Whether you want to look extra-glowing on a meeting or just want to flaunt a healthy glowing skin on an errand run, then this highlighter is perfect for you!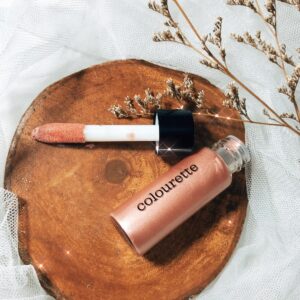 Shimmertint is long-wearing, multi-purpose liquid highlighter that melts into skin and gives an instant luminosity.  It is intensely pigmented and it feels weightless when applied. This shimmertint comes in a crystal pink shade. 
It can be used in three ways:
Blend in with your favorite foundation
Dab on top of makeup
Achieve that healthy looking glow when you wear it alone on bare skin.
Perfect for completing your look on both casual days and virtual night outs with your friends.  Comes in four radiant shades perfect for all Filipina skin tones.
Coloursnap is a 3-in-1 tinted balm that comes in a travel sized sliding tin packaging.  Perfect for those who want to lightly color their cheeks, lips, and lids. The new formula guarantees the shades are more pigmented than ever. This is also rich in castor oil to help soothe and protect the lips from losing moisture. 
Coloursnap in milk comes in a bright coral pink shade.  If you want to  achieve that beach babe sun-kissed look then this shade is the one for you. 
Stock up on you favorite Colourette products and enjoy up to 50% off this  Shopee 8.8 Mega Sale.