Hair is one of the best accessory to any woman because of its versatility to the ever changing  fashion trends and personal life choices.  Investing in one's hair is important as it reflects our own identity.
My hair have gone through a lot of transformation for the past 2 years , the most notable one was when I decided to try blonde hair with white highlights. I receive a lot of compliments but due to work compliance I have to tone it down to a rich light brown color.
By December last year I badly needed to touch up on my roots as my hair is getting longer. Luckily I was given a diy liese bubble color in marshmallow brown. My first diy was a success and it lasted for a few months.
Until February came when I was invited to do a hair coloring session. I always wanted to rock a pastel colored mane but the hair stylist suggested a subtle dye which  is a combination of black and blue ombre.
After so many years of coloring my hair  I went back to black  again. The blue  half of my ombre hair faded into blonde. My hair is naturally thick and the length is just above my waist line. I badly needed a makeover because my hair had become dull and frizzy at the same time due to my work schedule I hardly have time to go to a salon.Luckily Vivere Salon Galleria was right up my alley when I decided to update my NBI clearance at Robinson Lingkod Pinoy center.
Ambiance
I was immediately welcomed by Vivere Salon Galleria's  posh yet minimalistic design. The salon is a breath of fresh air unlike the roadside street salon which reeks of a strong smell of chemicals. The staff greeted me with a smile and courteously assisted me to my seat . I was given a free complimentary ice tea and the password to their wifi as salon appointments can take up  to 4-6 hours.
Their Senior Stylist Ysmael Sagayaga was the one who was assigned to me. Ysmael has a 4 year experience as a Junior Stylist and was promoted and assigned at Robinson Galleria Vivere Salon branch last May as one of their Senior Stylist. According to Ysmael some of their Senior Stylist was sent internationally to be trained at Vidal Sassoon Academy.
After sporting my dark ombre locks for a few months, I was ready to embrace the vibrant colored hair life again. Equipped with a picture of my latest hair color inspiration which is ash grey.  Ysmael assessed my hair to see if it can handle the bleaching and after finding out that my hair was dyed in black, we did a test bleach on the side section of my hair to check if the color will stick.
Unfortunately the Black dye was too strong and it can only take a certain degree of bleaching to make it lighter. Ysmael showed me another option for my locks which was dark violet or red.
The first step was to wash my hair with a little head massage
Then they bleached my hair 2 times and I am just glad that my hair is thick to take all the bleaching.
They washed my hair again and then the color was already applied
They put my hair under the orbiting hair dryer and color processor
They washed my hair and put on some treatment.
They blow dried and curl my hair . I love how it shines under the light .
Overall experience:
The staff was friendly and courteous. The salon offers a wide range of services for every hair needs.  The result made my hair shine under the light and  the curls accentuate the  dark violet and red color. I am happy with my hair color as it was the color in between subtle and vibrant . The dark violet with ombre red ends complimented my skin color.
After 3 days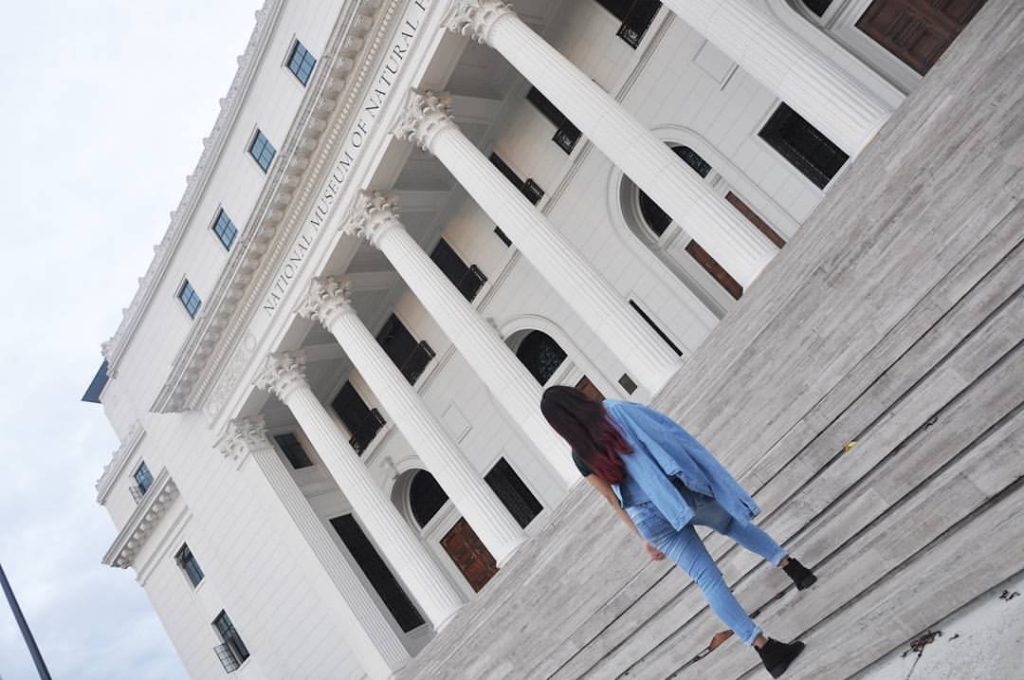 After 3 days the color is still vibrant as I have not washed it yet for the color to stick.  It is more  vibrant under direct sunlight and the ends turned  into a somewhat red and pink hue. I received a lot of compliments and one in particular is from my niece and nephew , they thought I was going for Ariel ( little mermaid) signature color.
Follow them on Social media
Facebook: ViVere Salon
Website: http://www.viveresalon.com
Book or go directly to their branch 
Address: 3F, Main Mall, Robinsons Galleria, Ortigas Avenue
Telephone:477-4985