One of the things we treat ourselves to over the holidays is a brand-new smartphone. Admit it or not, it is on top of our Christmas wishlist. We should treat ourselves to something nice, after all, unless you've been naughty this year. But seriously, it is arguably the most cutting-edge and practical device ever invented. If this prized gadget experiences latency or stops functioning altogether, our lives will figuratively and may literally be put on pause.
It comes as no surprise that Samsung offers some of the most bang-for-buck mobile phones since the said device was conceived. Is the Samsung Galaxy A23 5G worth your year-end bonus? Can it replace your beloved phone or serve as just a backup?

What You Need To Know About the Samsung Galaxy A23 5G Display and Design
For starters, it features a 1080 x 2408 PX 6.6-inch IPS display with a 90 hz refresh rate protected by Corning Gorilla glass 5. Awesome Black, Awesome Light Blue, and Awesome Orange are the available hues for the phone.
The Performance
Instead of using MediaTek, the Samsung Galaxy A23 5G has chosen Qualcomm Snapdragon 695 processor. It is available in two variants: a 64 GB mass storage / 4 GB RAM and a 128 GB mass storage / 4 GB RAM.
The device is powered by an Octa-core processor and 2×2.2 GHz Kryo 660 Gold & 6×1.7 GHz Kryo 660 Silver with a GPU Adreno 619. Inside is the Adreno 610 GPU that deals with the graphical prerequisites.
Battery
It is loaded with a 5000mAh Li-polymer battery which is non-removable with a 25W Quick Charging system.
Connectivity
USB Type-C, 4G, and 5G connectivity options. An accelerometer, nearby light sensor, gyrator, proximity sensor, and fingerprint reader are just a few of the sensors on the phone.
Dimensions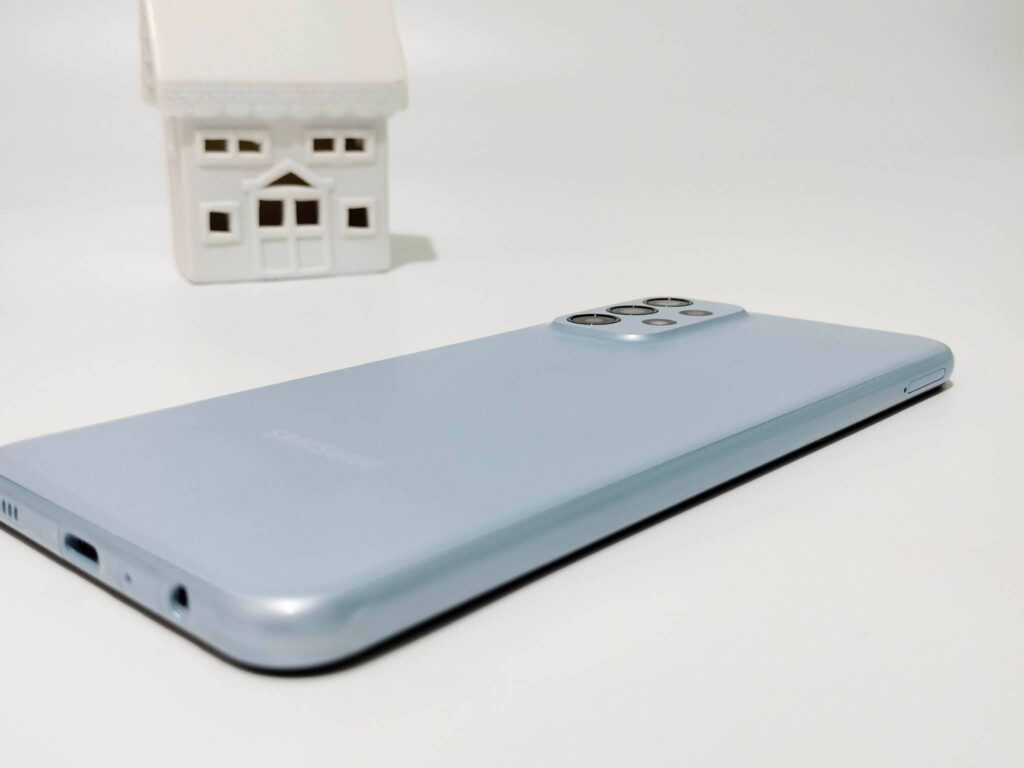 It measures 167.20 x 76.40 x 9.00mm (level x width x thickness).
Camera
App
There is an option to rearrange or delete some of the modes from the viewfinder, and swiping left and right will cycle between all accessible settings. It takes pictures quickly. You can also interchange between the standard and wide-angle lenses quickly and smoothly with little to no lag at all. Switching The front and back cameras can be switched using vertical swipes.
Main
The Samsung Galaxy A23 5G sports a quad-camera setup. Its main shooter is 50 Megapixels with OIS (Optical Image Stabilization), an overhaul from its ancestor's 48 Megapixels without OIS. If you wish to achieve 50MP, you should adjust the setting which is set by default to 12.48MP. This phone also has F/1.8, 5MP ultrawide angle, 2MP macro lens, 2MP depth sensor.
When it comes to picture quality in broad daylight, it's safe to assume that the Galaxy A23 performs a little bit better than its class. When you shoot when the sun is out or the subject is extremely well-lit, the A23 performs above its price range. The images are bold and bright, the exposure is even, and the results are balanced shots with a lot of details. Colorful, vibrant, and for the most part well exposed.
The majority of users will find the colors to be appealing and immediately instagrammable, even though the trained eye may perceive them as being oversaturated.
Macro
Given its low resolution which is 2 MP, the detail is affected and due to its tiny sensor, lighting conditions should be at their optimum to achieve a good outcome. In addition, the lack of autofocus makes it challenging to snap photos.

Ultrawide
The vibrant colors, contrast, and exposure are similar to those of the primary camera. However, the wide-angle lens does have a hit in quality due to resolution but is decent overall. The colors are impressive for its price.
Bokeh effect and Focus
They are respectable but if I were to nitpick I would say that in some parts of the image, it does tend to overexpose. The dynamic range is pretty good for the most part. It does a good job of trying to balance the colors and the shadows throughout the image but sometimes it can be inconsistent.
Indoor
The colors are not as good as you would expect from outdoor conditions, especially in good lighting. They are washed and there's a fair amount of noise level. However, it definitely gets a pass for this price range.
Night
It also takes a hit but that is to be expected and the pictures overall can be used somewhat.
Selfie
The front-facing camera only offers a basic 8MP selfie capability. It can capture photos that have a fair amount of detail and the colors are somewhat accurate so it definitely gets a pass.
Video
If it's a simple subject, it will focus quickly but if the subject has a lot of things going on, it'll be more difficult to focus. The dynamic range of the video is kind of decent. As far as colors go, they seemed to be slightly washed but not so much. In my opinion, it's missing a little bit more detail. It's also possible to snap a picture while taking a video.
It is not possible to switch from ultrawide to normal mode and vice-versa like in the past Samsung phones. Using the rear camera, the stabilization in the ultrawide mode is more stable compared to the normal mode. Meanwhile, on the front camera, the stabilization is acceptable. The video is noisy at low light condition for both front and rear camera.
What's good?
It could have fooled me but the plastic pastel matte exterior gives the impression of an expensive phone. The rounded edges paired with the smoothness of the surface make holding the phone comfortable and easy.
The wide-angle lens captures more, making it simple to see every member of the family. Furthermore, the main camera performs well under good lighting and that includes the videos. Change the setting to Pro mode and you're in for a surprise. The photos almost look like they came out from a professional camera if you adjust the settings correctly. Shutter speed isn't included in the settings, though. That could have been great.
Level up your mobile gaming experience and watch video content in stunning clarity with the 120Hz refresh rate and vibrant colors reproduced by its screen. Gamers are in for a treat since most of them run well on this model. It's almost impossible to find one that doesn't, with the exception of graphically demanding and 60fps-requiring titles such as GTA San Andreas. PUBG, Need For Speed, and other modern games seem to work without a hassle. The Samsung A23 5G has a default 64GB memory, but it can be expanded to 1TB by adding a microSD card. Meanwhile, Gorilla Glass 5 offers an extra degree of protection. which in lab tests, typically survives drops onto hard, rough surfaces from up to 1.2 meters.
Here's a feature that helped me a lot. Multitasking is going to be quicker as you select a higher RAM by accessing RAM plus under Device care> Memory. More apps can be loaded in the background. When it comes to reopening those apps, you won't experience any reloads.
What's not so good?
A side-mounted fingerprint sensor is standard in recent smartphone models, however, I consistently missed it because the button is hardly palpable. It makes up for its responsiveness, though.
For its price, it's ridiculous to expect bezels similar to higher-end models. It has a practical design, apparently. Also, the lack of water resistance and bearing a single speaker might raise some concerns. The front part is protected by Gorilla glass, but the back is going to acquire some scratches without a case.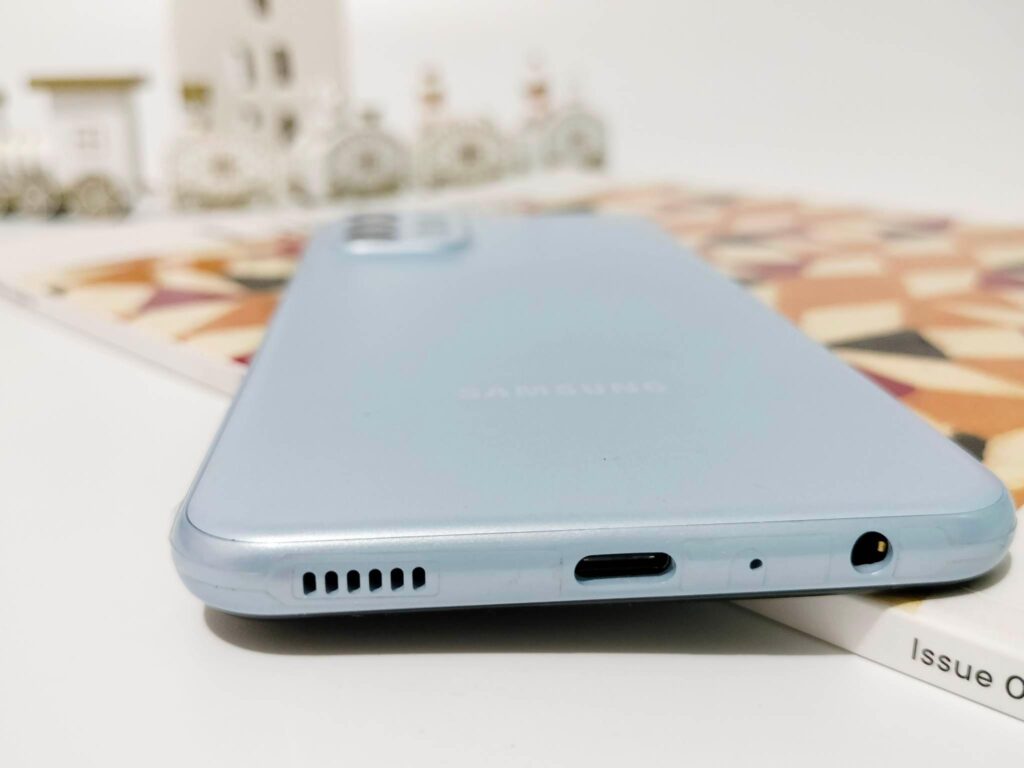 Blame it on the OCD, but a better position for the single bottom-firing speaker is needed as it tends to be covered when holding the phone sidewards when playing games. Somehow, it reduces the enjoyment of the game due to the cancellation of the auditory factor.
Why It Is Worth Buying this Christmas?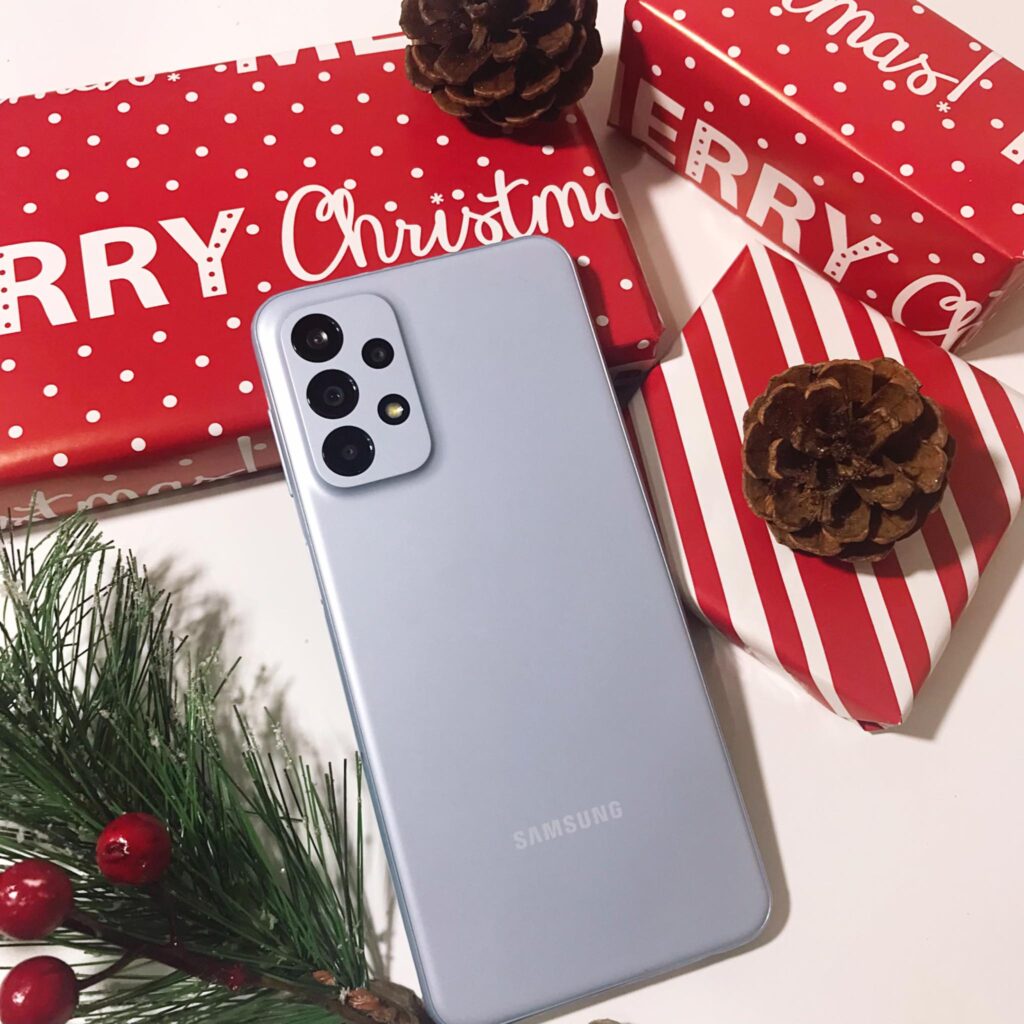 Whether you're a movie aficionado or a gamer, you'll enjoy the huge, bright, smooth screen that Samsung is known for and the good performance as well. Recharge fewer and shorter times thanks to a battery life of two days coupled with its 25W fast charging. Also, security updates for four years and three OS upgrades sound promising. Another one on the plus side is the headphone jack which is slowly disappearing in a few higher-end models of smartphones. Lastly, the NFC sensor for cashless transactions makes purchasing the Samsung A23 5G on the counter faster.