Choosing the right beauty gadget not only can maximize your me time but also can make your daily routine more easier. I mean who wouldn't want to mimic the salon experience at the comfort of their own home?
With the increase in demand comes a vast supply offered in the market. If you are just getting started on collecting your own beauty tools to try at home and don't know where to start looking. Shopee Beauty is a one-stop shop that has all your makeup and skincare needs! 
What's not to love about Shopee beauty? Shopping experience has never been this easy. Now you can enjoy the most exclusive deals that offers up to 90% in discount,  discover new  product launches, and have an opportunity to avail exciting offers from various brands.
The brand that I recently discovered is called CkeyiN . This brand was established in 2015 specializing in research, development, and production of household Beauty, Hair Styling and Personal Care Tools. Good thing is that they currently offer up to 65% off their best selling products. 
Here are the list of CkeyIN beauty tool must haves worth investing in:
Most of us gained a little bit of weight during this quarantine period. Exercise is still an effective way to lose all that fat. But, if you want to achieve that V-shaped face most celebrities have without going under the knife, The CkeyiN Electric Facial Massage V-Line Cheek Lift Up Tool can help you shape your jawline while lifting sagging skin. The device has an intelligent display with 6 gears the you can use to adjust the level of simulation and help address different facial problems.

So here is how it works, the bionic micro-current stimulation technology stimulates muscles through the biological currents in the human body and the close micro-currents tightens the skin, and shapes perfect facial lines.
Since this is compact size with 180° folding ring design, you can easily store it anywhere in your home or bring it when you travel. 
Apart from getting your face perfectly contoured to your desired shape, you can also get a pulse massage. This is like a Transcutaneous Electrical Nerve Stimulation(TENS) unit machine with 4 electrode pads that you place on your arms, thighs, calves, abdomen, waist, buttocks and other parts of your body.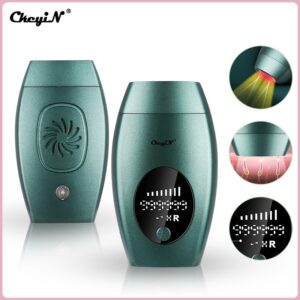 One of the easiest hair removal method is shaving. However, there is a risk of razor cuts, ingrown hair, speedy hair re-growth and irritation.  Having it professionally done can be quite costly  and we can't just book for a hair removal session at our favorite  beauty clinics as quarantine restrictions in certain establishments are still being implemented.
So the next best option that we have is looking for an at-home hair removal tool. CkeyiN 999999 Times Flash IPL Permanent Laser Hair Removal is a compact size, easy to use, portable hair removal device which is equipped with 999999 light flashes. This is beginner friendly and with its large LCD, you can monitor the number of flashes you have made in the skin.   Also it has an 8 level energy adjustment design so you can regulate the heat and match it with the level of your skin sensitivity. Holding it down to target hair on multiple parts of your body is quite easy. For best results you can use it once every 2 weeks. 
Spruce up you glam look with hair that can match it. Of course voluptuous curls that will never go out of style is the way to go. But if  we  don't possess a natural curly hair, then using a curling iron is the best way to get it. Beach waves, red carpet wave or even soft curls? Name it! The curling iron can help you achieve it.
This hair styling tool is indeed convenient and gives us best results in just a fraction of a time. The only downside with the regular curling irons is you can get tangled up with the cords and its not easy to move as it can get in the way. 
CkeyiN Automatic Auto Ceramic Wireless Curling Iron Hair is a cordless type of curling iron. It gives you a hassle-free experience, freedom, and the capability to move or travel anywhere while bringing you favorite hair tool. Using this tool is quite easy as you can us the bottom knob to regulate four levels of temperature.  
You can adjust  the temperature into four levels depending on the  style you want to go for. It has an  intelligent constant temperature technology that  ensures that the temperature is always stable and the curly hair styling is longer. This automatic rotating curling iron is beginner friendly, you don't need a special curling ability to style your hair. Using standard TYPE-C interface, it can be charged anytime and anywhere.
So whether you want to deal with your skincare concerns or want to remove or style your hair,  there's a gadget for it. Check  out what other beauty tools is included in the sale when you head to
CkeyIn's official store
on Shopee.