The Philippine weather has never been forgiving, leaving many resigned to thinking of heat and humidity as an expectation for daily life. Filipinos are always on the lookout for ways to keep cool, and global retailer UNIQLO understands this, providing cool comfort for any activity with its AIRism Collection. Featuring refreshed takes on its classic offerings, the AIRism collection changes the way you keep cool, so you can stay comfortable all day, every day.
The UNIQLO AIRism collection highlights a variety of comfortable and stylish products created with the Comfort Conditioning Technology that wicks moisture, releases heat and absorbs sweat to compliment every activity of your life. Whatever task you have to do, AIRism's comfortable, breathable fabric allows you to stay dry and cool, as if it's breathing with you.
Comfy Inside and Out
Innerwear is an essential part of daily clothing and should serve as an extra layer of comfort rather than contributing to the heat. Stay cool and fresh with AIRism sleeveless bra tops and camisole specially designed for women, and AIRism low rise boxer briefs for men's for comfortable all-day wear.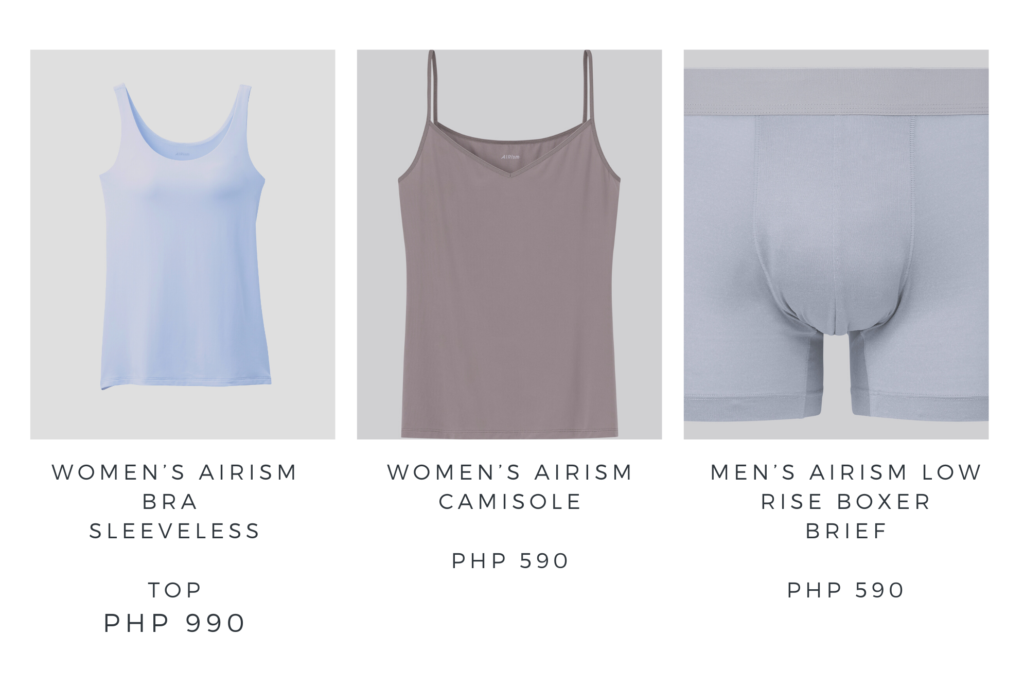 Breathable Everyday
Keep yourself comfortable with the staple clothes for everyday ventures. Get your AIRism cotton crew neck or U AIRism cotton oversized crew neck T-shirts both perfect for any bottoms of your choice, partnered with a UV cut mesh hoodie and AIRism mask for your daily outdoor activities.
Comfort with Style
Settle for clothes that look good and comfortable enough when you're doing your errands or just staying indoors. UNIQLO AIRism collection gives you their cotton set loungewear for every age that can give you style without compromising your overall comfort.
Absolute relief even when your asleep
Not only clothes are showcased in the UNIQLO AIRism collection, but also bed sheets and duvet covers that will definitely complete your beddings. Even on summer days, you can guarantee that it absorbs sweat and dries easily, thanks to the AIRism cotton technology.
Take up the challenges of your daily activities and change the way you keep cool with the UNIQLO AIRism Collection.
For more updates, please visit UNIQLO Philippines' website at uniqlo.com/ph and download the UNIQLO App via Google Play Store or Apple Store. Follow UNIQLO Philippines' social media accounts, Facebook (UNIQLO.PH), Twitter (@uniqloph) and Instagram (@uniqlophofficial).