Don't know what to wear to your next party or beach trip? You'll need a summer OOTD that sparkles if you really want to get into the spirit of things.
One of our many life mantras is that "a girl can never have too many accessories." Any attire may be transformed into something elegant with the touch of jewelry. Silver-toned accessories are making a comeback this year, and for good reason: they look great with a bikini or a summer top!
Silver Kingdom features a stunning, ever-expanding selection of jewelry that would go with every dress, skin tone, or personal preference. The good news is you can accessorize with style and enjoy discounts up to 90% off on April 29 on the Silver Kingdom Official Store on Shopee. 
Below are the collection of accessories that can make any outfit party-ready.  Plus all accessories are made with Genuine 92.5 Italy Silver,  some designs are embellished with 3A Russian Zirconia stones, Hypoallergenic, Non-Tarnish and Anti-acidic so you can wear it all year long to spruce up the most basic ensembles!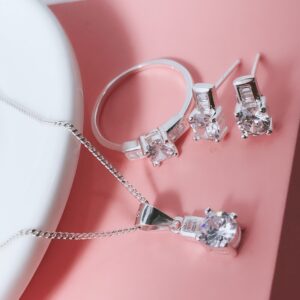 The classic top-and-jeans combination doesn't have to be dull. Dress up the casual outfit with a pair of stud earrings from this set. Make sure to wear your hair in a bun to show them off!  Plus you will surely draw eyes to your collarbone when you pair a plunging neckline top/dress with the longline pendant necklace that is included in this set.
For get-togethers with our best friend or favorite gal pals, tea dresses are ideal. Wear flat sandals to keep the look casual, but add an elegant touch by accessorizing with this flower necklace and stud flower earrings.
Silver Kingdom SL31 Infinity New Necklace
Are you planning a trip to a cooler location like Baguio or Tagaytay? A black turtleneck will keep you warm and comfortable, and it'll look great with this minimalist infinity necklace!