Most of us this quarantine period spend time watching online reviews from our favorite vloggers or scrolling through  social media apps, checking the latest makeup and OOTD looks. But, if you are a newbie like me who just started getting into makeup, chances are you are still clueless on where to start as there is a vast selection of quality makeup products on the market. Building your own kikay kit can be quite a challenging task. Let's be honest, we all have that temptation on purchasing products that our favorite influencers endorse. 
With the pandemic still ongoing, we have to be wise with our spending habits. This is why I love discovering brands on Shopee Beauty like Beautyglazed. It is a a fast fashion makeup brand that offers the latest on trend makeup products at an affordable price. 
Listed down below are the brand best-selling products that can help you create a full face makeup look for less:
Achieve that on fleek or a natural looking filled in arches. For those who doesn't have a clue on how to use brow pomades and mascaras, this brow pencil is the way to go. This ultra fine self sharpening mechanical brow pencil helps you draw on tiny brow hairs to fill in areas on your eye brow that has sparse or gaps. It has a spoolie on the other end  that helps you style and define your brow shape. 
This a must have for any makeup kit. Explore and create endless looks with this 60 color eye shadow palette.  This palette is a combination of soft buttery mattes, multi-dimensional metallic and show- stopping glitter shades. It is easy to blend and highly pigmented. The eye shadows can be applied either wet or dry to achieve different looks.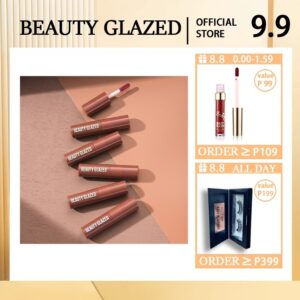 Who doesn't want a product that smells like chocolate? This portable, easy-to-carry lipstick comes  in 12 colors. It is transfer proof, long-lasting, and has a matte finish. Perfect for those who have all day Zoom meeting and online class as you don't have to retouch.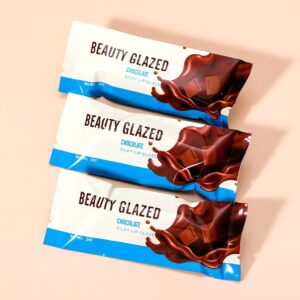 Like the chocolate variant, this one comes in a white packaging.  This is also compact and easy to carry, plus it comes in 12 colors. It is comfortable to wear on the lips and it won't make it look flakey or dry. Long lasting up to 12 hours so no need to retouch.  This lipstick has a velvety matte finish.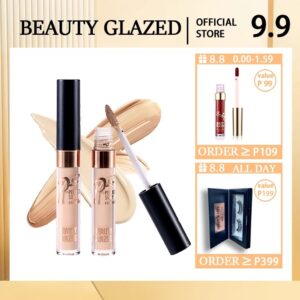 If you stay up all night bingeing on your favorite shows, chances are you get dark circles around your eyes the next day. Look fresh and professional for your meeting or online class with this concealer.  This is a lightweight and long lasting concealer that has a medium to full coverage.  It has oil-control , helps blur pores, and covers flaws. Perfect to wear in any occasion such as wedding, party and so on.
A great makeup look starts with applying a good base.  Our face is our own canvas and we have to prep it up before creating looks so that our makeup can last all day long. This Invisible Pore Foundation Primer reduces pore size, blurs blemishes, and smooths fine line.  It has oil control and can make your finished makeup look last for 8 hours.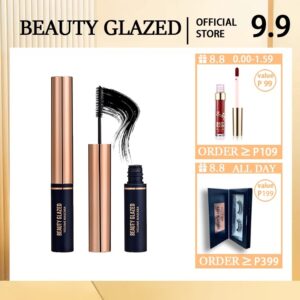 Make your eyes pop even if you are wearing a face mask. This 3D mascara makes your lashes look soft, natural, and voluminous. The wand is thin for easier application. This mascara is waterproof and quick-drying which is suitable  for long commutes. No need for touch ups as it's long-lasting, not easy to smudge or flake.  
Get yourself a curated collection of makeup tools such as these professional set of brushes for easier makeup application.
Designed in a Princess Pink color and the bristles are made of high-quality nylon hair, while the brush handle is made of high quality wood and aluminum tube. This brush is soft and comfortable to use , durable, moisture-proof, and  wear-resistant. 
Create fun makeup looks with this bang for the buck makeup essentials.  Add this to your cart and enjoy up to 80% off on Beauty Glazed products at Shopee Beauty.