Havaianas is beginning this season with an ode to spring by launching their limited-edition Sakura 2023 collection across 13 markets in APAC including Philippines, Indonesia, Vietnam, Taiwan, Singapore, Malaysia and more. Echoing the brand's vision of living a free life, the new collection aims to empower those wearing the designs to express their uniqueness and bloom in their own way. The collection introduces three new beautiful designs – Slim Sakura, You St Tropez Sakura and Flash Urban Sakura – each fit for different occasions and personalities, allowing everyone to embrace their true self.
"For the third year in a row, we are introducing our campaign to mark the beginning of spring and capture the essence of Sakura, by bringing together the beauty of Japan and the magic of pink petals," said Danielle Panissa, Havaianas APAC Brand and Product Director. "This year's campaign BLOOM IN YOUR OWN WAY aligns with our brand motto of 'designed for a free life' as we hope that wearing the new limited collection will encourage people to live every moment to the fullest, and with the confidence to pursue their dreams."
A Fresh Start that Encourages Expressing your Uniqueness
The Sakura 2023 collection conveys the spirit of renewal in spring and the idea of refreshing your footwear as we move towards the summer. Sakura also tells the story of 'life is short but beautiful', and this limited-edition is a reminder of how to live your best life and feel liberated while pursuing your passions. Like how each Sakura flower is one-of-its-kind and blooms in different directions, this collection was designed to encourage everyone to embrace their uniqueness, own their narrative, and bloom alongside peers.
The BLOOM IN YOUR OWN WAY campaign was designed to encourage everyone to embrace their uniqueness, own their narrative, and bloom alongside peers.
Three Unique Designs that Embrace Self-Expression
The BLOOM IN YOUR OWN WAY campaign features three talents, each with unique backgrounds and personalities, to showcase three distinct fashion forward products – Slim Sakura, You St Tropez Sakura, and Flash Urban Sakura. All three styles are available in ballet rose colourway along with timeless and pristine geometric prints of Sakura petals. Whether someone is running errands, eating out with friends or celebrating a special occasion, there is a style fit for all moments.
 Pui Yi sees the blooming of Sakura as an opportunity for a fresh start.
The Slim Sakura style worn by Pui Yi Leung, an influencer who plays multiple sports and tries her best to live in the moment, reminds everyone to look after not only their body but also the mind. Slim Sakura is designed with a key focus on wellness, as one is bound to feel empowered and renewed when caring for their physical and mental wellbeing. This style has geometric prints on the sole and light pink straps with Sakura pins, allowing for as much room as possible to stay active.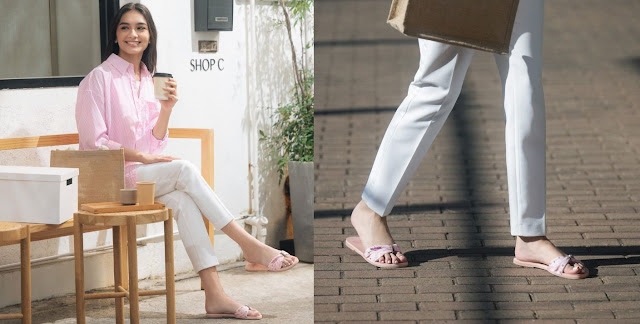 Candela feels empowered to live a freer life when she is confident.
You St Tropez Sakura worn by Candela Contrera, a professional model who is often travelling and on-the-go, is best suited for the busy city girl who is always working towards her personal and professional goals. Featuring a fabric bow and graceful Sakura prints, the slip-on design is the ideal choice to match the chic and fast-paced city lifestyle that empowers the wearer to be their best self.
 Hara seeks her liberating moment by indulging her curiosity.
The Flash Urban Sakura's sandal style with straps around the ankle and delicate Sakura pins on the front, is designed to help Hara Sung, a university student who loves capturing every bit of life with her camera, on her mission to discover new exciting adventures. This style keeps curiosity at its heart and helps one to explore their surroundings as well as their inner beauty, and helps them express themselves more freely.
The collection is available in all participating stores across Asia Pacific and they will also be furnished with cherry blossom decorations to celebrate the union of the affective memory of Japan with Brazilians. Watch the video here to feel inspired by three girls who bloom confidently and freely in their own way.