We all have experienced having pimples suddenly appearing on our faces. It might be due to stress, hormones, or even due to prolonged usage of masks. Acne isn't impossible to treat, however, it can be difficult to seek professional help these days because we can't always run to our dermatologist for a quick appointment.

But that doesn't mean you should let it be and just hope it will disappear overnight. Prevention is better than cure when dealing with active breakouts.

It may seem nearly hard to find the right product that works to add to your skincare routine, now with all the new skincare trends offered in the market. Truly, there is no one-size-fits-all anti-acne routine that will work for everyone, but there are a few anti-acne must-haves you may want to try that might be just what your skin needs.
This is why I love discovering products on Shopee Beauty. I can get a more curated guide on what I need from hair care, makeup to skincare. Plus their shoppers can enjoy the most exclusive deals up to 90% off, new launches, and exciting offers from their favorite brands. 
Oxecure is a brand founded in Thailand way back in 2005. It has grown to be an award-winning dermo-cosmetics expert and has been providing quality products to address skin problems for those who have acne-prone and sensitive skin.

Here are some of their best-selling products worth adding to your routine:
A lightweight, fragrance-free gel that has been dermatologically tested and is ideal for those who have oily or acne-prone skin. To help regulate excess oil, this moisturizer is formulated with Encapsulated Pure Skin Botanicals Willow Bark, Bakuchiol, and Magnolia extracts. Ingredients like Salicylic Acid are also included to help unclog pores, while Niacinamide fades blemishes and reduces acne's appearance. This lightweight, non-sticky moisturizer is packed with 8D Hyaluronic Acid that  aids in locking in the moisture and keep skin looking nourished. Tea Tree Leaf extract is also included to help calm acne-prone skin.
A pore-clearing toner that has been dermatologically tested and is specifically made for acne-prone skin. To calm skin and prepare it for the next phases of your skincare routine, this revolutionary alcohol-free  toner combines BHA and PHA with nourishing natural extracts. Contains 2% Betaine Salicylate, a mild BHA that unclogs pores and helps to eliminate blackheads and whiteheads while visibly reducing pores. This toner contains 4% PHA, that provides gentle exfoliation to lift dead skin cells while remaining non-irritating and suited for daily use. Also ingredients like Tea Tree  Extract are included to aid in the visible reduction of acne breakouts and irritation while Witch Hazel Extract aids in the regulation of excessive sebum production.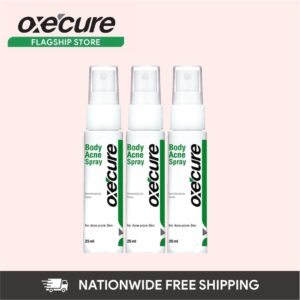 Oxecure is a body spray designed to combat acne on the back, chest, and other parts of the body. Clinically proven with results noticeable in as little as one week. With Salicylic Acid, which helps to minimize bacteria buildup, quickly dry out acne, exfoliate dead skin, fade post-acne marks, and regulate excess oil. Natural components like Aloe Vera and Witch Hazel help to smooth and brighten the skin without causing irritation.
Say goodbye to acne with these Oxecure acne-clearing must-haves, now available at Shopee Beauty for up to 22% discount!