Wish you could have that salon-styled hair everyday? You don't have to book an expensive appointment to a salon just to achieve it. A simple solution that can help is to switch up your daily haircare products.  Shampooing is an essential step in any haircare routine. Picking the right shampoo and conditioner for our hair type and mane concerns can save us from a bad hair day.
One of our most trusted brand  when it comes to addressing our hair woes is Dove.  This brand provides us with a range of products tailored to solve our common hair needs and wants. 
What's more exciting is that from September 23 to 26, you can enjoy discounts of up to 50% from their products when you buy from their Real Beauty, Real Care sale on Shopee.
So this coming Dove Day, #UnravelBeautifulHair with these Dove favorites  that are upgraded with Keratin Tri-Silk Serum:
Dove Straight and Silky Keratin Tri-Silk Serum Shampoo

There are so many factors that can make our hair frizzy. It can be caused by humidity, over washing, using harsh chemicals, and even friction from drying with a towel. That is not the only hair problem we need to deal with. Having a stiff, straw-like texture of hair can be quite an unsightly view. Of course, we want to wake up with a smooth, manageable mane. But, often times we can't help ourselves in using heat styling tools.
Manage frizzy and stiff hair with the New Dove Straight & Silky Shampoo. Formulated with Amino Essence to boost hair health and provides deep nourishment up to the core of your hair fibers. This variant also contains Keratin Tri-Silk Serum. This is a triple action formula with the powerful combination of Keratin, Keratin Repair Actives and Serum. These ingredients can instantly repair damage and help you achieve extra straight, smooth, and shiny hair!
Lack of moisture can cause our hair to become dull. Since the hair can't retain enough vapor, it can also reduce the shine and make it look frizzy and lifeless. There are a lot of factors why our hair is in this situation. It can be caused by overusing harsh chemicals, inadequate nutrients we get on our diet, and just simply using the wrong products.

Treat dry, frizzy and lifeless hair with the New Dove Nourishing Oil Care Shampoo upgraded with Keratin Tri-Silk Serum. It has a unique blend of weightless Nutri-oils that help in nourishing and controlling frizz and visibly boosts shine. Also protects the hair from the effects of pre-mature aging and restores hair smoothness making it manageable again.  Achieving that extra nourished, bouncy, and glossy hair can now be done even at home.
Nobody wants to experience their hair thinning and falling out of control.  Hair loss is a common condition and anyone can have it. Factors such as stress, disease related, hereditary and even having dandruff are some of the main causes. 
Fortunately we have products that are specifically designed to  give solution to this problem. Gone are the days when shampoo was just for cleansing our hair. This New Dove Hair Fall Rescue+ Shampoo can help combat hair fall. It is enriched with Keratin Tri-Silk Serum and has DynaZinc complex  that can reinforce strength from root to tip. It can also provide nourishment and help fortify hair fibers which results in reducing breakage. You can now flaunt that extra strong, resilient, and healthy hair everyday.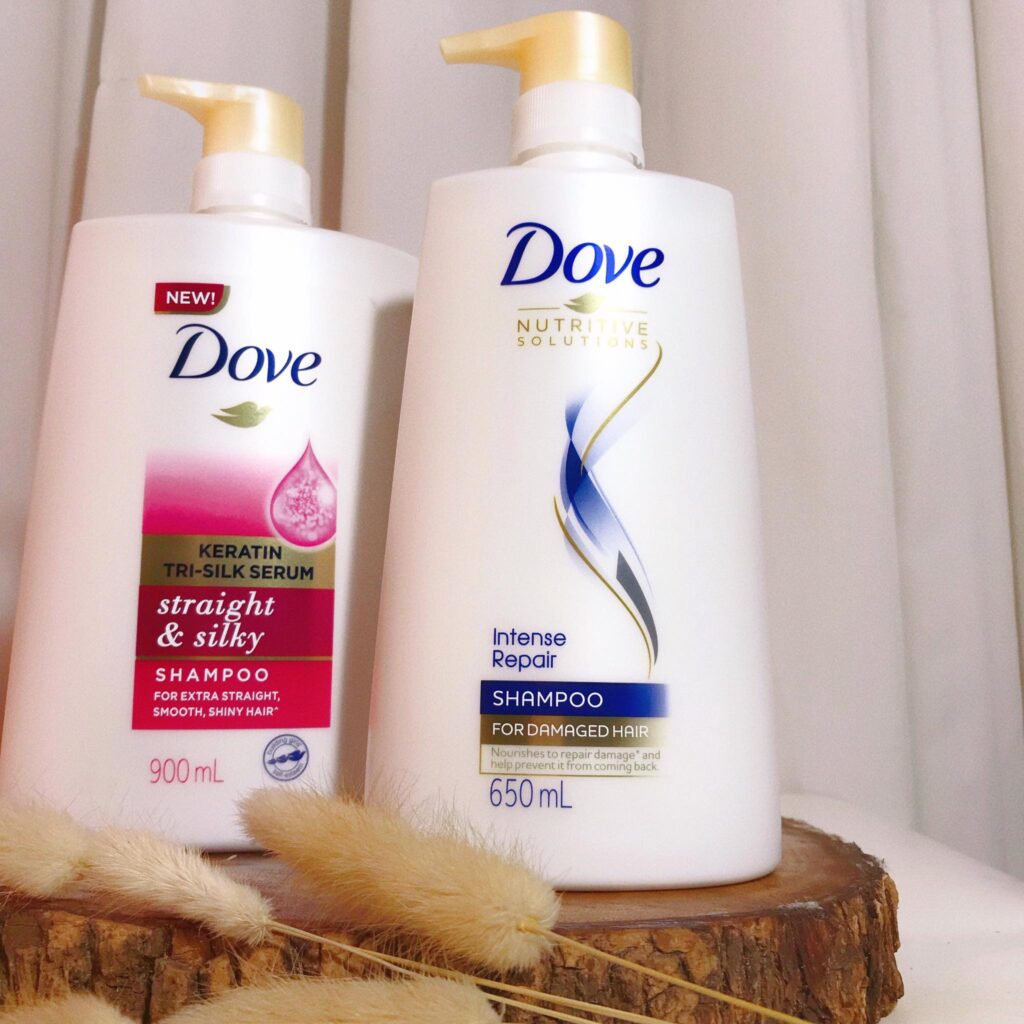 Not many hair salons are open this pandemic due to the lockdown restriction so most of us opted to DIY on our own hair. Tons of time are spent during this quarantine period shaving, snipping, and dyeing our hair boldly with different colors. Of course all of these experiments might take its toll and it can truly damage our hair. 
Few examples of these damages might be a bad botched up haircut or over usage of chemicals  turning our hair  frizzy and dry with split ends. The easiest and most affordable way to reverse the damage is finding a shampoo that can address it. The New Dove Intense Repair Shampoo can help strengthen and rebuild the hair fiber. Enriched with Keratin Repair Actives that instantly repairs and nourishes damaged hair from the core to the surface.
There is a vast variety of conditioners that claims to nourish, strengthen, and smooth frizzy hair with a few washes.  What if you can do all that in just a minute?
Let's bid goodbye to frizzy hair with Dove Amino Restore 1 Minute Serum Conditioner. This is formulated with a potent and powerful amino-infused serum capsules that deeply nourishes the hair from within. Manage your mane and reduce the frizz and achieve that silky smooth hair in just 1 minute.
Discover your new go to shampoo and conditioner and flaunt your gorgeous hair with confidence!
Also get that FREE limited edition Dove kits, enjoy free shipping, and vouchers galore when you shop at Unilever's official store on Shopee.