There's nothing like a good pampering after a hard day's work. We all deserve back rubs and foot spas to nurture our tired feet and sored backs. As a nurse on a 12 hour shift who leaves work in the wee hours of the morning, it would be amazing to find a full service spa that will cater to my preferred place and time. Home service is a great option to consider. Rainbow dream spa is a haven to those who want to escape the daily grind and restriction of a limited business hour facility as they boost on their 24/7 spa and pampering services.
Last Wednesday, September 6, was the opening of the second branch of Rainbow Dream Spa in Unit 2B España, Grand Tower II, España St. corner Lacson St., Manila. It was graced by  Atty. Arlene De Castro, owner, special guest Ms. Wilma Doesnt, Atty. Reynaldo Lopez, Mr Rudy Niu, and Mr. Miguel De La Rosa, Marketing and PR Head. Beauty and relaxation from head-to-toe, total pleasure and full-service was provided to almost a hundred guests on the said grand occasion.  Combination of traditional and modern services such as massage, body treatments, and skin care with the latest health techniques can be expected at this full-service spa plus it retails quality hair and nail care products.
Ambiance
The newly opened spa is packed with individual rooms to cater to one's  need. The area is well-lit and complete with posh carpeting and a big mirror on the side. Customers can wait on the spa's colorful yet comfortable chairs. Their reception desk is filled with products such as the K Ross Fragrances owned by Katrina Sagucio-Pardo.  Starting out as a hobby, Katrina Sagucio-Pardo thought of starting perfumery after realizing the potentials of this lucrative business. K Ross Fragrances has a variety of scents to offer. It blends handcrafted perfumes inspired by your favorite authentic designer scents. The secret of making the scents last eight to twelve hours is the 20% fragrance oil contained in each perfume.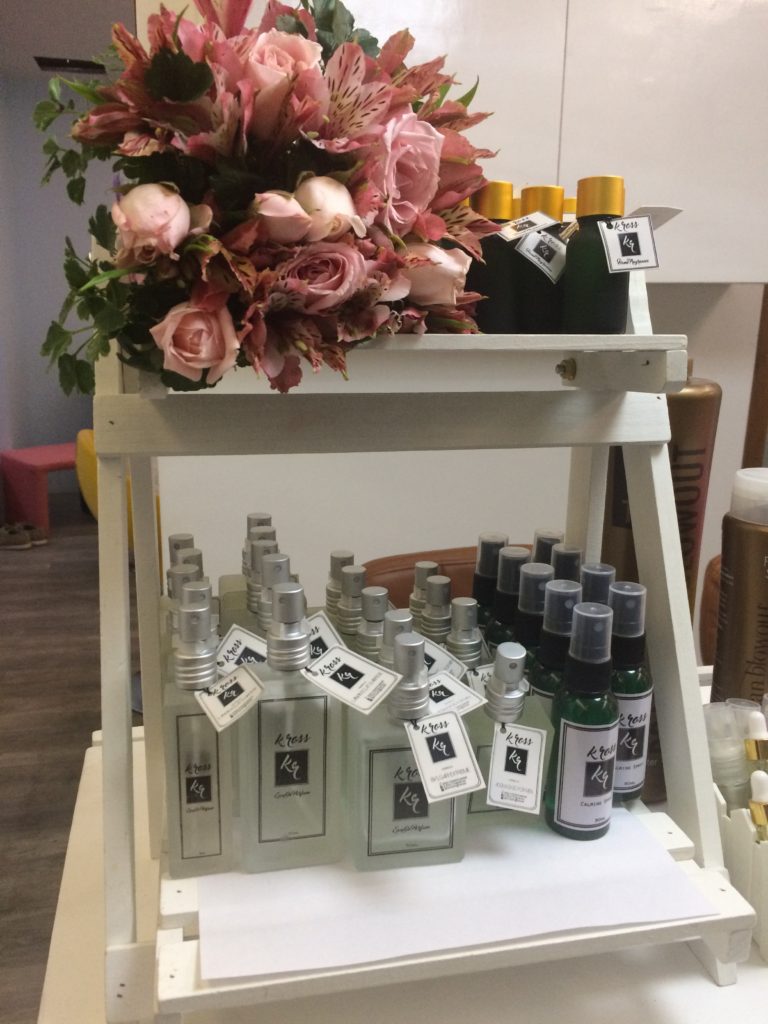 To date, the bestsellers for women are designer-inspired perfumes – Lanvin Eclat D'Arpege, Jo Malone Nectarine Blossom & Honey, Jo Malone Lime Basil & Mandarin, D&G Light Blue, and Clinique Happy while Acqua Di Gio, Bulgari Extreme, Carolina Herrera 212, Clinique Happy and D&G Pour Homme are hits for men and each comes in  30ml (P180) and 50ml (P300).The next door room is  the salon area filled with four back-to-back salon chairs and mirrors with neatly placed hair tools. When you turn to the left you will see the manicure and pedicure area which was painted in pastel complete with the foot wash sink . After going past this room, you will see the washing area for the salon and bathroom.  Turn to the left side of the bathroom  will take you to different massage rooms and facing these rooms is the facial area. All rooms are air conditioned and wifi password is available upon request.
Services
Olaplex Mini Treatment
My recent hair treatment was last July and my hair already turned dry and quite dull due to bleaching. My hair is screaming for an intervention and I was glad I get to try the Olaplex treatment. One celebrity that I know who used this kind of treatment is Kim Kardashian and her hair  is always on point and healthy. Olaplex is a treatment that strengthens the disulphide  bond of  our hair  damaged by chemical process.
The first step was to apply the bond multiplier, this helps in rebuilding and preventing further damage to the hair. Then  the no. 2 solution was applied to restore any broken bonds for shinier and healthier hair. My hair was soaked with the solutions for about 20-25 mins and while I waited I had my nails and feet done.The hairstylist washed my hair with Elgon,  an organic  hair care product from Italy.  My hair was cleansed with their  purifying shampoo that balances the ph in the hair follicles. Conditioner and hair mask was applied to moisturize and maintain the softness of my hair.
After that I went back to the salon  to have my hair blow dry. The attendant was tedious and friendly while doing my hair.  I am quite satisfied with the treatment as my hair was revived, silky smooth and shiny. I can't help but smile because it lessen the problematic dryness of my hair plus it smells divine.
Manicure and Foot Spa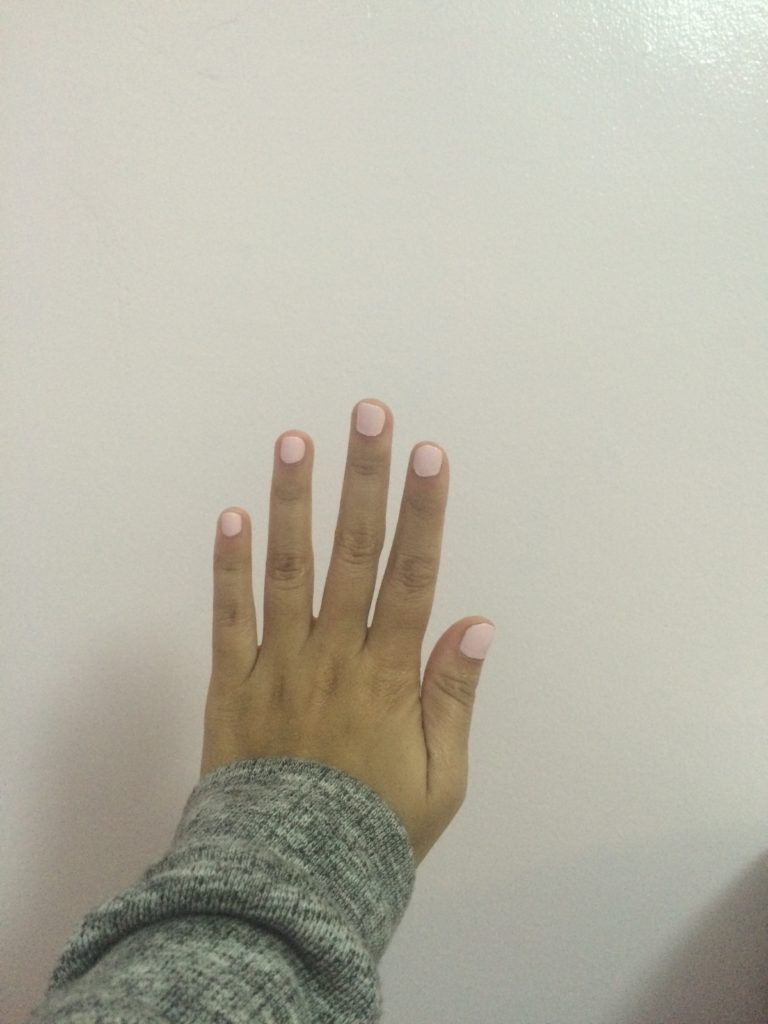 Rainbow Dream spa uses organic brands like Zoya and Orly nail polish.  Melissa who attended to me colored my nails with Orly breathable treatment + color. This type of  nail polish does not need a top coat nor base coat. It is also infused with Argan Oil, Pro Vitamin B5 + Vitamin C . The shade made me feel so girly because it is in Millenial Pink and it also complemented my skin tone.
Just the smell of their Eucalyptus oil and whitening scrub relaxes me. The scrubbing procedure did not hurt no matter how much pressure the staff applied. My foot was aching that day as I came from a 12-hour shift. I can feel  the pain lessening with each pressure point attended to. My legs and feet feels so smooth and whiter after the procedure. I was also entertained by one of their staff singing.
Massage
I was lead to the massage room and instructed to lay my folded clothes on a designated area. The masseuse handed me a towel and asked if we can start the massage which I said yes to.  The Swedish massage entails a series of   bending ,circular pressure applied by the hands and palms, percussion-like tapping, stretching and, firm kneading. The  masseuse  was informative on the do's and dont's after massage.
With each stretch I can hear my bones cracking  and when she tapped one of my pressure points , I can feel my blood circulating.  When the head massage came I asked the masseuse if she can do something about a growing pain in the space in between my eyebrows(frontal sinus) . She definitely did a great job as the pain lessened. I actually fell asleep while she was massaging the rest of my arms. I felt a gentle nudge from the masseuse to signify that the massage was over. The whole massage experience was truly therapeutic and rejuvenating. I highly recommend this and would definitely be back again with my mom.
Price
Overall experience
Rainbow dream spa is  a one stop destination for all of your pampering needs. I can say they out done themselves with world class products and great services that is being offered at an affordable price. The 24/7 concept is great for workaholics and for people who have shifting schedules like me. All staff are TESDA accredited, well-trained and friendly plus some of the procedures are also done by certified doctors.
"We extended the branch to its new location to reach out and better serve our clients, both new and old. We strive to give our clients an uplifting experience and took pride in our dedication to consistently provide high customer satisfaction by hiring skilled staff, stocking quality products and developing a client relationship in which each person feels valued," said Atty De Castro.
Rainbow Dream Spa services include:
Different types of massage
Hair removal
Waxing
Threading
Hair braiding
Eyelash perming
Haircut
Hhair color
Hair care treatment
Perming
Hair and makeup
Slimming
Body scrub
Manicure
Pedicure
Eyelash extension
"We, at Rainbow Dream Spa, are thrilled to offer our guests unique spa services along with exceptional customer service at our newly-opened branch. We have created a warm and tranquil ambience for our guests to relax, whether it be for an hour or entire day. Rainbow Dream is of your comfort and relaxation within the city life," said Mr. De La Rosa.
At U146 The Manila Residences Tower II, Taft, Manila is the pioneer branch of Rainbow Dream Spa. They accept round-the-clock spa home service in Makati, Manila, and Pasay. Experience total pampering now at the comfort of your home. Scheduling an appointment is just a phone call or sms away. Reach them at 251-7614, 0933-8551226, or 0956-5020602. To get updates, follow their social media accounts:
Facebook: https://www.facebook.com/TheRainbowDreamSpa/
Instagram: https://www.instagram.com/rainbowdreamspa/
Do you need giveaways? K Ross Fragrances customizes them for all kinds of occasions.
FB page: K Ross Fragrances
Official, IG page: @krossfragrances.