Some of us  become self-employed for the first time during the COVID-19 pandemic, either by choice or need.
Making the switch to this kind of  lifestyle might have a number of advantages. But there are also new obligations to get accustomed to, like taking care of your own bookkeeping and accounting.
Juggling your business, clients, and finances as a lone proprietor can be challenging. Separating company and personal purchases for tax purposes is a complicated affair.
Selecting the ideal accounting software allows you to focus on the tasks that are most important to you.
Universal Accounting  2022
Universal Accounting is a straightforward accounting solution for small businesses and individual contractors. It prioritizes ease of use and synchrony, allowing you to effortlessly create bookings, manage your expenses, and balance your books. The program takes pride in being created with the most modern tools and know-how that is constantly being expanded. 
Choosing a Software Version
Universal Accounting Lite 2022  which cost $9.99. In this version you can create various bookings and balance sheet. You can also make a profit/loss statement. This software version also allows you to chart accounts in tree view. 
Universal Accounting 2022 Best seller which cost $55. Now this version has the same basic features as the Universal Accounting Lite. Added features includes:
Automatic accounting period reopening
Administration of debtors and creditors
Vacant positions
Pay, offset and post vacant positions
Search for document number in vacant positions
Reminder system
Composed transactions
Account analysis
VAT transactions
VAT and Calculation
Cost Centers
Standard/Advanced capturing bookings
Second currency
CSV Import/Export
Transaction types
Backup/Restore
For the VAT the developers have optimized a standard capturing system to allow a very user-friendly and efficient handling which is suitable for every country.
App Review and  Universal Accounting 2022 Features that I Like
User-Friendly Interface
When using accounting software, not every user, small business owner, or sole proprietor will have in-depth accounting knowledge. One of the most appealing features of Universal Accounting software is its easy-to-use interface. The platform provides you with a single dashboard to manage your finances and accounting. The software terminology is simple to understand, and there are numerous options for uploading files and supporting documentation for simple transactions.
Data Is Safe From Security Breaches
Most business owners would be petrified even at the thought of someone having unauthorized access to their accounts. Universal Accounting ensures that its services are safe and secure from security breaches. It is easy to change the admin password by clicking on "Accounting / Change SYSDBA password". Creating secure backups is also a breeze. All you need to do is click the menu item "Accounting / Backup" and simply select a directory with the included bookkeeping and the target directory for the backup. It also offers the substantial benefit of providing 128-bit encryption as soon as you enter your password.
Tax Compliance Made Simple
One of the primary advantages of using accounting software is the facilitation it offers in the process of tax compliance. The required information and tax paperwork becomes a cinch when you have the correct accounting records, up-to-date financial statements, and reports.
With the new VAT calculation feature of Universal Accounting 2022, I can see precisely how much I owe and figure out my tax-related costs.

To use this tool all you need to do is click menu "Evaluations/VAT/VAT Calculation":
Now after selecting the time span for the VAT to pay, I click "Ok"
Instantly generates key financial reports
As a freelancer, being hands-on in monitoring the progress of my business on a regular basis is a key factor for success and sustenance. To be honest, no one has the patience and even the time to generate a report in spreadsheets. Excel is outdated whereas consolidating data and entering formulas manually for every report is way too time consuming. Newer accounting software are built with optimal features that can generate such reports automatically.

Likewise, Universal Accounting has built-in reporting capabilities to evaluate cash flow and help small businesses make informed decisions.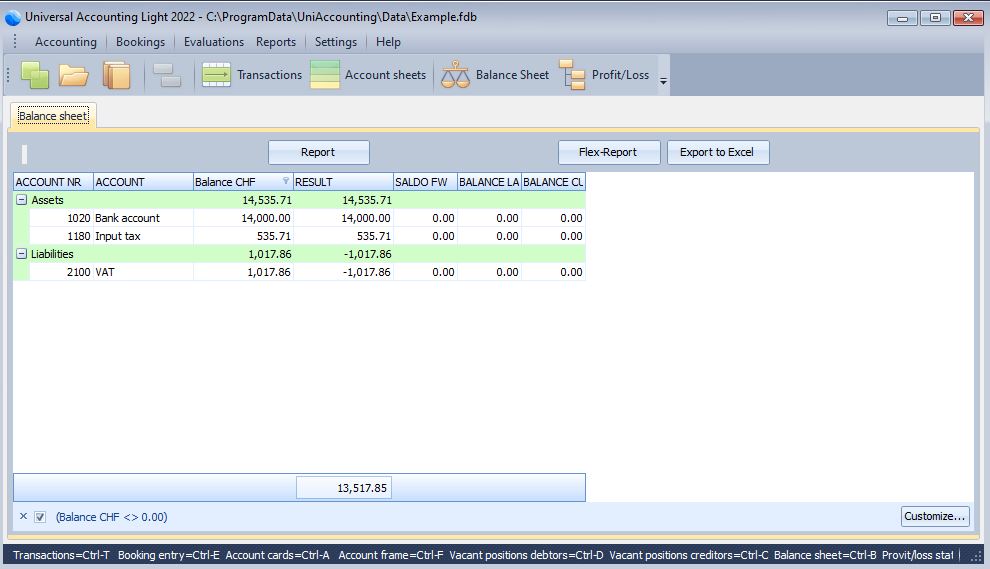 Additionally, Profit-loss statements and balance sheet reports are generated to aid customers in comprehending the key financial aspects of their business. This also helps them make wise judgments and think critically about the direction and future of their business
Automated processes saves time
Accounting software comes with the biggest benefit of offering automated invoicing and billing. These are extremely vital functions since they generate cash for my business, but maintaining them manually was a laborious and time-consuming task.

Universal Accounting 2022 addressed all my concerns by automating the process. Now, I can set up the software to automatically submit an invoice as soon as an order is placed. This feature is very handy for business owners like me as I have many repeat clients.
Accuracy in Accounting and Bookkeeping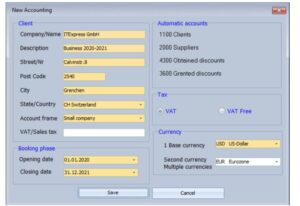 Traditional accounting procedures are often faced with human errors, while the freshness of the audited data may also posit multiple issues. That is why using the software can help ensure that accounting records are well-organized, current, and accurate.