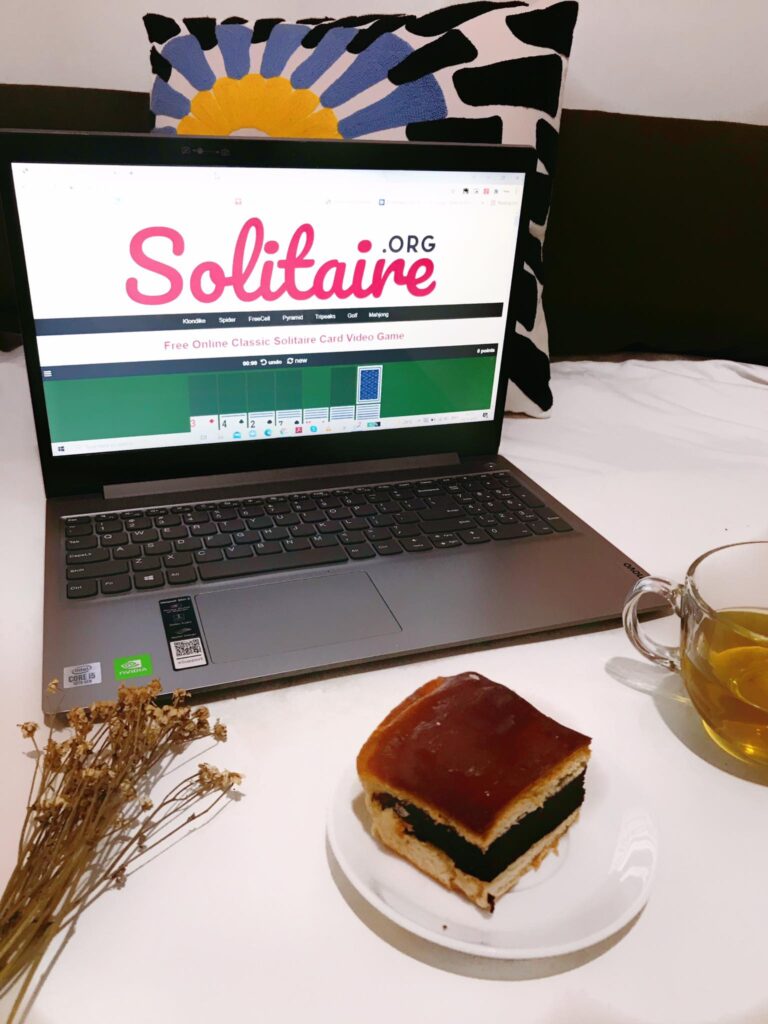 Card games have always been a part of my life, so I learned many ways on how to entertain myself with a deck of cards at a young age. I remember those times in my childhood when my cousins always carry a set of card for us to use whenever we were bored. Since the pandemic happened, I rarely go out plus I live on my own now. Hence, I don't have anyone to strategize playing cards with. 
This is why I turn to online games not only to unwind from a stressful work day but also to ease boredom. Truth be told, I have always been an avid online gamer since high school. When the internet connection was not stable back then I usually turn to classic games to pass the time like Solitaire and Minesweeper that were preinstalled in my laggy computer.
Times have changed. Solitaire can now be played using your tablet or smartphone. It can even be played on a browser. Although there are a lot of versions that are available, I stick to the basic. No time limit. No hints. Nothings more worth winning than achieving victory without using any cheats. 
Solitaire.org
is a website that I recently discovered.  The website offers a variety of card games like the classic Klondike Solitaire. While browsing the website, I found out that they also have Hidden objects, Connect 3, and other fun games in store for their players. 
The website is as simple as you can imagine. No pop up ads so you can play all day without being interrupted. It also doesn't take up space in my device as it is browser based.  All I need to do is logon on to the website and the cards are on the home page. 
Here are some of the games that I recently played: 
This is like the classic Solitaire game wherein the goal of the game is to stack cards into sequences. These sequences are based on suits and rank.  This game truly tested my patience as I came up with moves to win against the system. 
Do you know that not all Solitaire games are winnable? Whew! I've been thinking all along that I haven't been doing my best. If you're a big fan of the game, you probably can relate. For years now, I resort to this simple game of cards when I'm bored or when I just have to use my neurons to give my brain a workout. It may not need a lot of skills but it can definitely get into your nerves when you can't win.
I've given up on complicated games that are just too stressful and time consuming. It's the simplicity of the game that caught my attention. I can play it on my own pace. The only enemy is yourself. I'd rather get my hands on a deck of cards and be engaged in it than read a book to make me relax before hitting the sack. There's something about it that calms my nerves like listening to the sound of the ocean breeze.
This reminds me of a game my mom and I used to play on her laptop. The setting of this game is on a Chinese temple and the main objective is to find the hidden object. There are three stages to this game. 
The first stage is to find about a dozen objects which match the objects shown at the bottom of the screen. This one was fairly easy to get through as the objects are not camouflaged enough in the background setting. You also get three hints if you can't find the object. The timer does get reduced when your guess is wrong. 
The object of the second stage is to find the numbers one to thirty. This stage has been quite challenging for me and I had to zoom in just to see those numbers that was quite well hidden in the picture. Some of these numbers have an almost transparent color so you have to survey the nooks and cranny of every corner of this picture.  I honestly used two of my hints as I was running out of time and the number blended really well with the object so it was kind of hard to see even if I zoomed in.
As for the third stage's objective, you need to find the differences between two pictures. You can get through this easily as it only requires you to guess up to 4 differences on both photos.  This game can test  your attention to detail and also serves as a form of cognitive training. 
Of course I wouldn't' miss the chance to play a Halloween themed game. This game's objective is to combine 2 of the same Mahjong stones to remove them from the playing field. It might look like an easy matching game but the timer can make you really sweat. As the level goes up, the number of tiles also increases and they only highlight 3 matching pairs on the start of the game. That's why I had to be vigilant in matching the correct pair as the timer decreases when I match the wrong tiles. This game heightened my alertness and improved my short-term memory as I needed to recall the correct details to match the tiles.
There was a time in my childhood when the internet was not yet popular. Comics and the newspaper was the daily entertainment for us back then. Getting the daily paper means daily supply of the cross word puzzle. Now I found a more convenient way to play the crossword puzzle without writing down my answers. You can choose the puzzle grid
size you want 12×12, 14×14 or 16×16 are the options.
It took me 17 minutes to find all the words and pass the level. There is no time limit so you can take all the time you need to search for all the words. Aside from improving my vocabulary, this game also enhanced the way I creatively think outside the box as I strategize how to solve a crossword puzzle.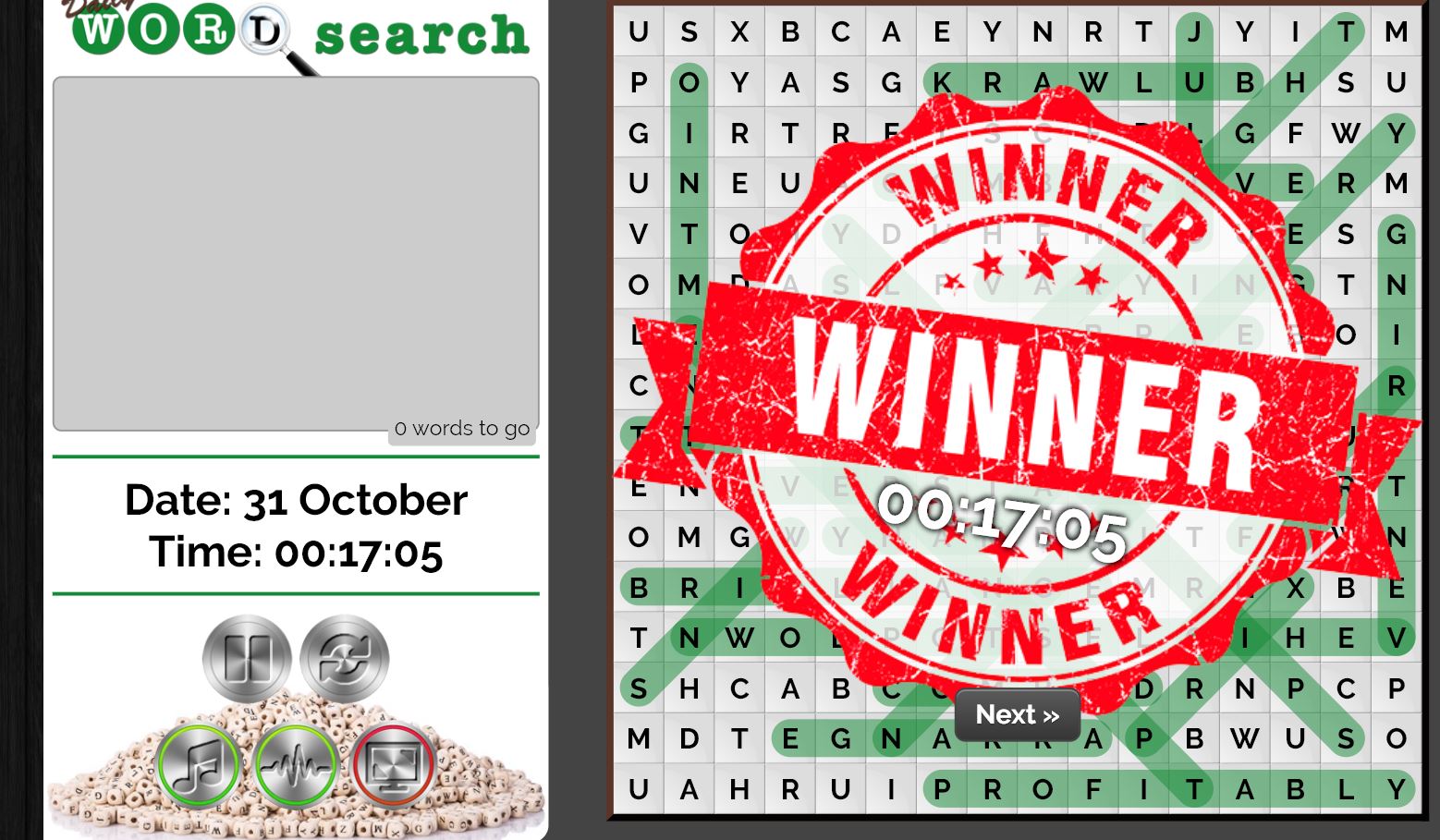 It is quite surprising the this has become one of my favorites among all the games in the website. This is a logic game wherein you need to connect the tracks with each other. By doing this you need to fill out the corresponding number of tracks to be placed vertically and horizontally. When you fill up the correct numbers on the grid it would turn gray and you have to guess the correct pattern on which the tracks are connected. There are two modes for this game: easy and hard. I opted for the easy one as I was just getting to know the game a few days ago. 
What I love about this game is that each day this game offers another level to play through for each board size. Once  you complete a level you can select another date from the right side calendar date selector.
The lower right corner of the game contains buttons that can help you undo your move, restart the level, pause the game, turn music on or off, turn sound on or off, and switch between normal and full screen game modes.
Another thing that I  love about this game is that  you can take all the time you need to figure out where to place the tracks. This game helped in easing my stress away and improved my problem solving skill as I have to think of a way to balance both the horizontal and vertical lines to get to the right pattern.
This game reminded me of Candy Crush. The concept of the game is to swap two items to match 3 or more identical candies. This game has 50 levels which are all timed. I love playing this game whenever I get stuck in traffic going to work. It is also my go to game before going to bed. It helps stimulate my brain in forming different moves to use to help match the candies. Like candy crush, once you level up there are many stumbling blocks to prevent you from winning like the candies are enclosed in chains, ice, or cement.  There are also boosters that can help you:
destroy entire lines: these are earned when you make 4 in a row.

pieces with horizontal hashmarks destroy anything on their horizontal line when they are moved to complete another set of three (even if a different colored piece makes the set of 3)
pieces with vertical hashmarks operate similarly with destroying all pieces on the vertical line they are on

destroy column & row: these are earned when you complete 3 in a row across and vertically at the same time. when these pieces are moved they destroy whatever is aligned with them vertically or horizontally.
rainbow: This piece is earned when you make 5 in a row. You can move this piece into any other adjacent piece and it will remove all pieces of that color from the board.
One of the most listed family game night games is Scramble. But if you are like me who lives alone, there are options you can play by yourself online like this Letter scramble. This is the modern version of a well love board game. This has 3 levels wherein the player needs to spell valid English words progressively.
In the first level, you need to start typing in 20 words to be completed. The second level needs 30 words to be completed and the last level needs 40 words.  All levels are timed and I noticed that whenever I spelled a longer word my score also increases. 
So why I am still hooked to Solitaire (and other fun online games)? First, it relaxes me. I picture listening to classical music on a weekend afternoon drinking red wine while playing this game. Next thing about it is, it's entertaining. It may be simple but it's absolutely fun!  Also, Solitaire challenges and improves my memory. I need to stay sharp while playing it. Finally, it teaches me to be patient. One wrong move and I'll be ruining my game. 
Are you a fan of Solitaire too? What classic games are you still playing up 'til now. Let me know in the comments section!