Aside from being the Shoe Capital of the Philippines, Marikina has been  keeping up with the current trend in the  food scene,thus, the presence of food parks. I have heard of Carnival food park when my best friend showed me a clip of a tour that was done to promote the latter. I was privileged to be one of the bloggers who had a gastronomic experience with 6 different restaurant offerings. Carnival food park is already a home for 26 stalls that will cater to anyone's craving.
Upon entering the vicinity you will be greeted with the Food Park's spot on interior including the creative road signs that will entice one's  curiosity. Along with 5 blogger friends here is my top 6 restaurants to try at Carnival Food Park .
Kuxina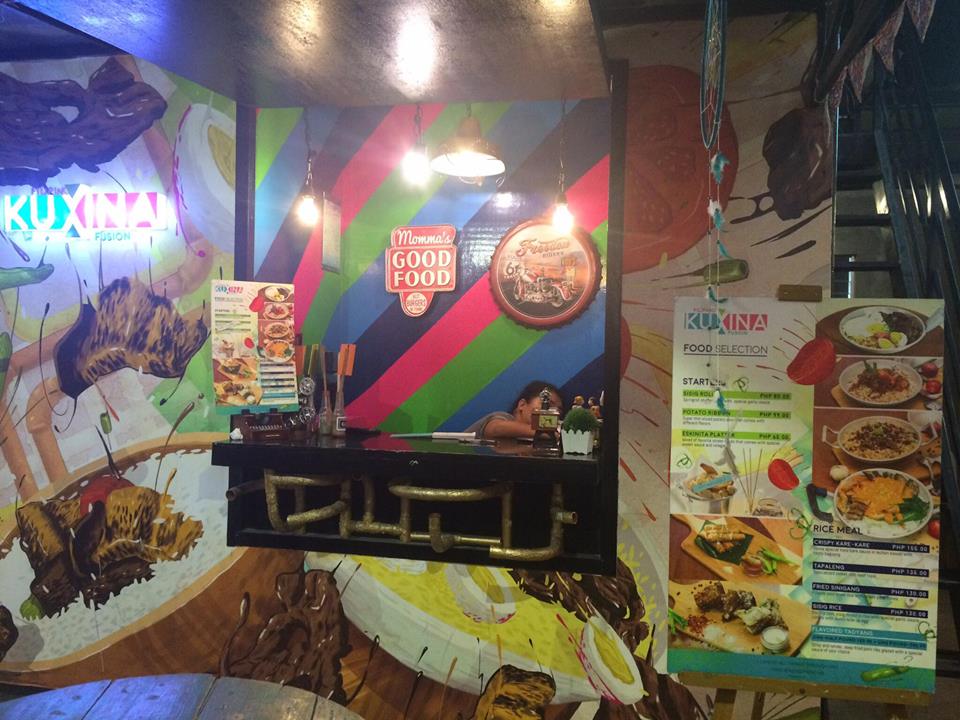 Filipinos love a good serving of rice in their meal especially if it's topped with the traditional well-loved viands. A mother and son restaurant that is owned and managed by  Elena and Lawrence Lagamson, they brought their own twist to the  Filipino delicacies such as the  Tapaleng and Crispy Kare-Kare.
Tapaleng
Tapaleng was named after Lawrence's  favorite dish and nick name in high school.  This dish is a combination of sweet and spicy with a siding of fresh Tomatoes and salted egg. The tapa was so tender with a flavorful combination of sweet and spicy. The salted egg complemented the freshness of the tomatoes.
Crispy Kare-Kare
The dish is a fusion of Lechon Kawali and Kare-Kare.  The Lechon Kawali was cooked to a perfect crisp that will make  you crave for more. Kare-Kare's sauce was nutty and sweet with fresh vegetables incorporated in the mix. The presentation of both dishes including Tapaleng was served using a mini frying pan which is good for sharing.
Sisig roll
This dish is made with a fusion of spring roll and Sisig. I was hooked with just one bite as it was light and less oily. An additional factor why I love this dish is that it was drizzled with garlic sauce which gave a more zesty taste to it.
Follow them on facebook : KuxinaPH and instagram :@kuxina.ph
Sushirrito
Being a fan of Japanese delicacies I was anticipating to try their dishes out.  Sushi and Burrito had been my comfort food and just the idea alone got me hooked, it was fresh and creative. Owner Ms. Charmaine Reyes and conceptualized and executed by Chef Marco Bitong: together they created a Burrito sized sushi for those who are craving or need more servings in one sitting.
The Beef Misono and Chicken Karaage were both crispy and delectable although we got to taste it after 20 minutes or more as we were overwhelmed with the amount of food that was served. The star dish for me was the California Maki. It was delightfully crafted as the sweet taste of the fruit got my taste buds celebrating. I highly recommend all dishes since all servings are already good for sharing. Fair warning: this dish requires you to use your hands as it was quite big than your normal Burrito.
Follow them on facebook: sushirritocarnivalfoodpark
Hip-on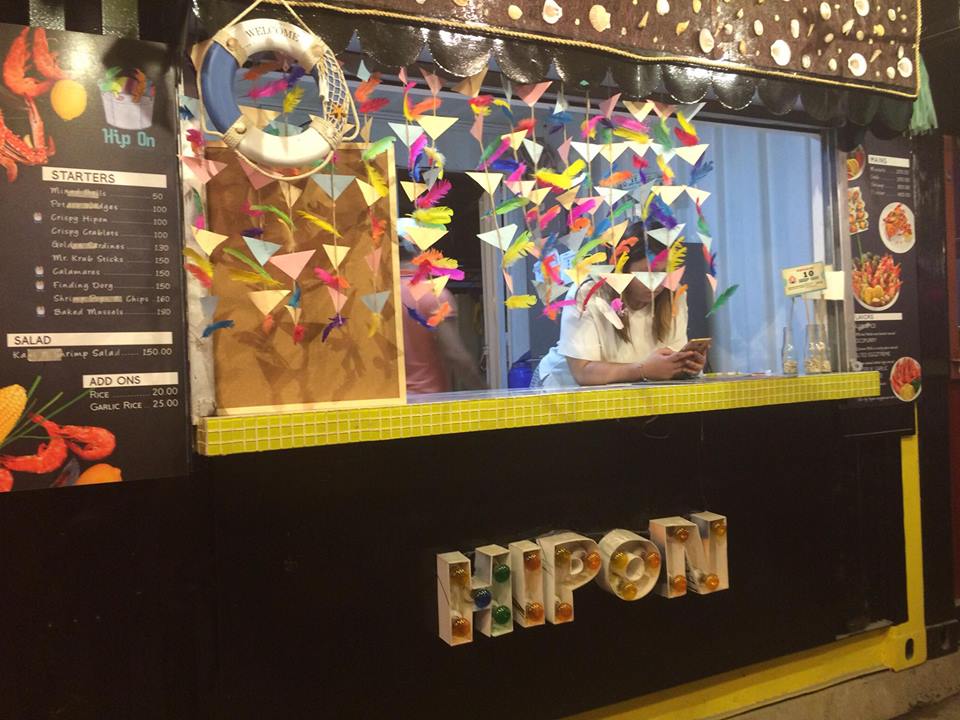 The name alone is quite groovy and was well conceptualized as they specialized in seafood platter.  The seafood menu was not their main market at first but because of the rule of the food park that it had to be a different concept than the other stalls, they stuck to it and I am glad they did.  Mrs. Ma. Pacencio Dancel, the owner, said that the Mussels are sourced fresh from Palawan while the Shrimp and Crab are freshly sourced from Bicol.
Salted Eggztreme Platter is one delightful treat as the sauce is creamy and I do hope for more flavor. Eating the crab was a challenge as I wanted to taste the different parts of it but I can only do so much with my utensils. The shrimp was cooked perfectly and full of flavor. The butter and garlic mussels tasted fresh and seasoned.  They do have a lot more to offer for all the seafood lovers out there.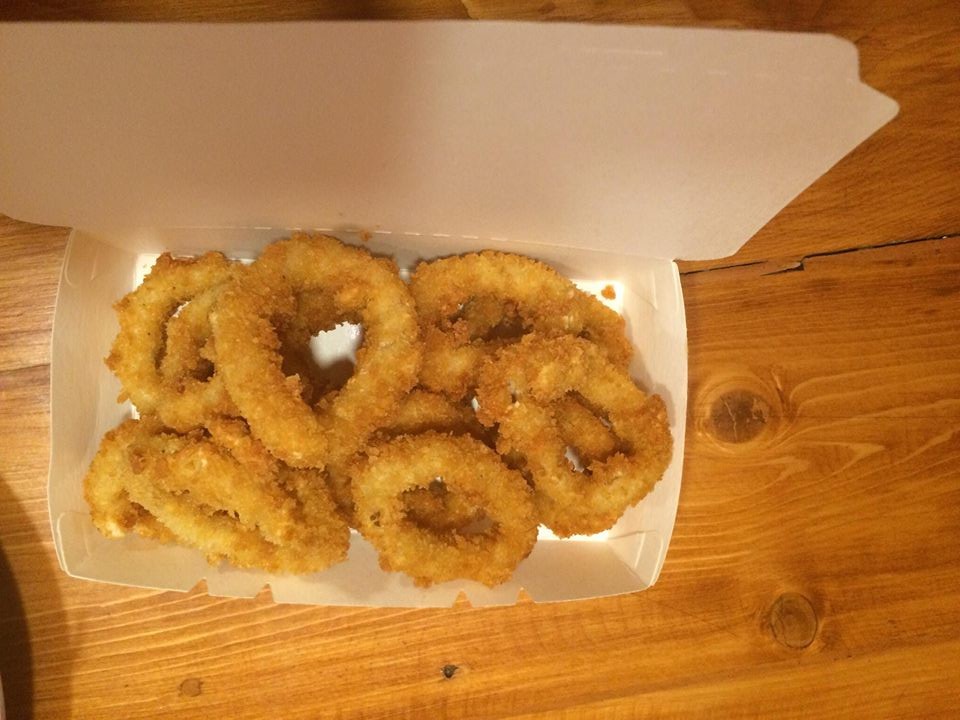 There was one dish that I kept on coming back for more which was the Calamares with vinegar dip. It was light and tasty and was cooked just right. This is best for gimik days and can be enjoyed with a cold beer or drink.
Follow them on facebook:http://www.facebook.com/hiponph and instagram: @hiponph
Brewskie
Brewskie is owned by Oliver Canlas, a restaurant that is a haven for pasta lovers.  They serve pasta that can cater to your appetite's delight with a modern twist that works well with any palate.
Wen Manong Pasta, a carbonara fettucini with a Bagnet topping sourced from Ilocos and sausage mixture, is one of their best sellers. The pasta's creaminess complemented the taste of the salty Bagnet, it was truly a match made in heaven. This is one of the first dishes that we finished together as it was not only aesthetically pleasing but also one delectable dish that you can eat in one sitting. The serving is good for sharing and they do go heavy on the sauce making it more tasteful.
The Kung Fu pasta reminded us all of Yellow Cab's Charlie Chan. This pasta was a combination of a lot of ingredients but what makes it stand out was it was spicy yet seasoned. It was a melt-in-your-mouth experience and all together it created a scrumptious meal.
Follow them on Facebook:https://www.facebook.com/brewskieph and instagram: https://www.instagram.com/brewskieph/
So for people who likes to indulge on a meat fiesta Planet Sausage is the stall to go. They offer grilled sausages such as Shublig, Chicken franks,Garlic sisig, Longganisa and many more.  You can enjoy all of these with rice, on a bun, on stick or if you are not sure what to get, they also offer a sampler size.
I love Bacon in general so when I saw Zesty Saturn, a Swedish sausage that was wrapped in bacon, I did not hesitate to taste it. It was tender and flavorful.
Pluto Platter was a combination of different sausages and chips. So if you are not sure what sausage to get, this platter is for you as you can share it with family and friends and try out the scrumptious selections of their grilled offerings.
Saturn-in-a-bun is a  Swedish sausage wrapped with Bacon and mango, and topped with cheese. It was a different kind of experience as when I first took a bite it was light yet the sweetness of the Mango complemented the smoky  saltiness of the Bacon. This dish comes with fries on the side which is also tasty.
I was welcomed by Havey Desserts' interesting wall art that depicted what their store is about. Havey desserts started out as a home-based hobby of Angel Bautista who also does customized cakes and pastries. She and her husband Carl ventured to a wider market by creating a stall that showcased Angel's very own recipes.
The Yema cupcake was the first one I tasted and it was truly divine. The cake was light, moist and the taste was just the right sweetness. I am a fan of this cupcake and will surely go back just to order this.
Nutella Cupcake has the same delightful taste only this time the sweetness came more from the Nutella on top as the icing is not that sweet and the cupcake was moist.
The Revel bar has a rich chocolate flavor and would perfectly go well with any cup of tea.  It was not that thick  and yet it was aesthetically pleasing to the eyes.
The Double chocolate chip ala mode was one spectacular ensemble as it was a 7in cookie cake that was drizzled with chocolate syrup and topped with Vanilla ice cream. We ate this very quickly as the ice cream was already starting to melt. It was a melt-in-your-mouth goodness with the chewiness of the chocolate cookie that would perfectly go well with a glass of milk.
I am a fan of Red velvet cupcakes so I know how heavy it can get compared to the moist cupcakes above. It was a great cupcake with an icing that was sweet yet I find myself indulging for another bite.
I highly recommended the last one I tasted which was the Nutella stuffed chocolate chip cookie that was topped with Vanilla ice cream and drizzled with chocolate syrup plus sprinkled with Graham cracker bits. The inside of the cookie was oozing with a good amount of Nutella which is complemented with the Vanilla ice cream. The combination brings out the moist and chocolatey taste.  I would definitely go back to Havey desserts for their scrumptious desserts and yummy creations.
Carnival food Park is located at 87 Mayor Gil Fernando Ave, Marikina City and opens from 4:00pm to 12:00mn